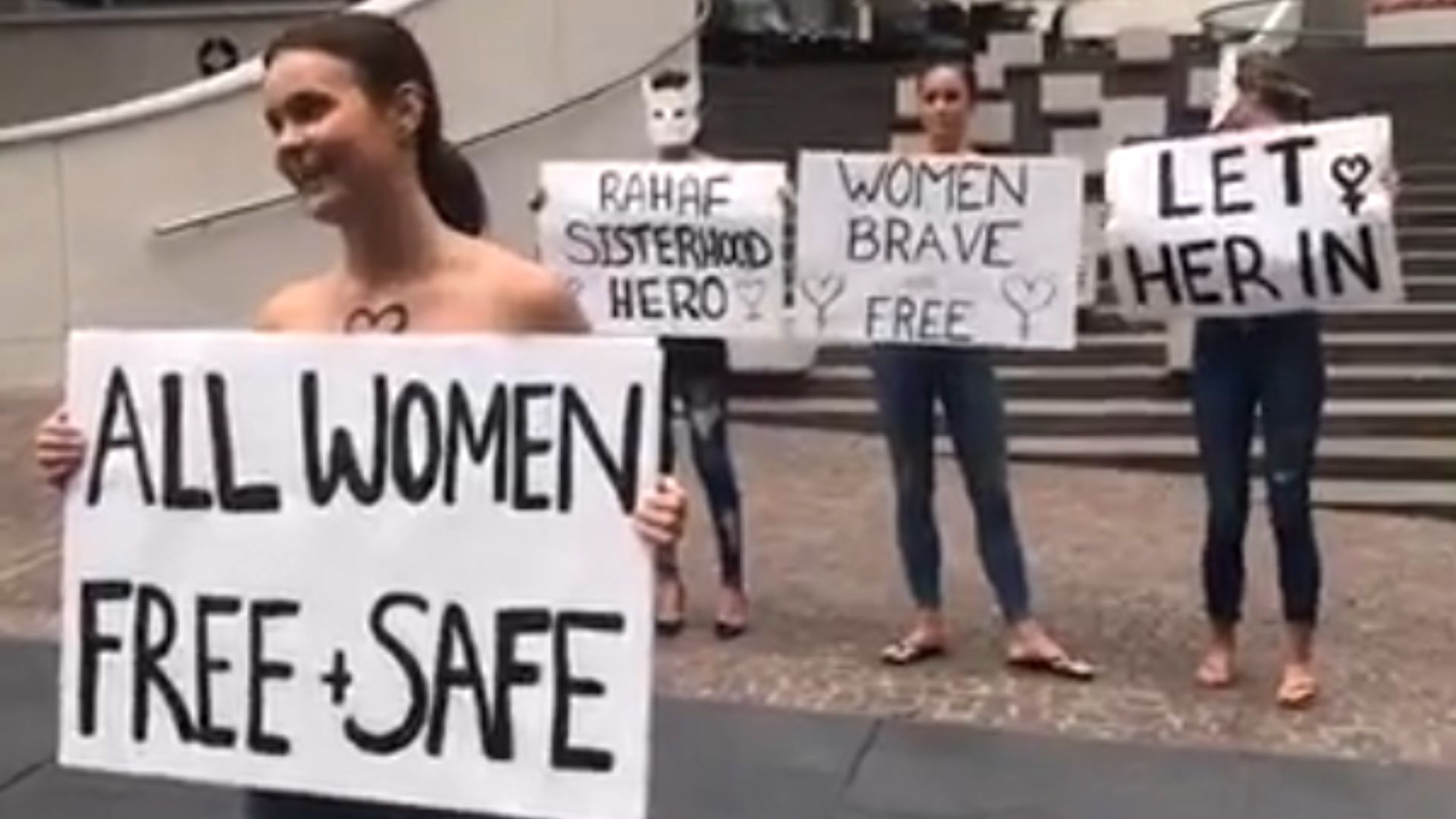 A group of topless protesters gathered outside the Saudi Consulate in Sydney to support the runaway Saudi teenager Rahaf Mohammed Alqunun.
The four female protesters, who had the words "Secret Sisterhood" written across their shoulders, carried placards emblazoned with slogans showing solidarity with the Saudi runaway who has grabbed international headlines since she escaped from her family ostensibly to seek asylum in Australia.
Read more: "My family threatens to kill me," asylum-seeking Saudi woman says after denouncing Islam
The Associated Press reported that the Secret Sisterhood organization had raised $2,290 for Alqunun as of Thursday morning through a GoFundMe account.
Secret Sisterhood founder Jacquie Love told the news agency that the goal of the protest was to force the Australian government to recognize Alqunun's fight for freedom and, by extension, the plight of oppressed women everywhere.
"We are here to encourage them to let her in," Love said. "We believe the Australian government needs to step up, recognize her plight and recognize what she's gone through, and she could be an icon for the rest of the world that women shouldn't be oppressed and they should be fleeing countries that they are oppressed in," she said.
The Secret Sisterhood justified the topless aspect of its protest on the grounds that all women should be able to express themselves freely. Love also said the group wanted to show Alqunun, who had her freedoms restricted in Saudi Arabia under the country's guardianship law, that "we can actually do that in Australia."
Alqunun was granted refugee status Wednesday by the U.N.'s High Commissioner for Refugees (UNHCR) after she was detained in Thailand while travelling to Australia from Kuwait.
The 18-year-old gained support on Twitter after she barricaded herself in her Bangkok hotel room, saying she feared her family in Saudi Arabia would kill her if she was forced to return.
The U.N. has referred Alqunun's case to Australia. The country's Home Affairs Department has said it would consider the referral as it does all cases from the UNHCR. The minister in charge of the department, Peter Dutton, has said there would be no "special treatment" for Alqunun in spite of the publicity she received.
Alqunun's father, who she said had physically abused her and had sought to force her into an arranged marriage, arrived in Bangkok on Tuesday. She refused to see him. Her father, whose name has not been released by Thai authorities, denied harming his daughter and said she might be feeling neglected.