Topless Protestors Hit Back Against Police Who Allegedly Harassed Woman
A Quebec woman's account of police officers harassing her for legally sunbathing triggered a topless protest in Montreal on Sunday.
Eloyse Paquet Poisson shared her story in a Facebook post on May 30. According to her, she was wearing a skirt and no top while lounging in a Quebec City Park. Several men there had bare chests too, she claimed, and she was keeping to herself, doing macramé and smoking a cigarette.
"I didn't know I looked so menacing," Poisson said on Facebook.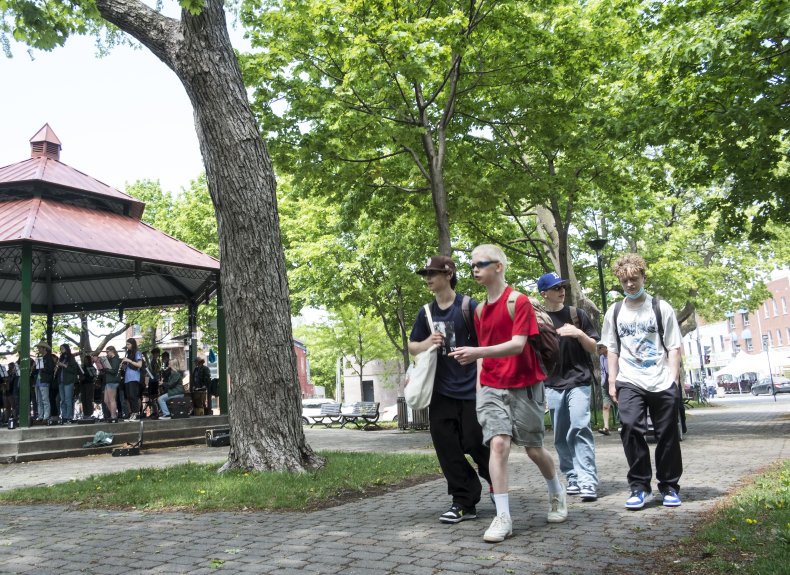 Is Sunbathing Topless a Crime in Canada?
The Canadian Criminal Code does not include any law against public female toplessness, although section 174 prohibits full nudity in public and section 173 outlaws public sex or "indecent acts" as well as exposing one's genitals to a person under 16 years old.
According to a 2018 analysis published in The Canadian Journal of Human Sexuality, public acceptance of toplessness in Canada varies across different contexts, with 72.4 percent of respondents opposing it on city streets, 62.1 percent opposing it in public parks and 48.1 percent opposing it on public beaches.
A Six-Officer Response
Poisson was approached by a Quebec City police officer, who told her that a citizen had complained about her being topless and asked her to cover up.
She asked if he had seen all the men baring their chests in the park. He left and returned with five more officers as "reinforcement," who allegedly harassed her for 20 minutes, claiming they had to make sure she was not doing anything "sexual."
Although the police left without issuing a fine, Poisson said she was frightened and angered by the event.
Topless Protestors
Her post set off a wave of fury online and a topless protest at the Mont-Royal Park in Montreal on Sunday. Nearly 300 people responded to an event page for the demonstration on Facebook, although only about 15 topless supporters showed up in person, according to MTL Blog.
Organizer Alice Lacroix said on Facebook, "We all know that the law is on our side, it's people's minds that we're hoping to change."
Topless protestors have made national news for causes other than "topfreedom."
After the death of unarmed Black man Daniel Prude, who was restrained by police officers with a spit hood, demonstrators lined up wearing nothing but spit hoods at the Public Safety Building in Rochester, New York, in 2020.
Earlier that year, topless anti-dairy protestors disrupted a Bernie Sanders campaign event, displaying the words "Let Dairy Die" across their chests.
And in 2018, a topless protestor charged toward Bill Cosby as he entered a Pennsylvania courthouse for his sexual assault retrial. The phrases "Women's Lives Matter" and "Cosby Rapis" [sic] were written on her body, along with the names of women who had accused Cosby of sexual assault.
Newsweek reached out to Poisson for comment.