Topshop Owner 'Faces Collapse Within Days With 15,000 Jobs at Risk'
British retail empire Arcadia Group, responsible for Topshop, Burton, and Dorothy Perkins, is on the brink of collapse putting 15,000 jobs at risk, it has been reported.
The company, owned by billionaire businessman Sir Philip Green, is preparing to appoint administrators from Deloitte as soon as next week, Sky News reports. The majority of the group's 500 standalone stores are currently shut due to England's second nationwide lockdown.
An industry source described the collapse as "inevitable" after talks to secure an emergency £30 million ($39.9m) loan ended without success. It could put the group's entire 15,000-strong workforce at risk after 500 jobs were already cut from head offices earlier this year. Most of the group's employees have had their wages subsidized by the taxpayer this year under the government's furlough scheme.
In a statement to Newsweek, Arcadia said it has been working on "a number of contingency options". "We are aware of the recent media speculation surrounding the future of Arcadia," the group said.
"The forced closure of our stores for sustained periods as a result of the COVID-19 pandemic has had a material impact on trading across our businesses. As a result, the Arcadia boards have been working on a number of contingency options to secure the future of the Group's brands.
"The brands continue to trade and our stores will be opening again in England and ROI as soon as the Government COVID-19 restrictions are lifted next week." It did not comment on the risk to jobs.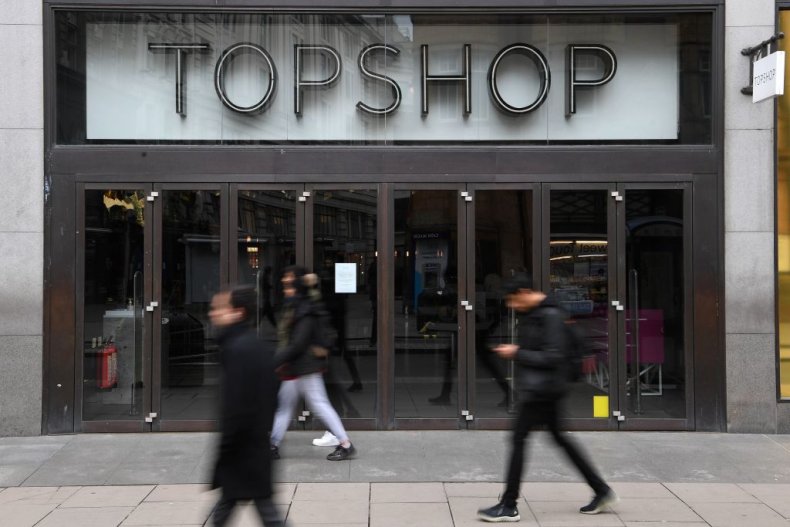 Earlier this year, Arcadia's former London headquarters for Burton was put up for sale in a bid to secure cash for the group. Corinthian House, on Tottenham Court Road, has an asking price of £80m ($106m).
Sky reports that there is expected to be a tussle among creditors for the company's assets once it is formally declared bankrupt. The Boohoo Group is named among those looking to take on Topshop, which is Arcadia's most valuable brand, along with Topman, together worth several hundred million pounds.
Dave Gill of the retail trade union Usdaw said: "This is a devastating blow for workers at Arcadia and could not have come at a worse time, just before Christmas.
"We are seeking urgent meetings with management and we urge them to end their longstanding anti-union stance and engage with us. In the meantime, we are providing our members with the support and advice they need at this difficult time."