With Tornado, COVID and Now Explosion, Nashville Mayor Calls 2020 City's Hardest Year
Nashville Mayor John Cooper said Friday that the devastating Christmas morning vehicle explosion in downtown Nashville was "one more event in Nashville's 2020"—which he described as the city's "hardest year" following a series of disasters, including a deadly tornado and the coronavirus pandemic.
"We've had our hardest year and we're all excited about 2021," Cooper said in a Friday morning news conference. "That's going to be a great changing of the calendar."
Nashville and other areas of Central Tennessee were hit by three tornadoes in early March, killing 24 people in four counties. Two of those killed, Michael Dolfini, 36, and Albree Sexton, 33, were reported in Nashville's Davidson County. The Nashville Fire Department announced that more than 40 buildings collapsed and others were damaged around the city as a result of the storm. About 150 people were taken to hospitals and about 47,000 people were left without power.
A state of emergency was declared as Tennessee Governor Bill Lee called the disaster "heartbreaking" and "a tragic day in our state."
Two weeks after tornadoes slammed Nashville, the coronavirus pandemic promptly caused the Music City's tourist-filled bars, restaurants and venues to close, hitting Nashville's successful tourism industry hard as a result. Once major establishments opened back up in the summer, tourists began to pile into Metro Nashville's most popular spots despite thousands of confirmed COVID-19 cases in Davidson County.
Nashville's Metro Public Health Department reported more than 589 new COVID-19 cases and 7,239 active cases in Davidson County on Friday. Over 400 people have died of the virus and there are nearly 500 active hospitalizations throughout the county.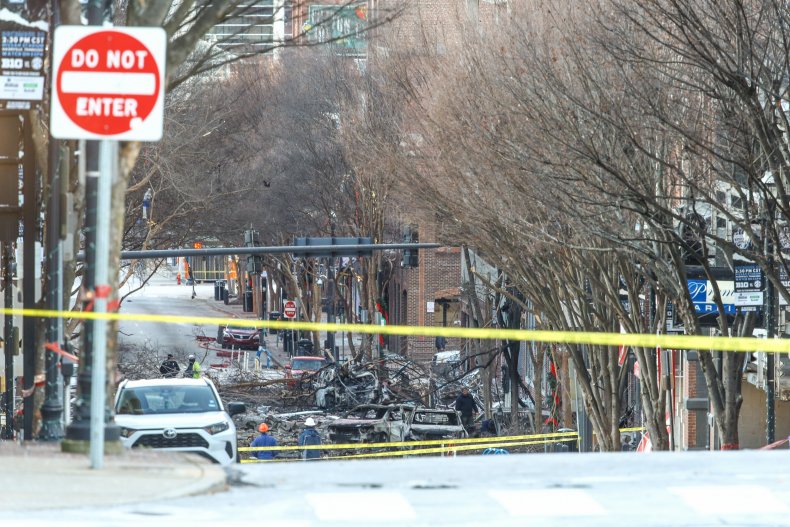 Meanwhile, Tennessee is the new epicenter of the coronavirus pandemic alongside California with the highest infection rate of any state, averaging almost 128 new infections per 100,000 people over the last week, according to data from the Centers for Disease Control and Prevention (CDC).
"Our state is ground zero for a surge in COVID-19 and we need Tennesseans to [do] their part," Lee tweeted Wednesday. He urged residents to wear face masks and only gather with members of their immediate household during the holidays.
Strong winds—called a derecho—with speeds as high as 71 mph passed through Central Tennessee in May, causing damage to homes, trees and powerlines as more than 130,000 Tennesseans were left without power, according to The Washington Post. One off-duty fireman died and two others were injured in Nashville.
Friday morning's explosion around Nashville's 2nd Avenue—which occurred at around 6:30 a.m., following a call to Metro Nashville Police Department's hazardous devices unit about a "suspicious" RV—was an additional tragedy that was "intended to create chaos and fear in this season of hope," Cooper said in a news conference.
The mayor announced that three people were hospitalized with injuries and more than 40 buildings were damaged due to the explosion. None of the people hospitalized are in critical condition, the mayor reported.
Police have not yet identified a suspect or a motive for the attack, according to Nashville Police Chief John Drake.
"This is not how anybody wanted to spend Christmas morning," Cooper told reporters. "We are very lucky that there were not more injuries."