Watch: Tornado Spotted From Airplane Windows Recorded by Passengers on Separate Flights
A meteorologist flying to Denver on Monday received a tornado warning on her phone, looked out the airplane window and saw the twister happening in real time. She wasn't the only one; other passengers on other flights also witnessed the weather phenomena.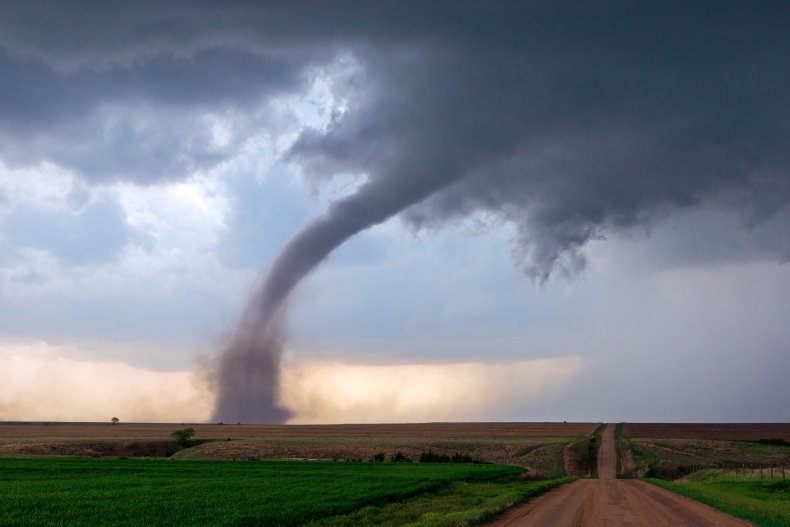 "Never had this happen before," Adrienne Vonn wrote on Twitter. Vonn, as chance would have it, is a meteorologist at Spectrum News in Texas. In her tweet, she also briefly recounted getting the tornado alert on her phone and mentioned her plane landed in Denver safely. Her tweet included a dramatic photo she snapped of the twister from outside her airplane window.
At around the same time, other people departing and arriving at Denver International Airport also witnessed the tornado from their aircrafts. James Spann, the chief meteorologist at WBMA-LD (an ABC affiliate in Birmingham, Alabama), shared a video taken by someone named JC Schroeder on Twitter.

Spann indicated that Schroeder recorded the video while departing the airport, whereas Vonn was on an incoming flight. The photo and video would have been taken at close to the same time, as the tornado occurred shortly after 5 p.m. local time.
The only message that appeared on the official Twitter account for Denver International Airport about the area's largest weather-related news was the following: "Nearby tornado warnings and weather causing departure and arrival delays. Please check your flight status with your airline before heading to DEN."
Hundreds of other images and videos quickly appeared on social media of the tornado, which is rather large with a well-defined funnel.
The National Weather Service has yet to rate the tornado, which appeared about 20 miles north of downtown Denver and 15 miles east-northeast of Boulder. It touched down near the town of Firestone before moving along a few miles northeast.
Downed power lines and damage to crops and buildings were reported along the tornado's path, though no deaths are known to have occurred.
Multiple local news outlets reported that the tornado appeared to be a landspout, which means it formed on the ground due to colliding air boundaries during the initial growth stage of a thunderstorm. Unlike most tornadoes, landspouts form near the ground and move toward clouds.
Weld County, the site of the tornado on Monday, holds the record for the highest number of tornadoes in both Colorado and the United States, according to the Storm Prediction Center database from the National Oceanic and Atmospheric Administration (NOAA).