Tornado, Hail and Severe Thunderstorm Warnings in Effect for Texas, Kansas and Other Southern States
Severe thunderstorms and hail are forecast for northeast Texas, southeast Oklahoma, northern Louisana and central and southern Arkansas, with isolated tornadoes a possibility.
According to the National Weather Service (NWS) Storm Prediction Center, widespread severe weather is likely across the southern Great Plains—mainly this afternoon and evening—spreading east into the Lower Mississippi Valley tonight. The most dangerous corridor for strong tornadoes and intense damaging winds is in northeast Texas through northern Louisana and southern Arkansas this evening and overnight, according to NWS.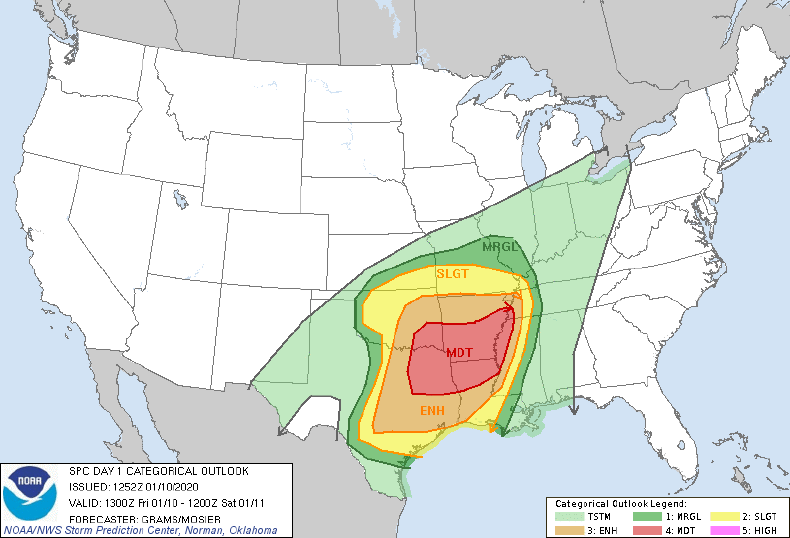 In the southcentral states, the most dangerous portion of weather will be tonight through early tomorrow morning, with a potential derecho and embedded strong tornado risk. In northcentral Texas, scattered supercells will move down to southcentral of the state during the late afternoon. NWS believes that this activity will be strongly sheared and could produce very large hail early in the convective cycle. According to the latest forecast, San Antonio, Dallas, Austin, Fort Worth and Arlington are under a warning for severe hail, with Dallas and Austin also under risk of severe wind.
The NWS Storm Prediction Center has also issued an urgent broadcast for a "severe thunderstorm watch" for portions of southcentral and southeast Kansas, as well as westcentral and northern Oklahoma. Effective this morning and afternoon from 7:45 a.m. until 2:00 p.m. CST. the primary threats include scattered large hail with isolated very large hail events to two inches in diameter possible. Due to isolated damaging wind gusts to 60 miles per hour, a tornado or two could be possible.
Moving northeast, multiple elevated supercells are expected to develop through the morning across parts of western and northern Oklahoma and into southern Kansas, according to NWS. The latest warning for severe thunderstorms, which remains in effect until 9.30 a.m. CST for central Alfalfa, warns of a storm moving northeast at 40 miles per hour near Cherokee. It has quarter-size hail, with the potential for accumulating into small hail.
NWS advises that damage to vehicles should be expected as well as accumulating hail contributing to difficult travel. For protection, residents are recommended to move to an interior room on the lowest floor of a building.
These warnings come as winter storm warnings are issued for the northwest and midwest, with heavy snow, freezing rain and potential flash flooding forecast from today through to next week.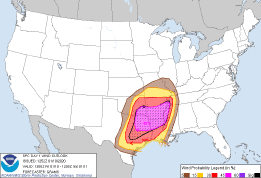 For information on how you can help prepare your family for today and tomorrow's severe weather, visit the NWS website.