Tornado From Isaias Breaks Delaware Record After Staying on Ground for Over 29 Miles
The National Weather Service (NWS) has confirmed that a tornado produced by Tropical Storm Isaias stayed on the ground in Delaware for 29.2 miles—a new record for the state.
The previous record tornado path in Delaware was less than half as long—a measurement of 13 miles recorded in 1988, according to NWS Philadelphia/Mount Holly.
Weather officials say the recent tornado touched down just to the west of Dover in Kent County at around 8:50 a.m. on Tuesday and tracked all the way to Middletown in New Castle County, before finally lifting off the ground close to 9:30 a.m.
As well as being a new record path for Delaware, the tornado's journey was also the longest in the tri-state area of Delaware, Pennsylvania and Maryland since records began in the 1950s, according to the NWS.
The previous record for Pennsylvania was a tornado path of 12.9 miles, recorded in 1950. Meanwhile, the Maryland record was set in 1995 with a tornado that tracked 10 miles.
Nevertheless, neighboring New Jersey recorded a tornado with a path of 48.5 miles in 1958. The longest ever track in the U.S. was that of the 1925 "Tri-state tornado."
This mammoth storm had an estimated path length of 219 miles, crossing through southeastern Missouri, southern Illinois and southwestern Indiana, according to the NWS.
However, there has long been debate as to whether the historical reports actually represent multiple independent tornadoes that were part of the same family, with a lack of verifiable meteorological data making definitive conclusions difficult.
In any case, the event led to the deaths of 695 people, which would make it by far the deadliest tornado in U.S. history and the second deadliest globally.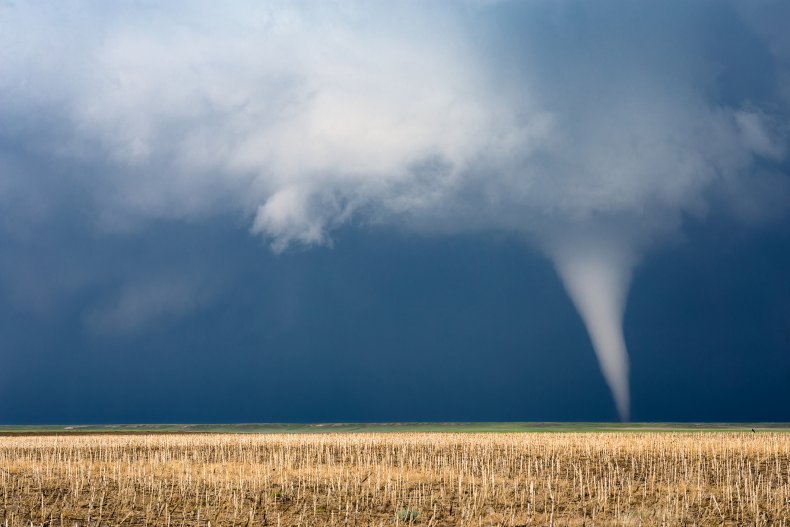 Fortunately, the record-breaking tornado produced by Isaias on Tuesday, which reached a maximum width of 200 yards, caused no fatalities and no injuries were reported in the tri-state area.
And while it was nowhere near as destructive as the 1925 tornado, Tuesday's storm caused damage to trees, homes and vehicles.
Officials said the tornado reached maximum wind speeds of around 105 miles per hour, classifying it as EF-1 on the Enhanced Fujita scale. The majority of tornadoes are classified as EF-0 or EF-1 on the scale—which goes up to EF-5 (gusts of over 200 miles per hour)—meaning they are relatively weak. However, even "weak" tornadoes can cause significant damage and fatalities.