Tornadoes in Kansas Last Night: Images Show Destruction in Lawrence and Linwood Near Kansas City, Missouri—Latest Storm Warning Updates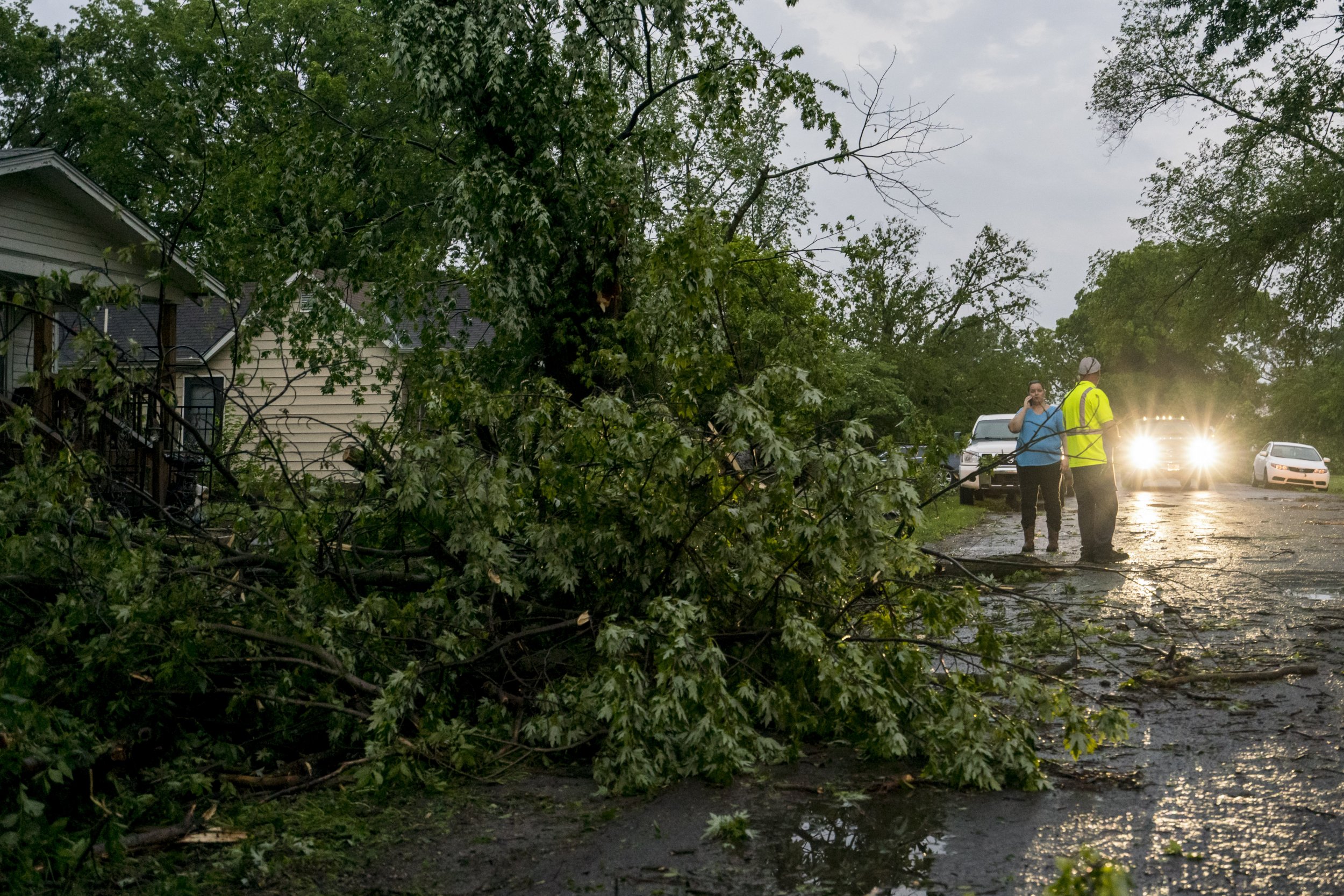 Parts of a city in Kansas was ripped apart by tornadoes overnight on Tuesday, with severe weather continuing to hammer the Midwest. According to the Associated Press, "one or more tornadoes" took down trees and power lines, damaged homes and injured at least 12 people.
The National Weather Service (NWS) confirmed a tornado was heading towards Leavenworth County and Johnson County, Kansas, with a tornado watch in effect until 6:45 p.m. local time. The storm swept through Kansas into Missouri, destroying houses and buildings and sending debris up to 20 miles away from its location.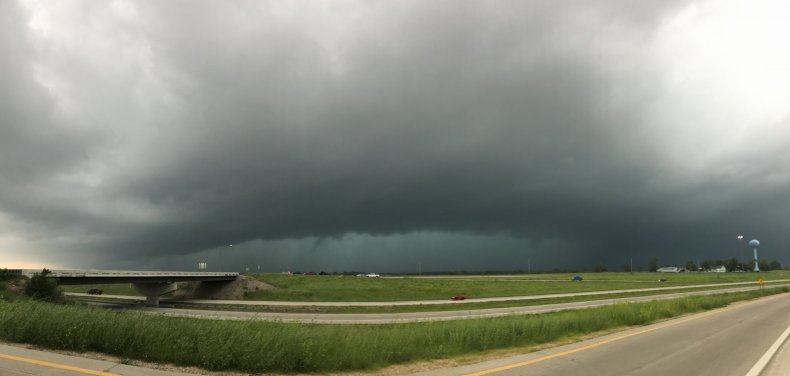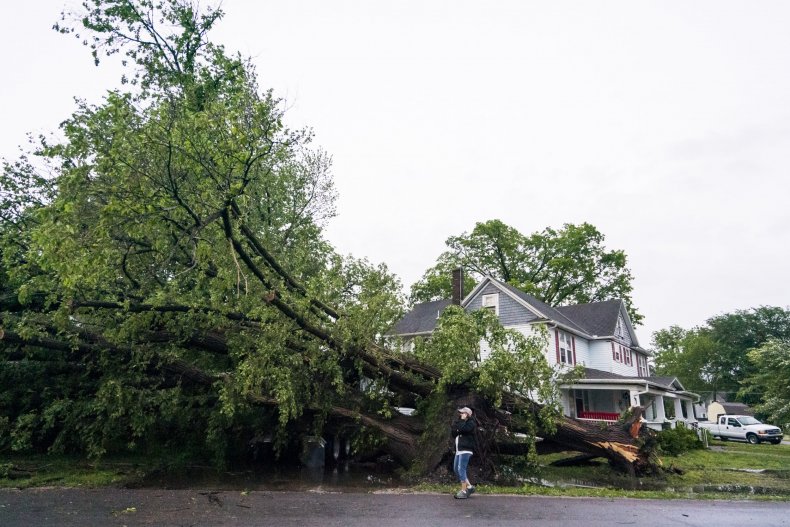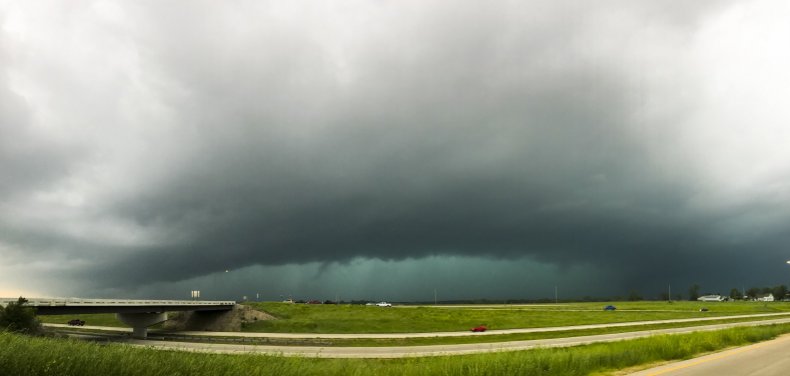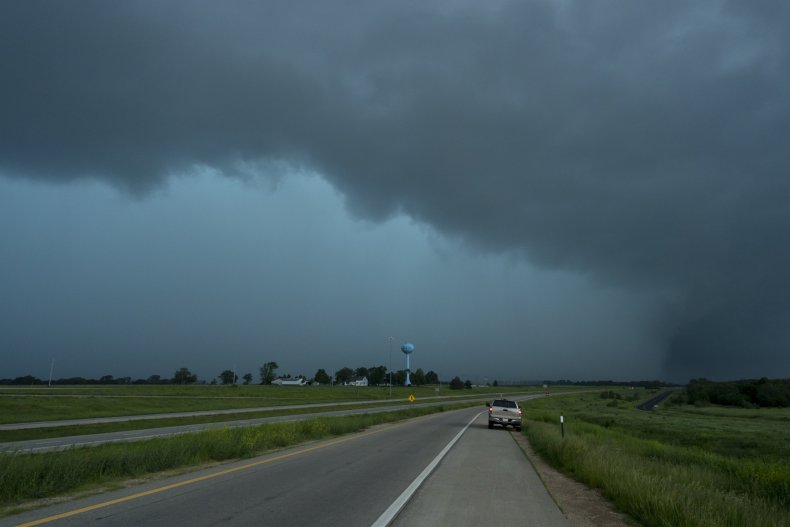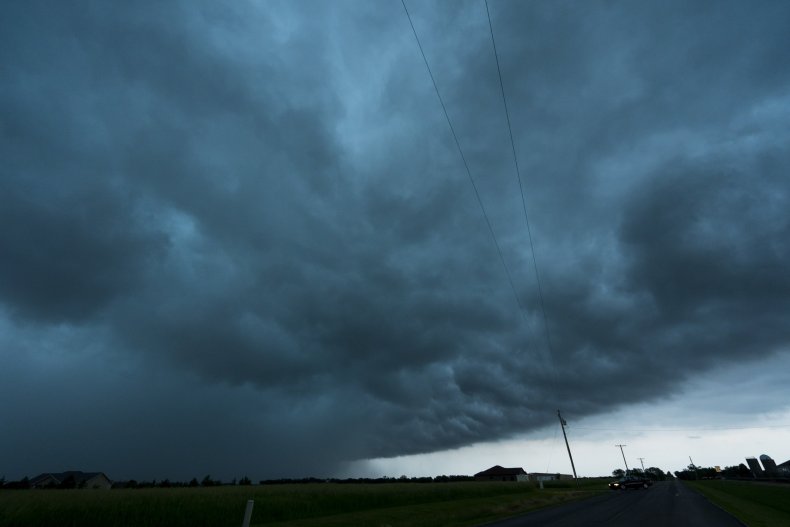 NWS Kansas City said on Twitter that the tornado was a "dangerous situation," warning people to take shelter at work, and if they were driving on the highway to find shelter as soon as they could. Winds were up to 70 miles per hour with large pieces of hail, according to NWS.
Pictures shared on social media show homes flattened by the tornado, trucks turned over on the highways, with storm chasers capturing striking videos and pictures of the storms moving over the state line.
Lawrence and Linton were two of the most badly affected areas as was Kansas City. A Twitter user commented: "This Lawrence daycare was destroyed last night. This is going to affect a lot of families. The owners, employees, & families that attend are going to have a hard time from this storm. They'll need help." Many homes in Linton were flattened.
The latest storm update predicts that severe weather will move through Missouri and into Illinois. Flood warnings are also active in Missouri. North River at Palmyra, Mid Fork Salt River and Holliday River are at risk from flooding until Friday, May 31.
As of 2:30 a.m. on May 29, levels had passed the flood stage of 13.0 feet. NWS advises that rainfall could be heavier than forecast which could cause the levels to rise even higher.
NWS also advised that people should never drive cars, trucks, or sport utility vehicles through flooded areas as the water might be too deep to pass through.
According to NWS for Arkansas River Basin, some areas in southeast Kansas have picked up more than 70 percent of their annual precipitation this month alone.
In Illinois, at the time of publishing, there was an immediate warning for flash flooding in eastern Marshall and northeastern Woodford counties. Thunderstorms were producing heavy rain up to two inches across the area.
Locations that will get flash flooding include Minonk, Roanoke, Toluca, Washburn, Wenona, Varna, Benson, La Rose, Panola, Lake Wildwood and Pattonsburg. This includes Interstate 39 between mile markers 18 and 40, according to NWS.
The graphic below, provided by Statista, illustrates the scale of financial damage caused by tornadoes.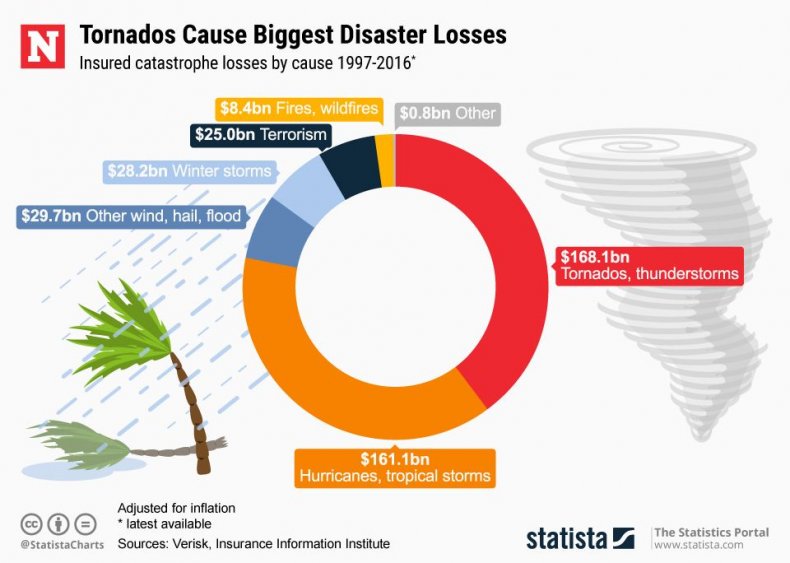 This article was updated to include an infographic.