Oklahoma Videos Show Devastation as Tornado Rips Through
Videos of the aftermath of a tornado that touched down in Oklahoma have begun circulating on social media.
The National Weather Service (NWS) issued multiple warnings across the state on Sunday, including for Ponca City, Tonkawa and Billings.
The weather service also issued severe thunderstorm warnings for Ada, Holdenville and Atoka.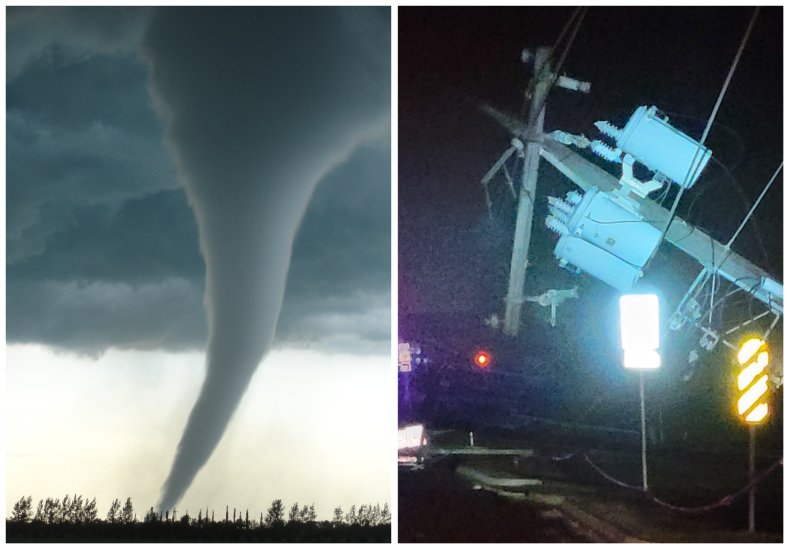 One video that was reportedly recorded in Norman, Oklahoma, on Sunday showed homes had been partially destroyed.
The clip, posted by the Live Storm Chasers Twitter page, showed trees pulled from their roots as well as debris all over the floor in a residential area in Norman, Oklahoma.
Some fences also appear broken with some homes having their roofs partially damaged. Emergency service vehicles are also seen in the area.
In another video, also reportedly in Norman, Oklahoma, near Lake Thunderbird, animals are being rescued following the tornado.
In the footage, some goats are seen trapped underneath some rubble and are in the process of being rescued. The goats seen in the clip do not appear to be seriously injured.
Another clip, posted on Twitter by meteorologist Tyler Pardun, purports to show the tornado moving behind some homes amid thunder and lightning.
After a lightning strike, the tornado can briefly be seen in the footage as it quickly moves through the area.
According to the Cedar Country Fire Department, the tornado also caused damage to power lines.
Tweeting on Sunday the fire department wrote: "Damage and power lines down off of Highway 9 and 77 and 24th and Highway 9 in Norman.
"Please keep out of the area and let first responders help the people in these areas."
The tornado also reportedly caused issues at the Hitachi factory in Norman, according to KFOR reporter Natalie Clydesdale.
She tweeted: "It's pretty chaotic scene at Hitachi in Norman. It appears the fire suppression system is damaged, you can see water spurting out from the building. The fire alarm is going off."
The National Weather Service's latest update early Monday morning noted that the threat of a tornado and severe thunderstorms has passed.
Tweeted at 12:41 a.m. local time, the page wrote: "While we are clear of severe thunderstorm/tornado watches and warnings, we still have very gusty winds behind the line of storms.
"These breezy winds will continue through the morning hours until Monday Afternoon. Stay safe out there!"
On Monday the winds could get as high as 70 mph in Norman Oklahoma according to the NWS.
Some of the strongest gusts are expected to hit Oklahoma City, Lawton, Altus, Enid and Clinton. Lawton is expected to see the strongest winds with estimates between 65 and 70 mph on Monday.