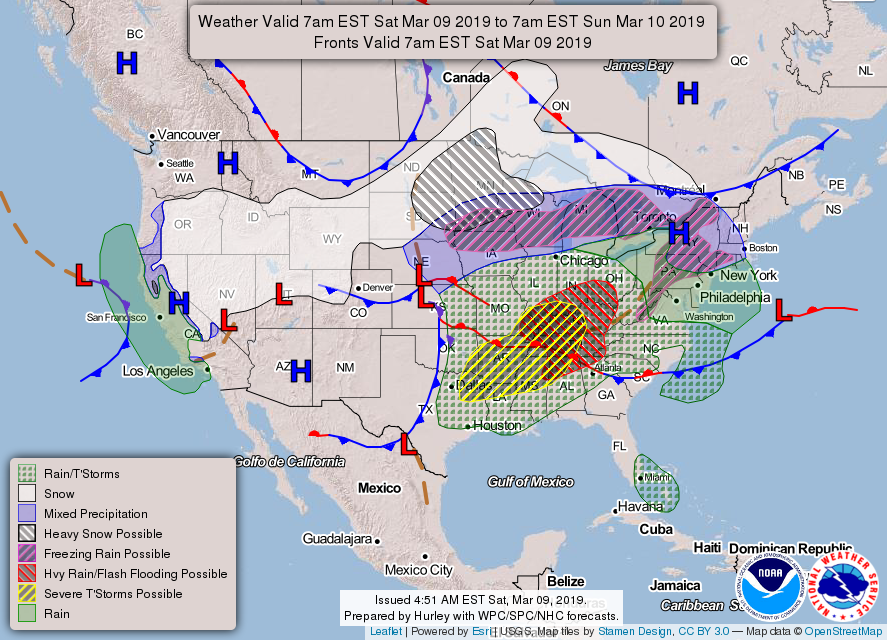 The central United States was seeing some significant and severe weather Saturday. In the northern part of the country, around the central plains and midwest, there were significant winter weather threats. Directly south, there was the possibility of severe thunderstorms and tornadoes.
The weather came a week after tornadoes ripped through Alabama killing 23 people and destroying countless homes. The National Weather Service was issuing warnings and watches for both weather scenarios as necessary and updating the forecasts to keep people in the areas where the weather was expected up to date.
The thunderstorms were due to warm and humid air heading north from the Gulf of Mexico, according to the NWS. The mixing air was making the perfect conditions for hail and thunderstorms as well as tornados.
Areas around the worst of the storm were under a wind advisory from the NWS. Parts of Arkansas, northern Louisiana, northern Mississippi and western Tennessee were all under a tornado watch, meaning the conditions were right for a tornado to develop.
One small portion of Arkansas was under a tornado warning, meaning a tornado was either spotted on radar or in person, or had touched down in the area and people should take shelter immediately. Arkansas was under the most watches and warnings with severe thunderstorm watches and warnings as well. Those watches and warnings meant the conditions were right for a storm or the storm was already happening in the area, respectively.
A tornado did touch down near Mira Myrtis Road near Interstate 49 and was moving at about 45 miles per hour. The NWS advised those in the area to take cover immediately. Generally inside a solid structure on the lowest floor of the house in an interior room without windows.
In the north there was snow and winter weather expected from Winter Storm Taylor. " Winter storm warnings are currently in effect from southeast Montana to western Wisconsin, and some of these areas could get 6 to 12 inches of snow with locally higher amounts," said the forecast from the NWS.
Those in the areas where there was severe weather expected should have a plan and be actively checking the NWS forecasts for any updates, especially about the possible tornados. Updates were available from the NWS and on NOAA radio.
​