Tornado Survivor Finds Family Bible, His Birth Certificate Tucked Inside, in Home's Debris
Tommy Jackson, 65, survived the deadly tornadoes that swept across areas of the Midwest and South over the weekend, including Jackson's home of Mayfield, Kentucky. But his house did not, though he managed to salvage something from the wreckage: his family's Bible, with his birth certificate inside.
Jackson was one of many in the town of about 10,000 that took shelter as a storm was bearing down on the state Friday night, and is now trying to rebuild from nothing, according to The Associated Press.
Kentucky Gov. Andy Beshear said Monday the current total of those who died during the tornado stands at 64, as recovery efforts continue and debris is searched across the state.
Many like Jackson are searching the areas that just days ago were their houses and apartments, and are now piles of wood, metal and concrete scattered across the ground.
Jackson said he currently has no way to get money because his wallet was lost in the storm, his local bank was destroyed and he knows he was lucky, or perhaps something more than lucky in his eyes, to find his birth certificate in the Bible found in the wreckage so he has some form of identification.
"The presence of the Lord was watching over me," he said.
Jackson spent the past 10 years taking care of his mother, but she died at the age of 88 from COVID in Nov. 2020. He stayed with his brother for a few nights after his home was destroyed, but with no power or water at his brother's house, Jackson said he went to a shelter in the nearby town of Wingo, waiting to figure out the next steps to rebuilding his life.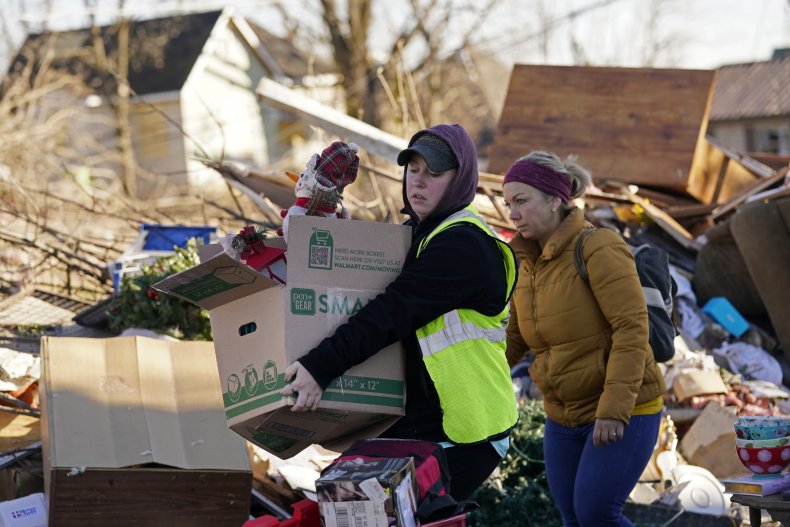 Jackson's visit with his brother made him realize the trauma was far from over. His brother told him he'd been hollering in the night, and Jackson suspects he was reliving the horror he'd endured.
"It happened really fast," Jackson, 65, said Monday.
As the storm blew in, it sounded like 10 people were outside throwing rocks at his house, Jackson said. "They told the truth about the sound of the train," he added.
His front door was locked, and the wind blew it off the hinges. The windows busted in. He grabbed a hold of what he could, and it felt like the wind was trying to suck him out. He watched the walls shred and blow away. The roof started peeling away above him. Insulation flew into his eyes and he couldn't see; it blew up his nose and into his mouth and he felt like he was choking. A vent fell and crashed into his head, then sheetrock, and a smoke detector.
He heard the government might be trying to place people, and he's praying for that.
He has no idea what will become of him, he said, but he's not worried: "I trust in the Lord."
The Associated Press contributed to this report.