Tornado Touches Down in Mississippi's Capital; Other Areas on Alert
Powerful winds whipped across parts of Mississippi, forming a tornado in the state's capital city and ripping roofs off buildings and downing power lines elsewhere.
The tornado was reported in Jackson Wednesday evening with other communities in the state being placed under severe weather warnings and reports of damage emerging. While the extent of the damage remains to be seen, the severe weather comes within a week of other tornadoes striking the state and Louisiana.
Mike Edmonson, senior meteorologist with the National Weather Service's Jackson office, told Newsweek that survey teams will confirm any tornadoes in the coming days.
The National Weather Service placed tornado warnings on Hattiesburg and other communities in the southeast part of the state until after 8 p.m.
Severe thunderstorms moving at 60 mph or faster could also produce tornadoes near Memphis, Tennessee, according to the service. Residents have been warned of flying debris and damage to buildings and vehicles.
A twister briefly formed from the dark cloudy sky over Jackson, according to reports on social media.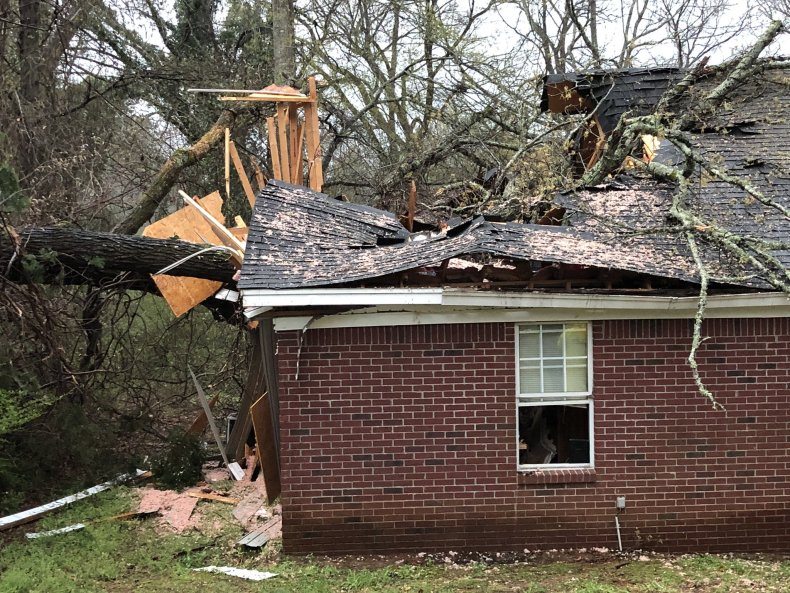 It quickly formed in the southern part of the city and was caught on camera about 4:30 p.m., reports 16 WAPT. No injuries have been reported, but the tornado toppled a utility pole near Jackson State University, according to the station.
The Hinds County Department of Emergency Management, which includes Jackson, has not recorded any injuries at the moment.
"Thankfully this guy missed us here in Pearl, but keep our area in your prayers as tornadoes touch down in Mississippi today," the Mississippi Braves baseball team said in a tweet showing a picture of the tornado's funnel near its stadium.
The city of Hattiesburg said on Facebook that high winds pulled down a traffic light, causing closure of an intersection.
Farther north in the college town of Oxford, Mississippi, police said on Twitter that multiple downed trees have been reported in the area, with at least one falling through the roof of a house. Nobody was injured, according to police.
Power outages were reported in the areas' downtowns and at the University of Mississippi, and some roads have seen flooding, according to police.
Poweroutage.us shows nearly 44,000 outages in Mississippi.
Near the Tennessee border, police in the city of Southaven said on Twitter that a roof collapsed on a warehouse.
"The building has been evacuated and everyone is safe and accounted for," police said.
Newsweek has reached out to the Hinds County Department of Emergency Management for comment.