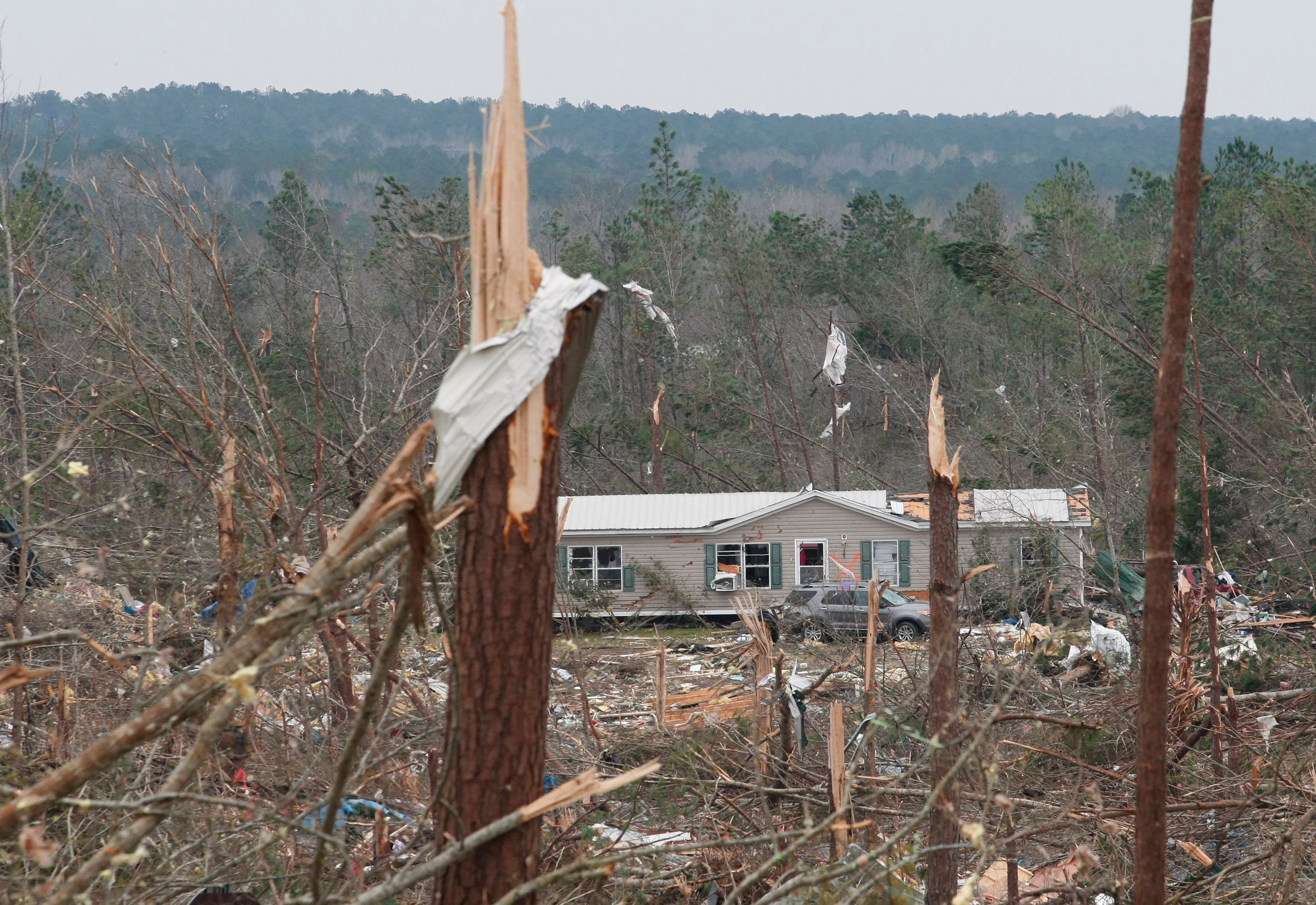 Tornados that ripped through Lee County Alabama on Sunday and left at least 23 people dead have left others wondering what could be done in the future to prevent such a high death count. The tornados were powerful and one was at least a half of a mile wide when it hit.
Officials were searching for people days after the tornados hit and still working to assess the damage. One of the storms was assessed to be what was considered an EF4 tornado, which is the second highest on the Enhanced Fujita Scale used to measure the strength of the tornados based on three-second wind gusts.
For those living in an area where tornados are a common threat, there are some ground rules for safety the National Weather Service recommends. First, those in the area should be aware of the language used to warn about the coming storms. While it might not seem like it, there's a big difference between a tornado warning and a tornado watch.
What is a tornado watch?
A tornado watch means tornados are possible in the area where the watch is issued. The NWS says this is a good time to review plans and check on supplies. These watches come from the Storm Prediction Center, which is a part of the National Oceanic and Atmospheric Administration and NWS.
What is a tornado warning?
A tornado warning is issued when a tornado was either already spotted or was indicated on radar, according to the NWS. These are issued by local forecast offices which can be found on the NWS website by typing in the local zip code.
What to do when a tornado warning is issued?
When a tornado warning has been issued, there is an immediate danger for the area it was issued for. This means it's time for people there to put their plans into action and start by taking cover. They should go to an interior room on the bottom floor of the building they're in, even if that's a basement, says the NWS. Anyone in any type of mobile home or car should try and get to substantial shelter as quickly as possible where they can be protected from debris.
A big part of being ready when a warning is issued has to do with planning beforehand. The NWS advises that people plan and then have a drill to test their plan so that they're ready when necessary. Some states have state-wide drills for tornados once a year to help residents prepare for an emergency.
Those living in areas where tornados are common should have a way to listen to their local news station or the NOAA radio station where warning and watches will be broadcast. Not all areas have sirens for warnings so residents should have another way to get the necessary information about coming storms. The NWS also recommends that people have a plan for how they'll communicate with friends, family and neighbors in the event of a tornado.
The NWS offers storm spotter classes online for those who are interested in helping spot weather across the country. The training takes about two hours and can be arranged through the local Emergency Management Office. "SKYWARN storm spotters provide important ground truth information to NWS warning forecasters who make critical warning decisions during severe weather, and help the NWS perform its primary mission to save lives and property," said the NWS.