Florida Tornado Watch in Place as Severe Storms Threaten State
Southwest Florida has been warned of potential tornados on Tuesday morning as severe weather moves from the Gulf of Mexico into the state.
A "tornado watch" has been issued for Southwest Florida until 10 a.m. local time by the National Oceanic and Atmospheric Administration (NOAA).
Its forecasters predict a "moderate" risk of two or more tornados, while there is also a "low" risk of severe winds.
The tornado watch applies to places including: Kissimmee, Melbourne, Lake Wales, Sarasota, Sebring, Fort Pierce, Jupiter, West Palm Beach, Boynton Beach, Fort Myers, and Miami.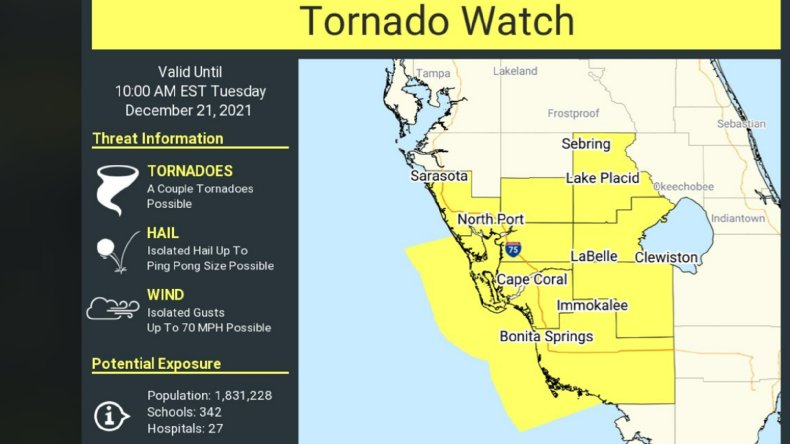 In the summary for the warning, NOAA said: "A long-lived supercell [storms] west of Naples may be maintained as it reaches and spreads inland of the coast.
"An additional supercell might develop farther north as well as low-level flow intensifies this morning.
"The tornado watch areas is approximately along and 50 statute miles either side of a line from 20 miles southwest of Fort Myers Florida to 55 miles east northeast of Fort Myers Florida."
The NOAA alert also highlighted the importance of people staying vigilant and taking precautions against the extreme weather.
On its website, the NOAA cautioned: "Remember, a tornado watch means conditions are favorable for tornadoes and severe thunderstorms in and close to the watch area.
"Persons in these areas should be on the lookout for threatening weather conditions and listen for later statements and possible warnings."
The latest weather warning comes weeks after several central and southern states were hit by a series of tornados, leaving parts of Kentucky devastated.
At that time, President Joe Biden addressed concerns that climate change may increase the frequency or intensity of these storms.
Answering questions about climate change, Biden said on December 11: "All that I know is that the intensity of the weather across the board has some impact as a consequence of the warming of the planet and the climate change.
"The specific impact on these specific storms, I can't say at this point. I'm going to be asking the EPA and others to take a look at that. But the fact is that we all know everything is more intense when the climate is warming, everything.
"And, obviously, it has some impact here, but I can't give you a quantitative read on that."
Asked if his administration could be better prepared for handling weather-induced disasters, the president said the White House was "as prepared as any government has ever been."