Tornado Touches Down in Indiana, Severe Thunderstorm Watches Issued for Ohio Valley
More than two dozen tornadoes ripped through Iowa Thursday—but the severe weather didn't stop there. Severe thunderstorm warnings and watches were issued Friday, along with tornado watches issued for the Tennessee and Ohio Valleys.
The storms were prompted by a frontal system traveling in the direction of the Mississippi Valley and eventually, in the direction of the Ohio Valley, a statement on the severe weather from the National Weather Service said.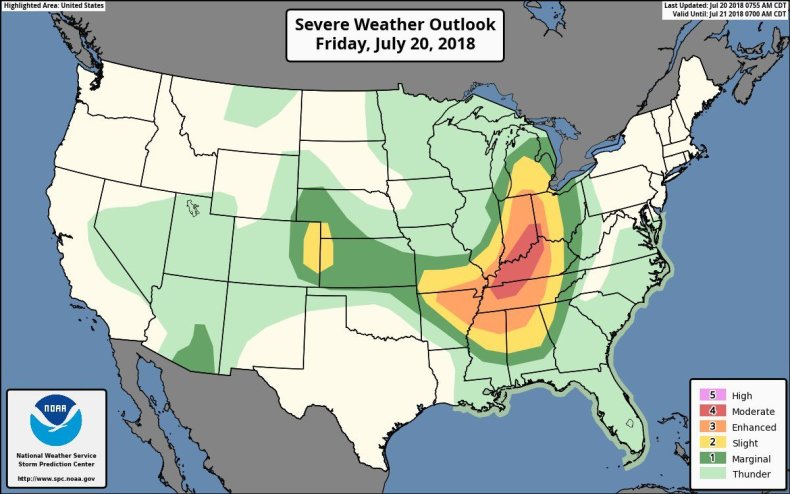 A severe thunderstorm warning is issued when the storm itself is imminent, while a watch, on the other hand, means a storm is possible, but won't necessarily happen. A severe thunderstorm is classified by winds of 58 miles per hour or faster or hail that measures one inch in diameter, or both, according to the NWS.
Tornado watches and warnings are similar. A tornado warning is very serious and means there is a tornado in the area and imminent. When a warning is issued, people in the area should seek shelter immediately, said the NWS. A watch, again, means that a tornado is possible, and a tornado watch is frequently issued alongside a severe thunderstorm watch.
One of those tornadoes did actually touch down Friday in Southern Indiana. WKYT reported that the NWS confirmed the tornado, which hit sometime between 2 p.m. and 3 p.m., causing severe damage to structures.
The NWS Louisville office was sharing to the minute watches and warnings late Friday afternoon about tornadoes and thunderstorms on Twitter. The office also shared a photo of large hail that had fallen during one of those storms.
Just a day earlier in Iowa, 27 tornadoes were reported that created a mess in their wake. People were injured, structures were damaged and downed power lines caused outages. The severe weather continued and spread into other states following the storms Thursday.
Those in the threatened areas should pay attention to local weather reports and follow the warnings and watches from the NWS or listen for news from local authorities on the radio or on TV. In the event of a tornado, seeking shelter is key. In the event of a storm that causes any flooding, people in the area should avoid driving through any flooded roads.