What Is a Tornado Weather Warning and Is It More Serious Than Tornado Watch?
Tornadoes and other severe weather conditions have seen local authorities issue warnings across the U.S.
A tornado is a "violently rotating" narrow column of air extending from a thunderstorm to the ground. It can be difficult to see a tornado unless it forms a condensation funnel consisting of water droplets, dust and debris, the National Severe Storm Laboratory (NSSL) explained.
Tornadoes are among the "most violent phenomena" of all atmospheric storms we see, the federal weather body said.
What Is a Tornado Weather Warning?
A Tornado Warning is issued "when a tornado is imminent." Residents are advised to find shelter immediately when a Tornado Warning is issued, the NWS said.
The warning is issued by meteorologists from your local National Oceanic and Atmospheric Administration (NOAA) NWS Forecast Office.
A Tornado Warning indicates a tornado has been reported by spotters or detected by radar and that "there is a serious threat to life and property to those in the path of the tornado," said the NSSL. The warning can cover a number of counties or parts of counties that are in the path of danger.
Is It Different to Tornado Watch?
A Tornado Warning is more serious than a Tornado Watch, which is issued when "severe thunderstorms and tornadoes are possible" in and around the area covered by the watch. It does not mean that they will occur and only means they are possible, the NWS explained.
A severe thunderstorm is defined by winds of 58mph or higher and/or hail with a diameter of 1 inch or larger, according to the NWS.
A Tornado Watch is issued by meteorologists from the NOAA Storm Prediction Center, which monitors the weather across the country 24/7 for conditions that are favorable for tornadoes and severe weather.
A watch typically covers several states or parts of states. "Watch and prepare for severe weather and stay tuned to NOAA Weather Radio to know when warnings are issued," the NSSL advised.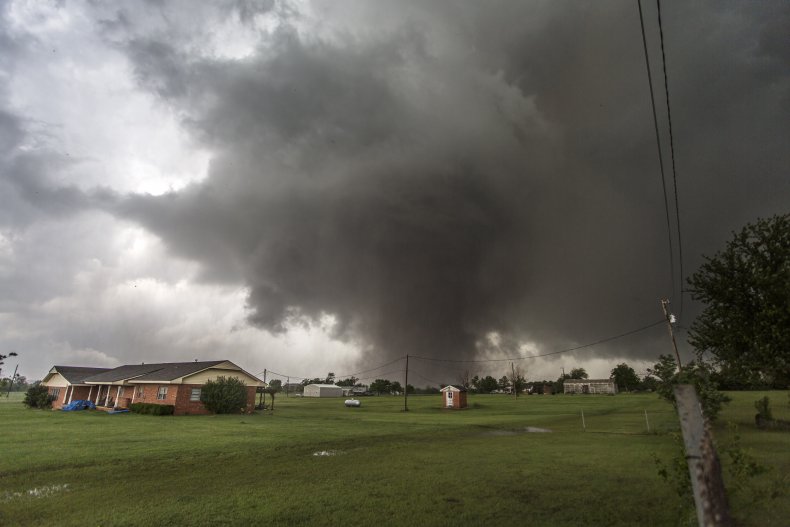 Which Areas of the U.S. Are Most Affected by Tornadoes?
A broad area of the central U.S., referred to as "Tornado Alley" by the media, is known to have a relatively high occurrence of tornadoes.
However, tornadoes have been reported in all 50 states and violent tornadoes do occur outside "Tornado Alley" every year.
The NSSL warned the idea of a "Tornado Alley" can be misleading because the tornado threat changes throughout the year. The threat shifts from the southeast in the cooler months, toward the southern and central Plains regions in May and June and the northern Plains and Midwest regions during early summer.
Tornado occurrence can be measured in various ways, such as by the number of all tornadoes, tornado county-segments, strong and violent tornadoes only or by databases with different time periods.
The U.S. sees around 1,200 tornadoes a year but as official tornado records only date back to 1950, we don't know the actual average number of tornadoes that occur each year.
Methods of tornado spotting and reporting have evolved in recent decades, so we are observing more tornadoes that actually happen, the federal body explained.