Tornados touched down in parts of Georgia and South Carolina late Tuesday, causing destruction, injuries and at least one death.
In South Carolina, the damage appeared to be concentrated in the city of Allendale, WJBF reported. In Georgia, authorities were monitoring the aftermath of tornados in Swainsboro and Pembroke, where one woman was killed and nine others injured, according to WSAV.
The full extent of damage and injuries caused by the severe weather was not immediately clear, but photos and footage of some of the aftermath showed leveled houses, fallen trees and piles of debris.
The Georgia Emergency Management and Homeland Security Agency told Newsweek that 15 single-family homes and three mobile homes had been destroyed in Bryan County, where Pembroke is located. Ten-single family homes and one mobile home in the county saw major damage.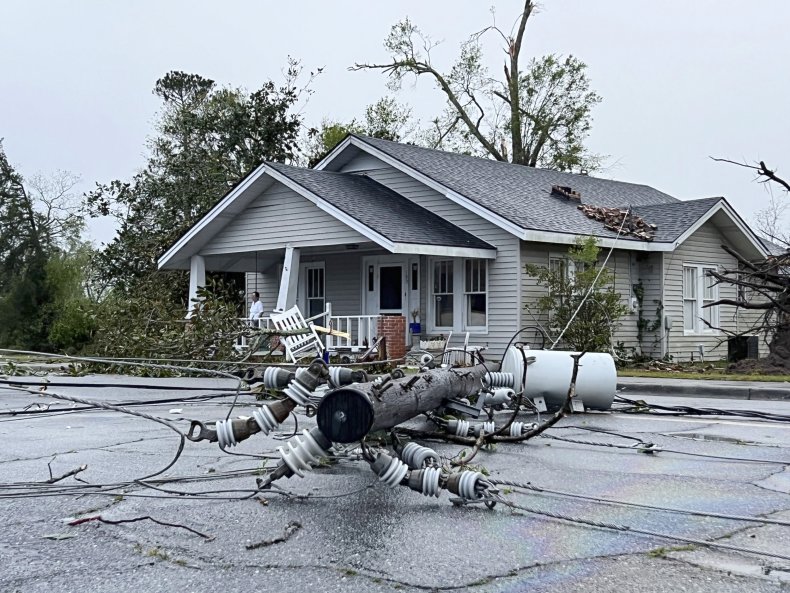 There was also major or minor damage confirmed at several government and business establishments in the county, the agency said.
In an earlier update posted on Twitter, Bryan County said that there was "significant damage" in the Park Place and Homestead Drive neighborhoods, Hendrix Park, Black Creek, Pembroke and Black Creek Golf Club.
In one set of photos from Pembroke posted on Twitter by a WTOC reporter, a building was shown with part of its roof ripped off, and several damaged vehicles were seen piled on top of each other.
Additional photos of the aftermath in Allendale, South Carolina, shared by a WFXG reporter showed debris and wreckage strewn across a field, as well as bent or broken trees.
The South Carolina Emergency Management Division (SCEMD) tweeted Wednesday morning that an initial assessment of the damage in Allendale showed that four homes were destroyed, five suffered major damage and six had minor damage. No deaths were reported in the city, but there were reports of three nonlife-threatening injuries, the SCEMD said.
"County emergency management & @SCEMD will conduct more thorough damage assessment today," the agency tweeted.
In Swainsboro, Georgia, many were left without power in the wake of the storm, WJBF reported. One photo posted on Twitter by a WJBF reporter showed what appeared to be a parking lot littered with large pieces of debris and cordoned off with tape.
Georgia Governor Brian Kemp tweeted Tuesday night that his administration was coordinating with several responding teams in the impacted areas and that his family's "thoughts and prayers are with all who have been impacted."
"We will continue to do everything we can to support all impacted by today's severe weather and the emergency personnel who are responding to the needs and damage on the ground," he said in another tweet Wednesday morning.
South Carolina Governor Henry McMaster had not posted anything on Twitter about the weather by Wednesday morning, but he urged state residents Tuesday night to monitor local forecasts and be prepared to take precautions for their safety.
Newsweek reached out to the SCEMD for additional comments and information on the severe weather's aftermath.
Update 4/6/22, 4:53 p.m. ET: This story was updated with additional comments.