Tornadoes Destroy Buildings in Philadelphia as Hurricane Ida Heads North
Tornadoes have destroyed buildings in Philadelphia, Pennsylvania as the remnants of Hurricane Ida head north.
Ida, which has since been downgraded to a tropical depression, has nevertheless caused flash flooding and at least 16 tornado warnings to be issued throughout the Philadelphia region on Wednesday night.
Of the 16 warnings, several "large and extremely dangerous" tornadoes ripped through the Philadelphia region, the National Weather Service (NSW) reported. The twisters brought heavy rain and windstorms, destroying buildings, ripping rooftops from homes, felling trees and causing power outages throughout the region, WCAU reported.
The tornadoes left tens of thousands of homes and businesses without power, The Weather Channel reported.
Video taken by residents in the city's southern region showed neighborhood homes completely demolished and other houses with their entire sides removed. "They look like dollhouses," one WCAU reporter noted.
A second video showed one tornado as a giant mass of revolving dark clouds. Local weather radar detected debris flying around the twister.
The NSW warned local residents to seek shelter and avoid the outdoors. By Thursday evening, Philadelphia's Office of Emergency Management (OEM) announced that all city libraries and recreation areas would be closed by 5 p.m. local time. The OEM then opened shelters in West Philadelphia and Roxborough "out of an abundance of caution," The Philadelphia Inquirer reported.
Philadelphia suburban school districts canceled classes for Thursday, citing flooding and road closures. The flooding is expected to affect the city for at least the next two days.
By 11 p.m., a flood gauge near Washington Avenue, a major municipal thoroughfare, had recorded a water level of 9.66 inches, well above the flood stage of 8.2 inches, the NWS reported. Flooding also submerged Columbus Avenue near the city's Ben Franklin Bridge.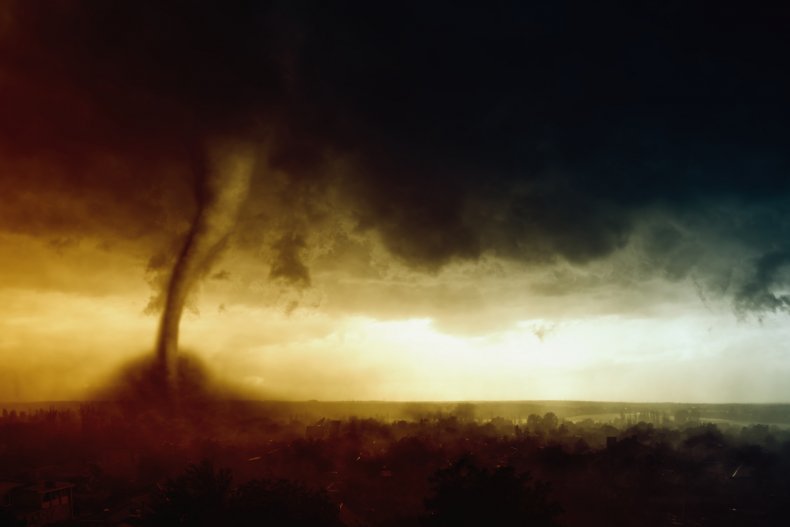 No studies have shown that the frequency of tornadoes has increased with the warmer climate caused by man-made factors, according to a July 2021 article by the Yale Climate Connections (YCC).
However, tornado seasons have become more varied, with tornadoes occurring earlier or later than usually expected in the year, the YCC wrote.
The YCC also found that tornado "outbreaks", the term for when multiple tornadoes result from a single weather system, have become larger and more frequent. The multiple tornadoes in Philly on Wednesday evening stemmed from the same tropical depression and, thus, qualifies as an outbreak.
The YCC is a nonpartisan climate change reporting service. The service is directed by the Yale Center for Environmental Communication within the Yale School of the Environment in Yale University.
Newsweek contacted the City of Philadelphia for comment.