Tornadoes, Flooding, Snow: Christmas Eve Brings Hazardous Winter Weather to East Coast
A harsh winter storm barreled through the eastern U.S. on Thursday, bringing snow and rain from Georgia to New England, and creating hazardous travel conditions ahead of the Christmas holiday.
Forecasters warned of flooding, harsh winds, and blizzards across the Midwest, New England and the coastal Mid-Atlantic. By Thursday afternoon, snow had already blanketed the Midwest, with more than eight inches covering Minneapolis.
In Nebraska, a dangerous mix of snow and ice prompted police to respond to more than 250 car crashes or calls for help, the New York Times reported. In one accident, a man, woman and child were killed after their car skidded over a median along Interstate 80 and into an oncoming semi-truck.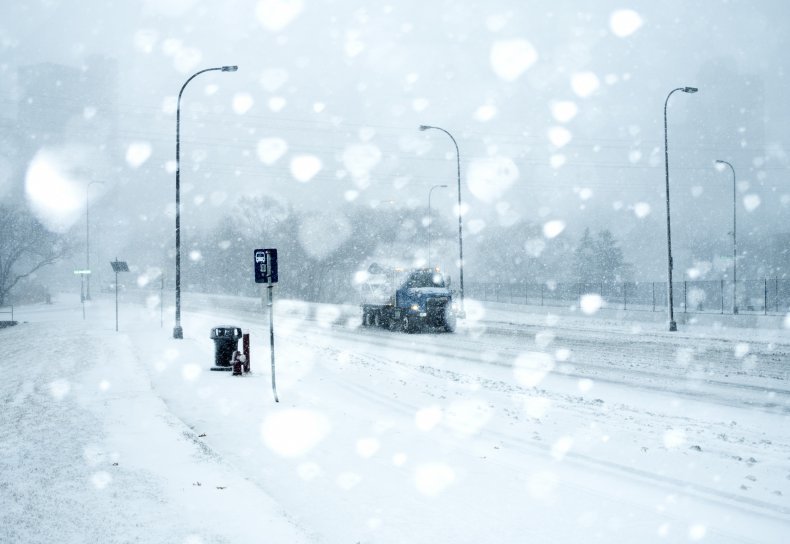 Further east, forecasters warned that heavy rainfall would eat away at already existing snow that came down in a major winter storm just last week, likely causing flood damage.
"The rapidly melting snow, which contains approximately 1-3 inches of water will combine with an anticipated 1-3 inches of rain and locally higher amounts from the storm from Christmas Eve to early Christmas Day," Brett Anderson, an AccuWeather senior meteorologist said in a weather report.
The forecast added that "the anticipated rainfall, even without the added liquid from melting snow cover, would be heavy enough to trigger flooding in urban and poor drainage areas."
In areas across Pennsylvania and New York, forecasters warned that incoming snow and harsh winds could lead to property damages including collapsing roofs, power outages, and trees crashing down in the streets. In parts of West Virginia, there could be more than an inch of rain during the day, mixed with up to half a foot of snow in the evening.
Strong winds are expected to move south later this evening, placing nearly 5 million Americans under severe thunderstorm watch across the southeast, as the storm pulls moisture from the Gulf of Mexico.
Parts of North Carolina and South Carolina, including Raleigh, Wilmington, and Myrtle Beach, have been placed under a tornado watch until 10 PM on Thursday night, the National Weather Service (NWS) tweeted.
The NWS warned Americans to check their local forecast for specific details for those who are planning to travel.
The brutal winter conditions come on top of pleas from public health experts for Americans to avoid traveling due to the coronavirus pandemic.
The Centers for Disease Control and Prevention (CDC) has urged that "the safest way to celebrate winter holidays is at home with the people who live with you."
"Travel and gatherings with family and friends who do not live with you can increase your chances of getting or spreading COVID-19 or the flu," the agency added.
Earlier this month, Dr. Anthony Fauci, director of the National Institute of Allergy and Infectious Diseases (NIAID) warned that coronavirus surges could become much worse throughout the country if Americans gather for Christmas.
"I think January is going to be terrible because you're going to have the Thanksgiving surge super-imposed upon the Christmas surge. So it's entirely conceivable that January could be the worst," he previously told Newsweek.
On Wednesday, over one million Americans were screened in airports by the Transportation Security Administration (TSA), marking the busiest day of travel since the pandemic began. But by Christmas Eve, at least a dozen flights had been canceled, and nearly 200 delayed following the inclement weather.