Tornadoes Reported in Texas, Oklahoma, Pennsylvania Last Night: Images Show Destruction in Kansas City, Canton, Harrisburg—Latest Storm Warning Updates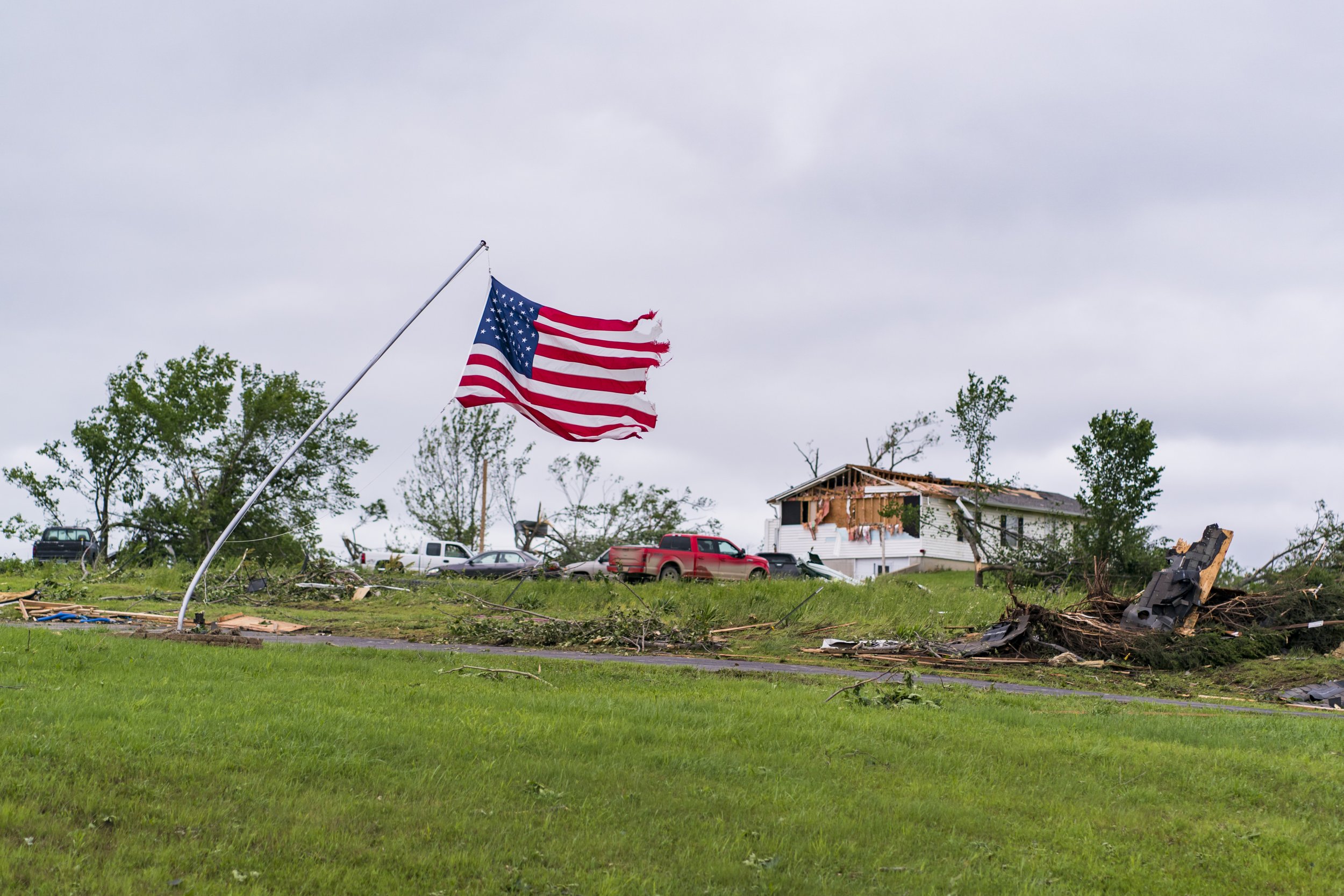 Tornadoes, thunderstorms and flooding continue to batter states including Texas, Oklahoma and Pennsylvania. On Wednesday, significant weather-related damage and injuries were reported in the central states. Some residents were forced to flee their homes, while others hunkered down in storm shelters.
Possible tornadoes were reported in Texas Wednesday afternoon and well into the evening. Significant damage was reported around the Cedar Creek Country Club in Kaufman County after a tornado swept through Mabank, Texas, at around 4.30 p.m. CDT (5.30 p.m. ET).
Video taken at Mabank High School parking lot

Posted by Brent Kay Maynard on Wednesday, 29 May 2019
Some 15 homes were damaged, according to local station WFAA, while two were destroyed. Reporter Matt Howerton tweeted that at least one person was injured in the severe weather.
A possible multi-vortex tornado was reported southwest of Canton, Van Zandt County, at around 5.00 p.m. CDT, according to the National Weather Service's Fort Worth branch. Residents were advised to seek shelter as it approached through the city.
By 5.25 p.m. CDT the possibly rain-wrapped tornado was headed northeast toward the city of Grand Saline. Local station CBS DW caught footage of a group of people, including a young girl and a small dog, coming out of a storm shelter in the city after the strongest winds had passed.
As rain and wind continued across large swathes of the region, the National Weather Service's tornado watch continued through 11 p.m. CDT from north of Canton all the way down to Hearne. The possibility of rain and thunderstorms continued through the evening, with some Texas areas braced for potential flooding.
As of 8.31 p.m. CDT Wednesday, flood warnings were still active for Elm Fork Trinity River near Carrollton affecting Dallas County, Denton Creek near Justin affecting Denton County, Trinity River At Dallas affecting Dallas County, Trinity River At Trinidad affecting Henderson and Navarro Counties, Sister Grove Creek near Blue Ridge affecting Collin County, East Fork Trinity River At McKinney affecting Collin County and Trinity River near Long Lake (Oakwood) affecting Anderson, Freestone and Leon Counties.
According to an update issued at 8.33 p.m. CDT, several rivers in the Texas-Louisiana region also faced flood warnings, including the Sabine River near Bon Wier and Deweyville, the Calcasieu River near Salt Water Barrier and the Neches River near Town Bluff.
As of 10.09 p.m. CDT, a flood warning for Sulphur River near Talco is set to last through Monday, unless it is canceled.
Oklahoma also experienced dangerous storms late Wednesday afternoon, with a possible tornado reported in McCurtain County, according to KSLA. McCurtain County Sheriff Kevin Clardy told The Texarkana Gazette there didn't seem to be any injuries linked to the 5.00 p.m. storm that touched down near Beavers Bend State Park. "There are some trees down and power lines down. That's what the park rangers are reporting," he told the publication.
New aerial images of Muskogee showed the extent of recent flooding in the area. Taken by Aerial Data Service, Inc and published by NewsonSix, the images show swathes of saturated fields.
National Weather Service updates published Wednesday showed that flood warnings were in place until 4.30 p.m. CDT Friday for Creek County, Adair County, Wagoner County, Okmulgee County and Tulsa County in northeastern Oklahoma. In southeastern Oklahoma, Mcintosh County is under a flood warning. In east central Oklahoma, there are warnings out for Sequoyah County in East Central Oklahoma, Cherokee County, Muskogee County and Okfuskee County.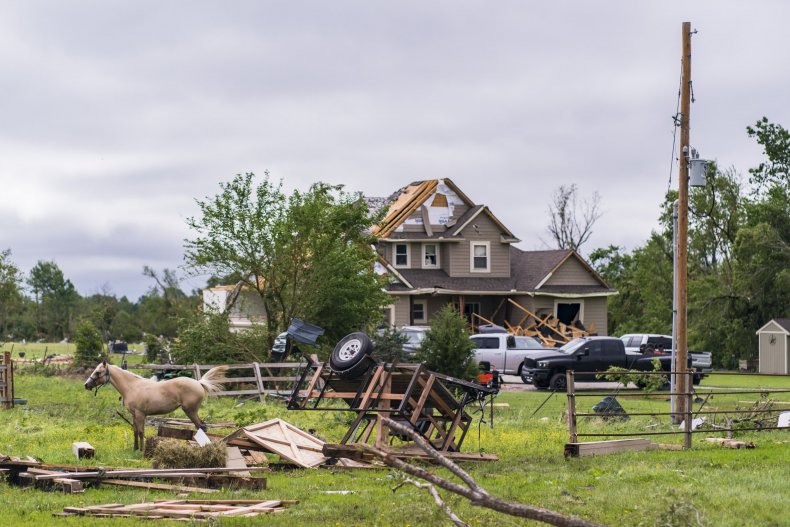 Kansas is reeling from a large tornado that plowed through southwest Douglas County, southeast Lawrence and Leavenworth County, the National Weather Service reported. The storm stopped producing a tornado after it reached western Kansas City. However a new tornado emerged in Clay County, Missouri, which persisted until it hit the area north of Excelsior Springs
Extensive damage was confirmed Wednesday, with Linwood Mayor Brian Christenson telling CNN that dozens of homes on the edge of the city were "all gone." Thirteen people were treated for injuries at a hospital in Lawrence, the network reported.
The National Weather Service confirmed three tornadoes hit Pennsylvania Tuesday, wreaking havoc in Indiana, Bradford and Berks counties. Tornado warnings continued through Wednesday afternoon for areas including Dushore, Mildred, Tamaqua, Shenandoah, Mahanoy City, Tioga County, Mansfield, Wellsboro, Blossburg and Arnot.
The mayor of Zelienople, Pennsylvania, issued a state of emergency as flood waters swept the borough north of Pittsburgh, WPXI reported.
ABC27 meteorologist Adis Juklo shared images of what he said may have been a funnel cloud or tornado near Harrisburg Wednesday evening on social media.
Severe thunderstorm warnings continued in Harrisburg and other southeastern into Wednesday evening.
Images show the destruction left in several Pennsylvania towns. Meteorologist Adam Joseph shared an image of serious damage to a house, possibly caused by a Tuesday tornado, in Morgantown, an hour's drive east from Harrisburg.
With further rain and showers expected, the National Weather Service's State College office issued a flash flood watch for several areas of the state at 3.48 a.m. ET Thursday morning. The watch will be active from 2.00 p.m. ET Thursday into the evening. The watch covers the central Pennsylvania areas of Adams, Bedford, Blair, Cambria, Clearfield, Columbia, Cumberland, Dauphin, Franklin, Fulton, Huntingdon, Juniata, Lancaster, Lebanon, Mifflin, Montour, Northern Centre, Northumberland, Perry, Schuylkill, Snyder, Somerset, Southern Centre, Southern Clinton, Southern Lycoming, Union and York.
But an update issued simultaneously added that, from Friday through Wednesday, the chance of "widespread hazardous weather" is low.