Tornadoes, Hail, Flooding Expected in Parts of Texas, Louisiana as Storms Continue Through South
Severe weather will strike areas of the South over the next few days, with the chance of tornadoes, hail and flooding.
On Sunday, communities across the southern region experienced storms that brought wind gusts, hail and flooding, and meteorologists are predicting that these conditions could continue in the coming days.
According to AccuWeather forecasters, an atmospheric disturbance will travel from the southern Rockies and combine with a high-pressure system, which is expected to produce rain and thunderstorms over the Southern Plains on Tuesday night.
"There will be an increasing chance of storms with golf ball–sized hail or larger, as well as storms with damaging wind gusts Tuesday night," AccuWeather Senior Meteorologist Brett Anderson said during a broadcast.
"The general rainfall will be beneficial, as some areas are experiencing drought conditions," Anderson added.
Throughout Tuesday night, the storm system will continue to move through the Southern Plains, and it is expected to increase in severity on Wednesday as the atmospheric disturbance combines with warm and humid air from the Gulf of Mexico.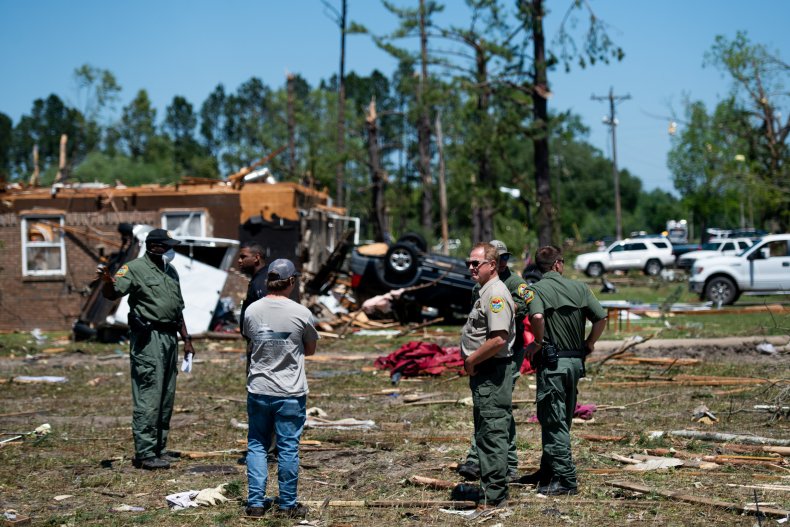 AccuWeather says cities like Houston, Baton Rouge, Louisiana, and Little Rock, Arkansas, are expected to experience severe thunderstorms, hail and damaging winds throughout the day on Wednesday. There is also a potential chance for isolated tornadoes to touch down in these areas.
This weather system will continue to affect areas of the South on Wednesday night, with thunderstorm activity expected in areas like Jackson, Mississippi, and Tuscaloosa, Alabama.
Throughout the day on Thursday, the storm system is expected to travel eastward with similar weather conditions. According to AccuWeather forecasters, cities like Macon, Georgia, Tallahassee, Florida, and Myrtle Beach, South Carolina, are expected to get severe thunderstorms and damaging winds, with a chance for some isolated tornadoes.
AccuWeather forecasters are predicting that by Thursday night areas closer to the Atlantic coast will experience dryer weather conditions, while the storm system will continue to affect areas in the South.
Severe weather conditions, such as thunderstorms and flood threats, are expected to continue in the South throughout the week. These areas range from eastern Texas to New Orleans and Atlanta. AccuWeather forecasters are predicting that similar weather conditions could continue in areas of the South throughout May.
These weather conditions come shortly after severe weather and tornadoes struck a number of different areas in the South.