Toronto Couple Takes a Unique Stand Against Illegal Campaign Sign on Their Lawn
With Canada's federal election day quickly approaching, politicians trying to grab a seat in Parliament are pounding the pavement and handing out signs. But not all of them are following the law.
According to the CBC, it's not uncommon for political candidates or their staffers to place their campaign signs on front lawns without the homeowner's consent, even though it violates the Canada Elections Act.
On Sunday, a couple in Toronto decided they had enough after Conservative Party of Canada (CPC) candidate Zia Choudhary, or a member of his team, placed a sign on their lawn without permission. But rather than just rip the sign out, they decided to add some of their own.
A post on Reddit shows Choudhary's campaign sign buttressed by two signs on either side—the one the left reads "Don't vote for," with an arrow pointing to Choudhary's name, while the poster on the right reads, "They placed a sign on our lawn without our consent!"
Choudhary says someone from his team did, in fact obtain permission before planting a campaign sign on the grounds, insisting "I have door knocking records for that day."
But "that never happened, or he has me confused with another house in the neighborhood," the homeowner replied on Facebook. "Neither me or my partner would agree to this as we have a policy for no signs, even if it's someone we support."
They added that the sign was removed Sunday afternoon, but "only after I raised a stink about it and it blew up in their faces."
Since the incident, many have taken to social media to either support or condemn the couple.
"This happened in Calgary a LOT in the provincial election," one person tweeted. "Many folks weren't sure what to do with it, and just put up a competing sign beside it. Your response is way better."
"I've worked on campaigns before and cannot imagine the nerve it would take to do this. It's incredibly disrespectful," one woman responded. "That's why you don't make assumptions based on your list. You have to knock on the door and actually talk to people."
But another user called the couple "childish" for their response.
"Mistakes happen. I came home to a Liberal sign the last election! Like a good person I just took it down and politely returned it to their office! But hey, Liberals will be Liberals."
One person suggested the sign was a hoax "to attack the Conservative candidate." Noting the ad faced parallel to the street, they insisted, "Candidate signs are placed perpendicular to the road so cars would be able to see it."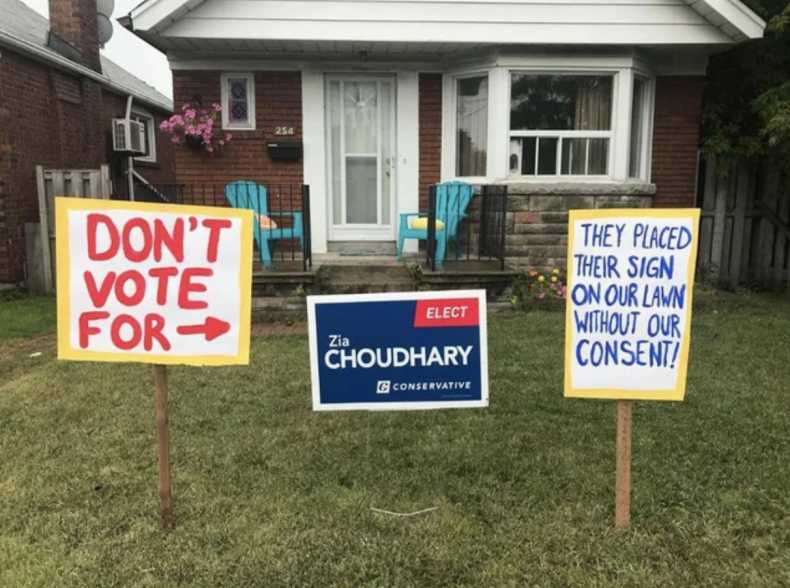 Northeast of downtown, Toronto—Danforth is a multicultural neighborhood with sizable Greek, Chinese, Muslim and South Asian communities. It's historically leaned progressive, with election contests between the New Democratic Party (NDP) and the Liberal Party. No Conservative candidate has garnered more than 15 percent of the vote.
Canadian federal elections are held Monday, October 21. Choudhary is up against incumbent Liberal MP Julie Dabrusin, who's represented the district since 2015.