Toronto Mayor Rob Ford's Brother Takes His Place in Race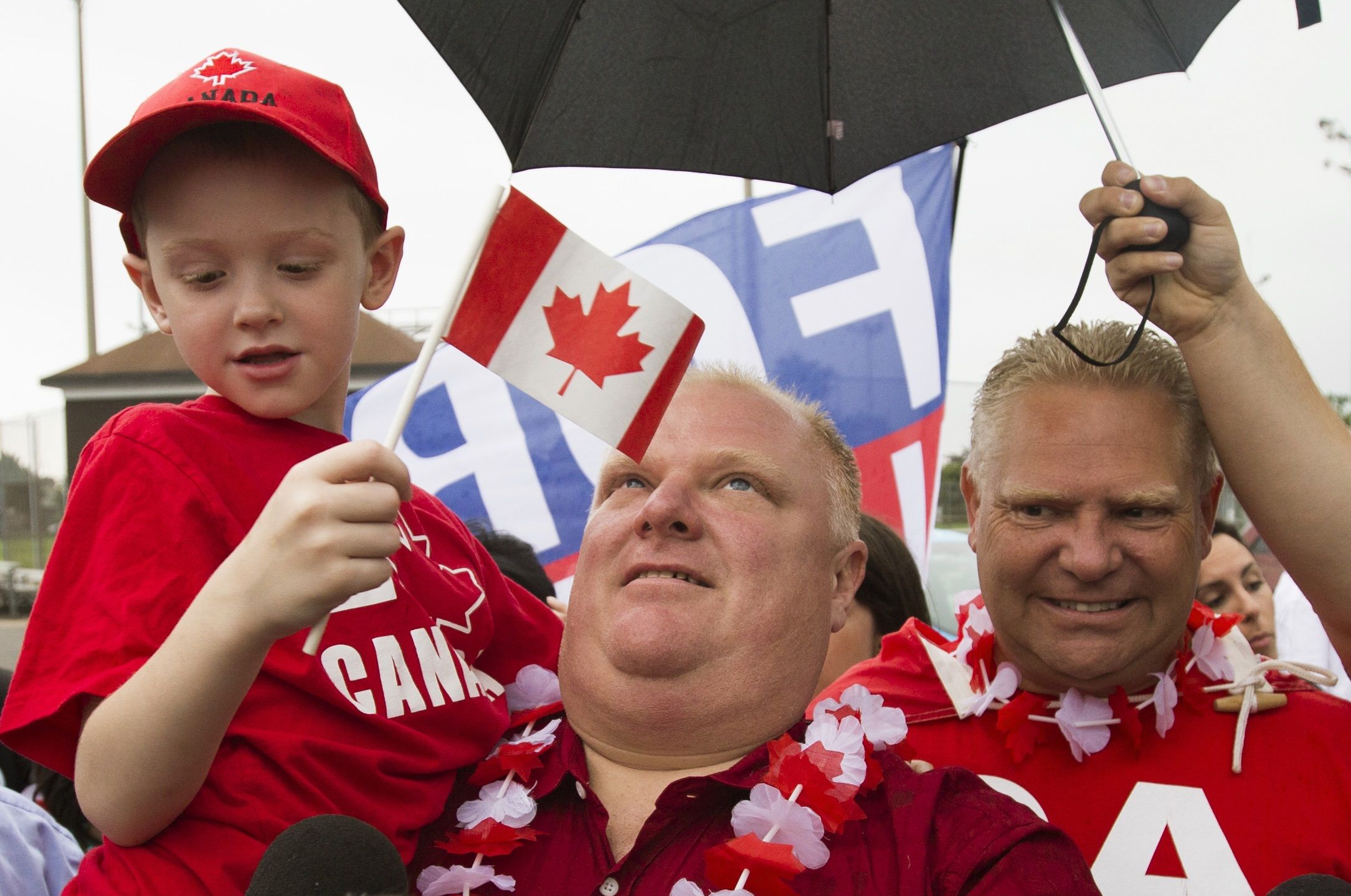 TORONTO (Reuters) - Toronto Mayor Rob Ford, who gained global notoriety for admitting he smoked crack cocaine, dropped his re-election bid on Friday, citing a health crisis, but his older brother took his place in the race to run Canada's largest city.
In drama worthy of Shakespeare, the family switch was made minutes before a deadline for changes to the city election ballot, which also saw a Ford nephew withdraw to allow his uncle, the mayor, to run for a city council seat in his place.
The Oct. 27 election is seen as a referendum on Ford's four tumultuous years leading Toronto. Recent polls had shown him in second place in a tight three-way race for mayor of Canada's financial capital and largest city with a population of 6 million.
Doug Ford, the mayor's older brother and campaign manager, is regarded as less charismatic but less volatile than his larger-than-life sibling, who steadfastly refused to resign even as he admitted buying illegal drugs while in office and checked himself into rehab.
"My heart is heavy when I tell you I am unable to continue my campaign for re-election as your mayor," Rob Ford said in a statement, adding that he could be "facing the battle of my lifetime."
"I've asked Doug to finish what we started together so that all we've accomplished isn't washed away. I've asked Doug to run to become the next mayor of Toronto because we need him."
The 45-year-old mayor was hospitalized on Wednesday after complaining of unbearable abdominal pains and was diagnosed with a tumor. He is undergoing a battery of tests, with biopsy results expected in a week.
In a newspaper interview earlier on Friday, Doug Ford said, "I would jump off a bridge for the guy."
A 49-year-old businessman, Doug Ford was elected as a city councillor in 2010 when his younger brother became mayor.
"He's a Machiavellian figure and he's been called many things but not necessarily a gifted politician or someone with the gift of charisma," Phil Triadafilopoulos, a political science professor at the University of Toronto, said before Doug Ford's nomination for mayor was filed.
"The question is whether, if there is a welling of sympathy, if it goes over and helps a potential Doug Ford candidacy so that he can survive his innate lack of charisma ... by taking advantage of the sympathy that people are feeling for his brother," the professor said.
Doug Ford announced last year that he would not run for re-election as councillor, saying that he wanted to focus on his brother's re-election.
Michael Ford, the nephew who withdrew from a city council race to allow Rob Ford to run in his place, is now running for the city school board.
The Fords' politician father, Doug Ford Sr., died of colon cancer less than three months after being diagnosed in 2006.
In 2009, doctors removed a tumor from Rob Ford's appendix, and the then-city councillor returned to work in good health.
Medical experts said Ford will likely require surgery regardless of whether the tumor is cancerous or benign, and said the biopsy is typically quick and uncomplicated.
In May and June, the mayor underwent rehab for drug and alcohol abuse. He emerged noticeably thinner though still obese. Ford said he regretted not getting treatment "years ago" to treat his alcohol addiction.
Ford, who came to power in 2010 pledging to cut waste at city hall and keep a lid on taxes, has a core base of suburban support known as "Ford Nation."
A poll released on Wednesday showed Rob Ford running in second place with 28 percent of the vote, behind conservative front-runner John Tory, who had 40 percent of voter support. Left-leaning candidate Olivia Chow was in third place with 21 percent of the vote.