Toronto Mayor Warns City Cannot Handle Surge in Asylum Seekers Amid Trump Immigration Crackdown
Toronto Mayor John Tory has warned Canada's biggest city can no longer cope with the number of asylum seekers and refugees entering the country amid President Donald Trump's immigration crackdown.
"We have exhausted our available sites, our resources and our personnel," Tory said during a press conference on Tuesday, issuing a plea for assistance from provincial and federal governments.
Citing a report from Acting City Manager Giuliana Carbone, Tory said the "the City staff report reiterates our urgent request that the federal and provincial governments take immediate steps to initiate and lead a regional response to housing these populations."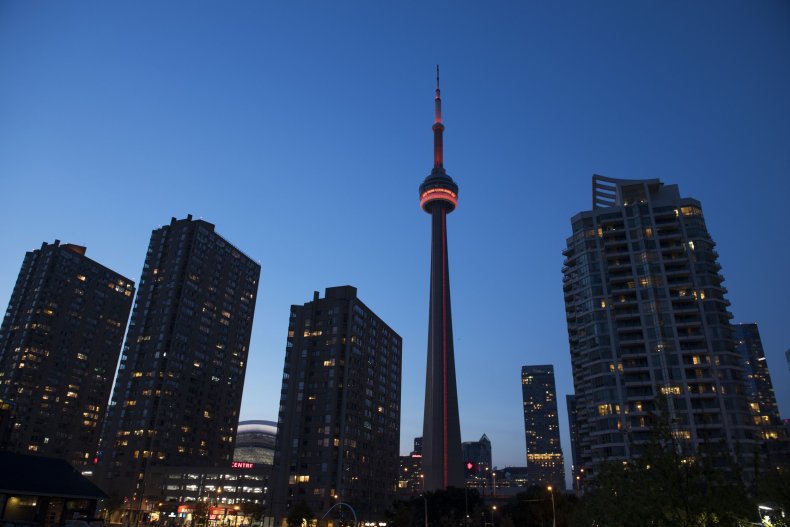 The mayor's plea for funding and support from the Trudeau government and the Ontario provincial government comes after Toronto was forced to activate an emergency contingency plan in May to meet growing demands for shelter for refugee claimants.
The city's shelter services have become increasingly strained. Canada has seen a rise in the number of people illegally crossing the Canada-U.S. border since Trump took office.
More than 30,000 asylum seekers have illegally crossed the Canada-U.S. border since January 2017, with many citing Trump's immigration policies as their reason for fleeing, Reuters reported last Wednesday.
According to Carbone's report, the number of asylum claimants and refugees relying on Toronto's shelter system shot up from just 459 in 2016 to 3,209 as of June 20, 2018—a sixfold increase.
Read More: ICE Chief Thomas Homan to retire—what will his legacy be?
"This represents a significant increase over a short period of time," the city of Toronto said in a separate document, noting that asylum seekers and refugees have gone from making up 11 percent of all shelter users in Toronto to 46.1 percent of the 7,128 shelter users identified as of June 24.
"The current increase in refugee claimant arrivals to Toronto that started in late 2015 and intensified in 2017 has continued and further sharpened in 2018," the document stated, adding, "This prolonged and ongoing demand has created significant pressures on the City's shelter system."
The city manager attributed some of the rise to "public policy and government actions in the United States."
"Given our geography and single land border, 'irregular migration' to Canada has historically been quite limited," Carbone wrote. "However, recent public policy and government actions in the United States, as well as events elsewhere in the world, are contributing to the surge in irregular migration to Canada," she added.
"The situation is now urgent," the city manager stated, calling on provincial and federal governments "to respond immediately and directly to the current acute pressure of refugee/asylum claimant arrivals to Toronto."
Carbone's report explains that while the city had managed to secure an additional 800 spaces for asylum claimants and refugees at college residences, those spaces would need to be vacated by August 9, when students are set to return to the accommodations.
"Toronto does not have the resources or spaces to relocate them," the report said, adding that relocating those currently living in college residences would require the emergency closures of multiple community centers in neighborhoods across the city, forcing the cancelation of public programming.
The city manager said that while the federal government has indicated preliminary funding of 11 million Canadian dollars ($8,295,100) will be made available to Ontario to offset temporary housing costs for refugees and asylum claimants, "no details with respect to this funding announcement have been forthcoming."
Tory said Toronto will "need other levels of government to step up and assist Toronto in a true partnership," adding that he believed the "primary leadership and partnership role" rests with the Trudeau government.