Toronto Van Victims 'Predominantly Female' Pedestrians, Police Say
Police confirmed that the 10 people killed after a van plowed into pedestrians in Toronto Monday were "predominantly female." The victims ranged in age from mid-20s to 80s, Toronto Police Services Detective Sergeant Graham Gibson said at a press conference on Tuesday.
Fourteen people were also injured, police said. The suspect was identified as Alek Minassian, 25.
The victims have not been publicly identified yet by authorities. On Tuesday, family members of Anne Marie D'Amico confirmed to Toronto's CityNews that D'Amico was one of the 10 people killed.
Just minutes before Minassian allegedly drove into the busy street, police said he posted a "cryptic" message on Facebook.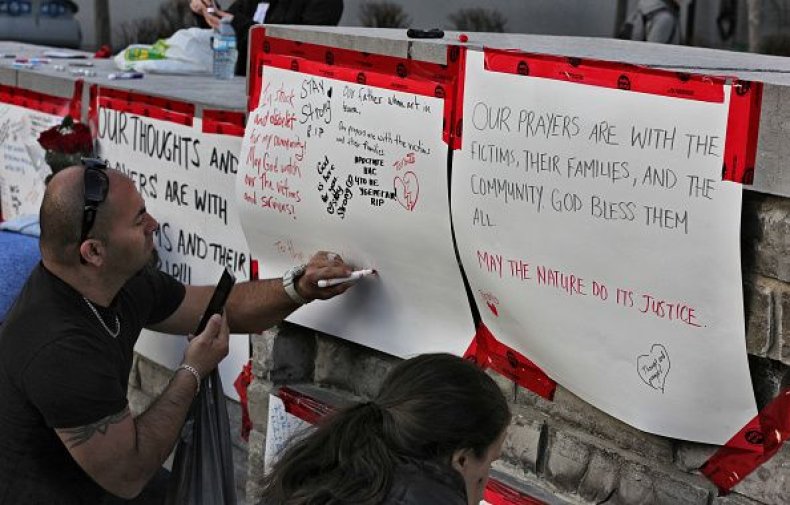 "Private (Recruit) Minassian Infantry 00010, wishing to speak to Sgt 4chan please," Minassian wrote in the now-deleted post, which was screenshot by news outlets. "C23249161. The Incel Rebellion has already begun! We will overthrow all the Chads and Stacys! All hail the Supreme Gentleman Elliot Rodger!"
Facebook confirmed on background to Newsweek that the post was made on Minassian's account.
Twenty-two year old Elliot Rodger, referred to in the post, killed six people near the University of California, Santa Barbara, in 2014 before killing himself. Rodger described himself as an "incel," or "involuntarily celibate." A sub-Reddit dedicated to incels blamed women for their celibacy, and was banned by the social site in 2017.
Minassian was charged Tuesday with 10 counts of first-degree murder and 13 counts of attempted murder in a Toronto court. An additional attempted murder charge was expected, according to Toronto police.
Canadian Prime Minister Justin Trudeau called the event "horrific" and "senseless." The prime minister added there was "no reason to suspect there is a national security element to this attack" and that an investigation was underway.