Toronto Shooting Latest: Video Shows Gunman Take Aim at Restaurant in Deadly Greektown Attack
One woman was killed and 13 people were wounded in a mass shooting in Toronto on Sunday night.
Survivors were rushed to the hospital for treatment after the attack in the city's Greektown neighborhood, the CBC reported. The gunman was later killed in a shootout with police. A 9-year-old girl was among those injured and is in a critical condition, according to The Associated Press.
Toronto police chief Mark Saunders told reporters that although the shooter's motive was not yet known, the attack was not random. He said that terrorism had not been ruled out, and that investigators were "looking at all possible motives…and not closing any doors." Police said the man used a handgun in the attack, Reuters reported.
Emergency services received reports of gunfire in the Danforth and Logan avenues area of the neighborhood at around 10 p.m. The district is a busy residential area with numerous restaurants and cafes.
Video broadcast by the CBC showed the gunman dressed in dark clothes walking calmly along the sidewalk. He then pulled a handgun from a bag and fired multiple shots into at least one shop and restaurant. Bystanders reported hearing between 10 and 30 shots as they scrambled for cover.
Jody Steinhauer told the CBC she was eating in a restaurant with her family when she heard what she thought were firecrackers exploding. Staff rushed diners to the back of the restaurant as they "started to hear people scream out front," Steinhauer recalled.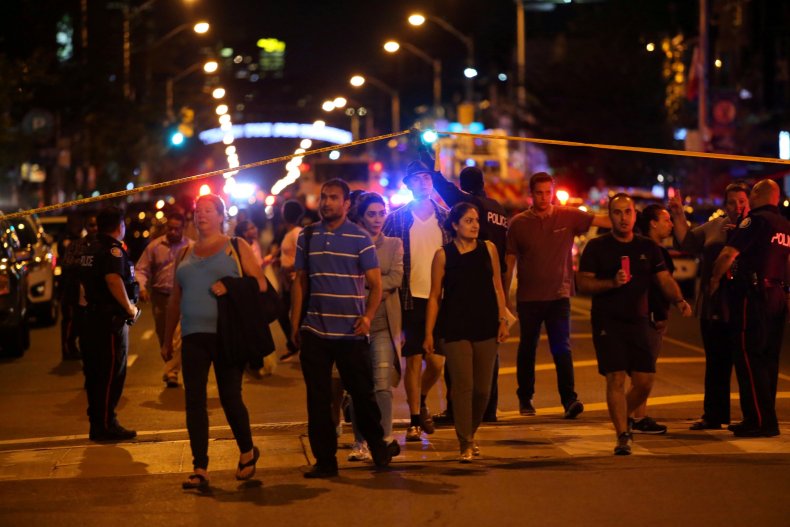 Toronto Mayor John Tory said the attack was "almost inconceivable" and described the affected neighborhood as a "very peaceful part" of the city. Tory appealed for additional information from witnesses, including video surveillance footage, dashcam video or cellphone recordings that may have captured parts of the attack.
Tory said that Sunday's tragedy was symptomatic of a wider gun problem in the city, where he said firearms were "too readily available to too many people." Canada's largest city has been struggling to deal with a spike in gun violence, with the number of people shot dead so far this year up 53 percent compared with the same period in 2017. Around 200 additional police officers have been deployed to handle the uptick in shootings.
The mayor said Toronto "will always be resilient in the face of such attacks," noting how painful such a "cowardly act" is for the entire city. Ontario Premier Doug Ford expressed his condolences to the victims of the "horrific act of gun violence."