Torrential California Rains Break 130-Year-Old L.A. Rainfall Record by More than Double
The heavy rainfall that hit parts of California on Tuesday has already broken some long-standing records.
As of approximately 1:15 p.m. local time, downtown Los Angeles had seen 2.1 inches of rainfall on Tuesday, according to the National Weather Service. The precipitation was falling consistently throughout the day since around 6 a.m. The downtown area had already seen 1.34 inches by 8:45 a.m.
These numbers smashed the record for rain in downtown Los Angeles. This last record was set over 130 years ago in 1888, when the area saw 0.96 inches of rain.
The precipitation is expected to continue, with the coast, basin and valleys of Los Angeles and Ventura Counties forecast to receive as much as three inches of rain. In the mountains and foothills, three to four inches are expected.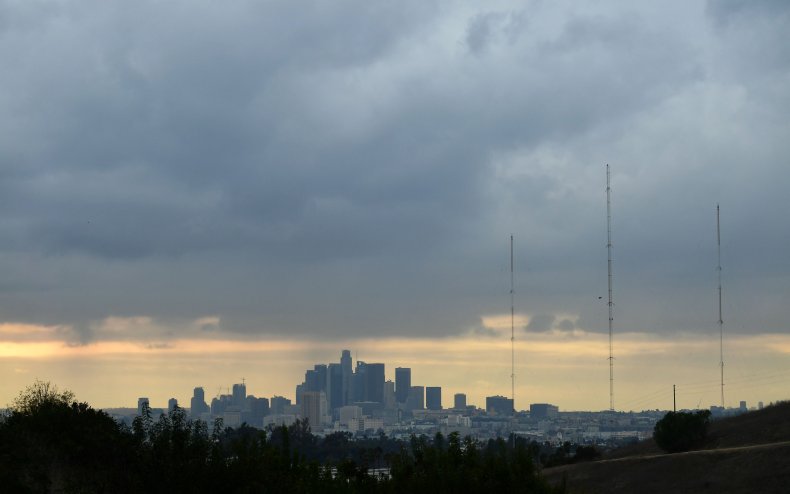 While such significant rain might be seen as beneficial to the perpetually parched California, some experts worry that it might be too much all at once.
"The concern there is just the amount of rain that has fallen and the fact that, of course, California…has been dealing with a very significant long-term multiyear drought," AccuWeather Chief Meteorologist Jonathan Porter told Newsweek. "Generally, any rainfall is a beneficial fit. However, the concern occurs if the rain comes too fast, too furious, and that is what the issues have been today where it's been raining very hard in many places. The rain has added up very quickly."
Flash flooding has already been reported in parts of Los Angeles and other neighboring areas. The Los Angeles River was up by five feet at around 5:15 a.m., and up to just shy of seven feet by 7:40 a.m. Los Angeles Times editor Cindy Chang shared a video of the river swelled with rainwater a little after 12 p.m.
"Concerns have been that there have been numerous reports of flash flooding," Porter continued. "In other words, water and debris flowing out onto roads and into other areas, and that's especially been the case in what we call wildfire burn scars—places that have recently burned by wildfires, because the vegetation on the ground isn't there to help soak up some of that rain and it ends up just all flowing off, all running off very quickly and that really exacerbates flooding concerns and it also creates the risk that not only water is going to be running off but that's when you get mudslides—because the ground underneath it is less stable."
The flooded burn scar concern was raised in late October, when a "bomb cyclone" storm system threatened to create hazardous flows of burned debris in areas of California's Santa Barbara County recently hit by the Dixie Fire.