Tortoise with Shattered Shell Gets $4,000 Surgery to Save its Life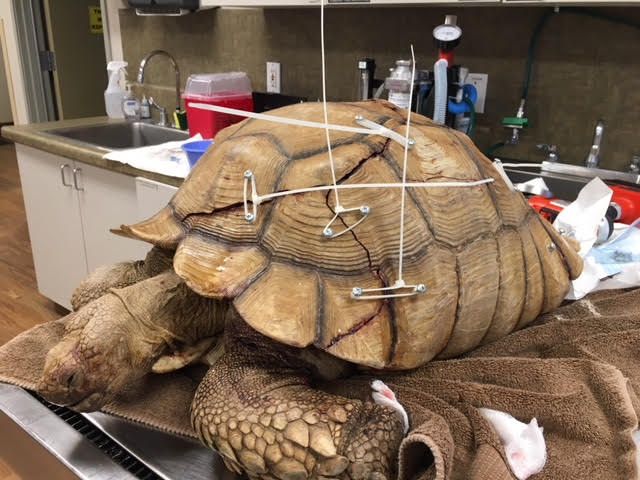 A large tortoise that fell off a 10 foot high wall and cracked its shell is now recovering after an expensive surgery.
The 90 pound African spurred tortoise was likely kept as a pet and escaped from its yard though its owner has yet to come forward, San Diego County Animal Services Director Dan DeSousa told Newsweek. While trying to get away from a dog, the animal tumbled over a wall where a passerby discovered it.
"When Humpty, as we're calling him, fell, he landed on his back and seriously injured his shell," DeSousa said. "The shell acts almost as ribs do in humans, to protect our insides."
Shells can sometimes self-repair but this particular animal's injury was too severe and required medical attention. Veterinarians carefully re-crafted the shell, which was broken into three pieces, using an intricate method.
"Veterinarians had to pry the shell apart a little bit so it would fit back together as closely as possible. Once it was closely knit together, they drilled screws in his shell and zip tied them together," DeSousa explained. "After the zip ties were in place, they were coated with a material that's similar to what's used in [dentistry]."
The African spurred tortoise will fully recover in approximately one year and will likely survive for many decades to come. The life-saving surgery, which cost $4,000, was covered by the Spirit Fund at County Animal Services.
The Spirit Fund is donor-driven fund that's only used for severe medical cases like Humpty's, according to a statement released by San Diego County.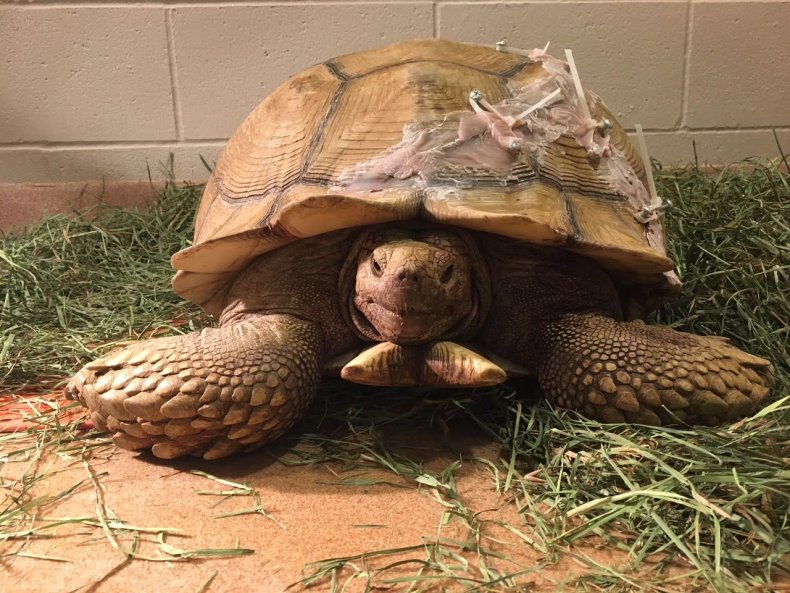 If the animal's owner doesn't step forward, the animal will be transferred to a rescue group and will not be available for adoption.
Despite their large size, African spurred tortoises are sometimes kept as pets due to their "interesting and personable" personalities. However, the animals must have plenty of space in order to live comfortably and require lots of food because they'll eat for hours on a daily basis, according to Chadwell Animal Hospital.