Authorities in Saudi Arabia reportedly released several women's rights activists who had been detained and allegedly tortured in custody. The rest were set to be released this weekend.
The women had faced charges related to their human rights work and contacts with foreign organizations and journalists. Some were prominent in the movement to pressure the kingdom's leaders to allow women to drive, which was finally granted as a right last year. During their detention, the women were allegedly subjected to canings, electrocutions, waterboarding and sexual assault.
Two unnamed sources confirmed to Reuters Thursday that three of the women had been released and the rest would be freed on Sunday. Agence France-Presse (AFP) cited family members as having confirmed the release of blogger Eman al-Nafjan, Aziza al-Youssef, a retired lecturer at King Saudi University, and academic Rokaya al-Mohareb.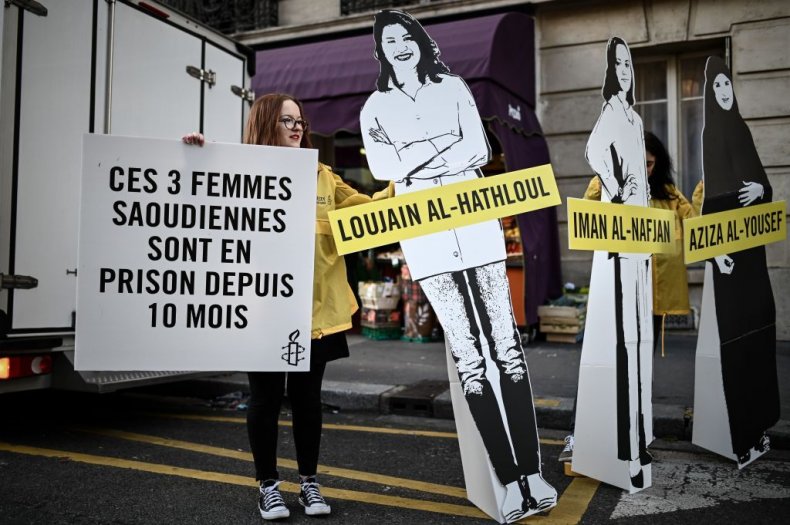 Samah Hadid, the Middle East director of campaigns for Amnesty International, told Newsweek that the organization was currently "unable to confirm the conditions" of the women's release. However she said Amnesty welcomed the reported decision as a "step in the right direction."
"The women who are currently detained should be immediately and unconditionally released," Hadid added, saying that the government should drop all charges against them and that the women should have never been charged or detained in the first place. She also reiterated that Amnesty had released reports on the torture the women faced while detained, pointing out that "authorities have yet to independently investigate."
Relatives told AFP that although the activists, who had been held for nearly a year, were released, they would still be required to return to court for a hearing next week. In addition to campaigning for the right for women to drive in the kingdom, the activists had fought against the kingdom's restrictive male guardianship laws, which require male family members to have far-reaching authority over women's lives. Decisions about work, travel, education and marriage all are subject to their guardians' arbitrary approval.
Varsha Koduvayur, a senior research analyst at the Foundation for Defense of Democracies focusing on the Gulf States, told Newsweek that the women's release was "a very welcome light after ten months of darkness."
"While this is a good sign of de-escalation, given that these women have been detained since last May, it doesn't signal that their ordeal is over yet given that the trial proceedings look set to pick up again next week," she pointed out. "It's in Saudi Arabia's interest to quickly wrap this up and release all detained activists, unconditionally."
Adam Coogle, a Middle East researcher at Human Rights Watch told Newsweek that "just releasing the women is not enough." He said that "Saudi authorities need to immediately halt these unfair trials, provide real accountability for abuses perpetrated by Saudi government officials against them, and provide compensation."
The women were caught up in a wide-reaching crackdown on dissidents, businessman, clerics and government officials spearheaded by Crown Prince Mohammed bin Salman (MBS). Rights groups have documented significant abuses carried out as part of the crackdown, although the kingdom has pushed back against the accusations. Last October, journalist and U.S. resident Jamal Khashoggi was brutally murdered after entering the Saudi Consulate in Istanbul.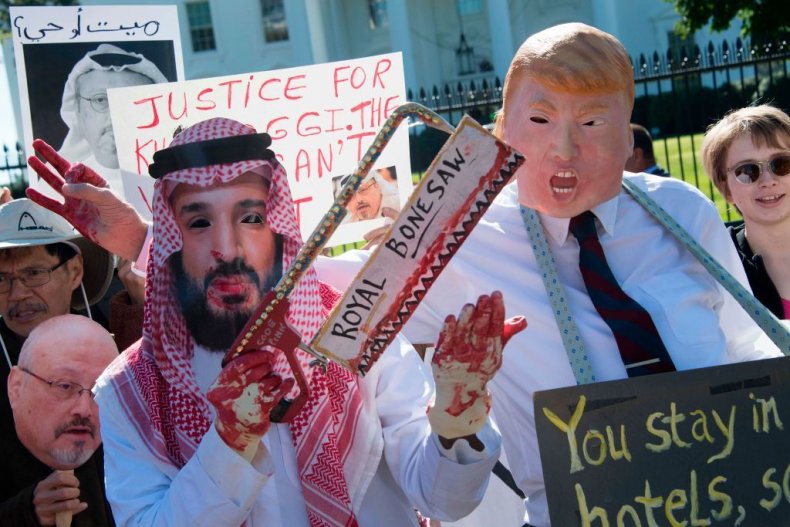 The kill squad that carried out the hit was traced by intelligence agencies to the Crown Prince, leading Republican and Democratic lawmakers in Washington to urge President Donald Trump to take a hard-line stance against the Saudi Arabia and Prince Mohammed bin Salman. But Trump insisted the kingdom was a "great ally," arguing that the U.S. needed the billions of dollars its spends on U.S.-made weapons. The president also pointed to Saudi Arabia's vast oil supplies, saying the U.S. needed the kingdom to keep global prices low.
Despite Trump's continued support for MBS and Saudi Arabia, Democratic and Republican lawmakers pushed back, with the Senate recently voting to end U.S. support of the Saudi-led war in Yemen.
Saudi Arabia's "rights record must be significantly improved if it is to regain any goodwill from Congress," Koduvayur pointed out.