Tory Carlon, Veteran Firefighter, Identified as Victim in Agua Dulce Station Shooting
Veteran firefighter Tory Carlon has been identified as the victim in Tuesday's deadly Agua Dulce fire station shooting in California.
The Los Angeles County Fire Department said Carlon, 44, who had been with the department for two decades, was fatally shot by a colleague at Fire Station 81.
"He was a brave, committed, loyal member of our department for over 20 years," Fire Chief Daryl Osby told KTTV.
Carlon was fatally shot multiple times in the upper torso, according to Los Angeles County officials. He was pronounced dead at 11:17 a.m. at the station.
The shooting also left another firefighter injured, the station's 54-year-old captain, who is in critical but stable condition at Henry Mayo Newhall Hospital in Valencia.
Dozens of fire trucks and law enforcement vehicles participated in a caravan honoring Carlon on Wednesday morning, transporting his flag-draped casket to the coroner's office.
Hundreds of people also gathered on Tuesday night at a vigil in Action Park.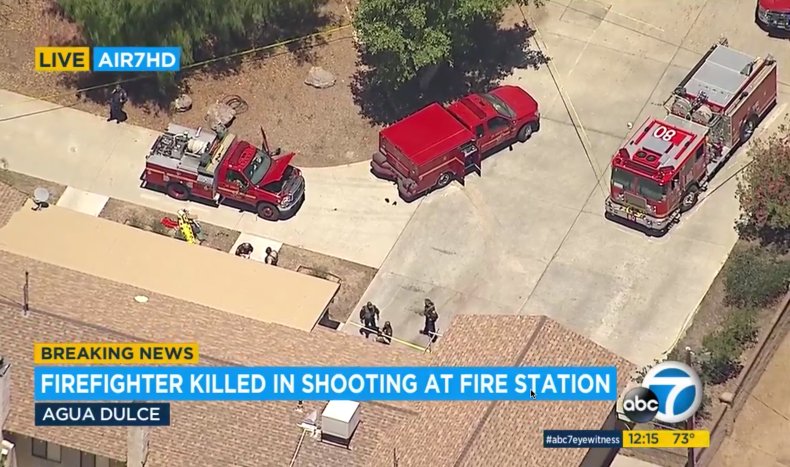 "This morning when I received the news, it was some of the worst news that I had heard in my career," a visibly shaken Osby said at a Tuesday press conference. "As a fire chief, I have dealt with a lot of death and a lot of fallen members of my department, and I've always prayed we would never have a line of duty death."
He added, "As a fire chief, I never thought when our firefighters face danger that they would face that danger at one of our community fire stations."
The suspected shooter, whose name has not yet been released, was an off-duty firefighter specialist who "was not scheduled to work" that day, according to Osby.
"He came back and confronted the on-duty personnel," Osby told reporters on Tuesday. "I cannot speak to the mindset of the shooter."
After the shooter opened fired at two of this colleagues at the station, he drove to his home in Acton, barricaded himself inside and set the house on fire. The gunman was later found dead in an empty lap pool at the property.
Authorities are still unclear about the motive behind the shooting and are continuing to gather additional information about the incident.
The shooting occurred less than a week after a longtime worker opened fire at the Santa Clara Valley Transportation Authority's bus and rail yard in San Jose, killing nine people and then himself. The gunman had rigged his home to burn down before heading to his workplace.