What Tory Lanez Says About Megan Thee Stallion Shooting on New Album 'Daystar'
Tory Lanez has released a new album called Daystar which discusses Megan Thee Stallion's allegation that he shot her in her feet. He raps about the incident and about Megan throughout the album, namedrops Kylie Jenner, and reveals apparent details about the night he was arrested.
The album's opening track, "Money Over Fallouts," opens with a media montage discussing the alleged shooting.
In this song, Lanez says "Ayy, they rather see me in the cell/Like how he posted out with $30,000 bail?" referring to how he posted a $35,000 bail after being arrested on the night of the alleged shooting, July 12.
The rapper also boasts about posting bail in "The Most High" when he says: "All I see is 'free Tory, free Tory'/Homie, I was in Miami on the shore chilling," and declares his innocence with the lyric: "Stepped out on bail, I did a diddy-bop (I did that)/I had to tilt my hat at the city cop (That's a fact too)/I walk away free 'cause I'm innocent (Hahaha)."
In the opening song, he says "'Cause he watching me all on the news, but I ain't charged with no cases." Lanez has not been charged with shooting but was charged with concealment of a weapon. He is due to appear in court on October 13 to face the charges.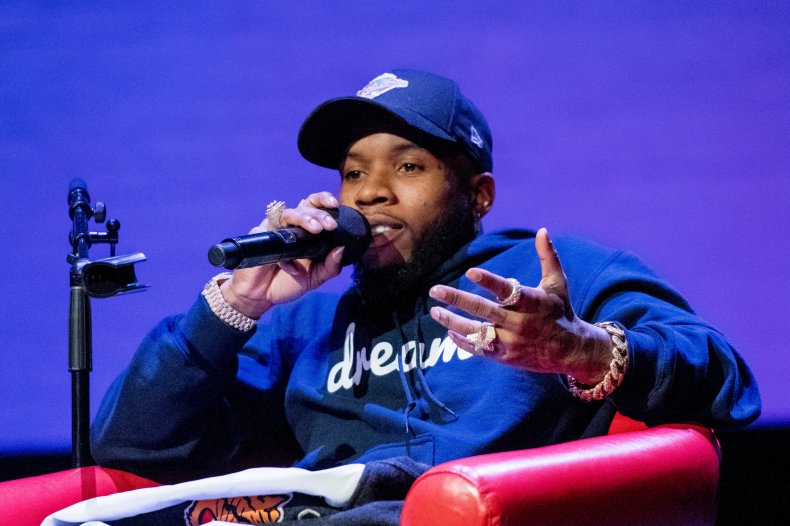 The rapper refers to Megan's alleged injuries and says "'Gotta see a couple questions: how the f*** you get shot in your foot, don't hit no bones or tendons?"
Speaking about the alleged shooting, Megan Thee Stallion said the injuries weren't serious and "thank God that the bullets didn't touch bones, they didn't break tendons."
The rapper also questions Megan's injuries in "Sorry But I Had To" when he says: "Since the event, you never called me but you can't deny me/If you got shot from behind, how can you identify me?"
The song "Friends Become Strangers" accuses Megan of lying about the incident, or that she has exaggerated it somehow, and says: "You yourself don't even know the full story/Why you lettin' people escalate it?/And I know you got them people in yo' ear"
He also seems to speak about potentially reuniting with Megan and says: "Will we ever talk about this? Will we ever console again?/Or will we keep on actin' like I put you in danger and some pain?"
Lanez implies he did do something that night but keeps it vague, saying: "We both know what happened that night and what I did."
The alleged shooting happened after an altercation that took place at a party that was attended by Kylie Jenner and rumors suggest that Lanez and Megan argued over how much attention he was giving to Jenner. In "Sorry But I Had To," he says "Like how that [Don Julio] 1942 [tequila] from Kylie house still got you talkin' crazy"
He also says in this track: "Unapologetically, jumped inside a pool and Kylie's face was lookin' heavenly."
"Queen and Slim" also discusses Jenner and the party and insinuates that Megan was unhappy with the pair hanging out: "Me and Kylie still off in the pool/We was chillin', kickin' s***, was cool/Both of us didn't know you was trippin'/Even though I got a crush on Kylie, I woulda left with you if I knew you was dipping for the simple reason/You invited me but I can't act like shawty didn't excite me/I had took a wrong turn that night."
He name drops Megan again in "Sorry But I Had To" when he says: "It's rap n***** out here tellin' Megan she should go tell/But she won't tell the truth 'cause I'll be kicked up in my hotel/Think I'm finna talk about a open case just for some likes?"
In "Look How God Works" the rapper seems to imply Megan is lying about him and says "Can't believe she played the witness tryna make them statements/Grace of God you know the truth, so I'm gon' beat them cases."
Lanez also claims in this song: "I would never put my hands on a woman, dawg/I would never let it blam on a woman, dawg."
He accuses Megan Thee Stallion of lying again and says: "If they gon' lock me up because she lyin' then/Make sure my kid is alright, make sure my chick is alright," referring to his son, Kai, who was born in April 2017. It is not known who the child's mother is.
Tory Lanez namedrops Megan yet again in "In the Air" when he calls her a "test of faith" and implies that God is using this situation to teach him a lesson: "You gotta listen, 'cause God, he gotta get his endeavor, preach/Tory, you in this situation, not because he's hating/He's using Megan as a vessel and a test of faith and/Even when you at the bottom, it's when he makes his way in/God, thank you for turning me into a demonstration"
Lanez's new album has sparked outrage, with Megan Thee Stallion fans accusing him of using her trauma for self-promotion. He has also been criticized for the timing of the album's release, as he announced the album (about allegations surrounding the shooting of a Black woman) a day after the court decided to not charge the police officers involved in Breonna Taylor's death.