'Total Divas' Season 8: Trinity Fatu on the Importance of Sharing Her Family Dynamic
The latest season of Total Divas has been an especially interesting one. With cast returns and the Women's Evolution sweeping through the company, Nia Jax, Natalya, Lana, Paige, the Bella Twins and Trinity have brought fans on a journey through their chaotic lives in and out of the ring.
One of the biggest challenges this season for Trinity Fatu (known to WWE fans as Naomi) has been balancing her nuclear and extended families. The upcoming Nov. 14 episode will heavily feature that conflict. Newsweek caught up with Trinity to discuss the season so far and the importance of showing her family dynamic on the show.
Note: This interview has been edited for clarity and length.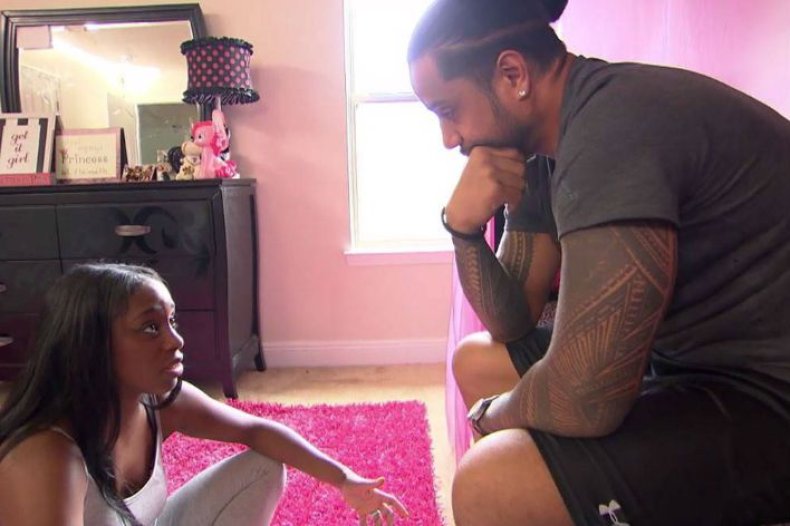 Tonight's episode features you and your husband (WWE's Jimmy Uso) heavily. What can fans expect?
Trinity: They can expect a little arguing and a little compromise. A little bit of both [laughs]. And a very emotional and bonding episode from all of us in Lake Tahoe.
Your story with Jon and your family dynamic is very unique in television, let alone on Total Divas . How was it to shine a light on your situation?
That's just my life and my world. I'm away from my family so much doing my job. My family is my motivation for everything, so it's only right that's what you get to see on Total Divas. My situation is a little different, because no one else has step-children. That's what Jon and I, my family, brings to the show, which I love and I'm super proud of. I know there's a bunch of women going through the same things I am and can relate. Which is why they tune in. That's what I love about our show. We have so many different lives outside of the WWE, it's cool that people get to see all the different lifestyles and struggles we all have.
So many people know you as Naomi, is it difficult to show them your personal life?
I've always wanted to be able to show that. I do think people see us on WWE so often as just characters. They forget we have real lives and we go through similar situations as the average person. It's always been important to me and I'm happy to be a part of it, and to have that platform to reach fans differently. We've all done a good job on the show and just being true to ourselves in and outside of the ring.
What can fans expect for the rest of the season?
We have an exciting pay-per-view episode coming up. This Lake Tahoe trip, the episode tonight, is extremely emotional. More fun, more hanging out, more drama and just us all growing as women and getting through the Women's Evolution together with what we bring to it is super cool. And when we look back at it years from now, we'll see how truly special it is. But we have a lot on our plates right now and it's friggin' awesome to be a part of and do it together.
Total Divas airs Wednesdays at 9 p.m. EST on E!