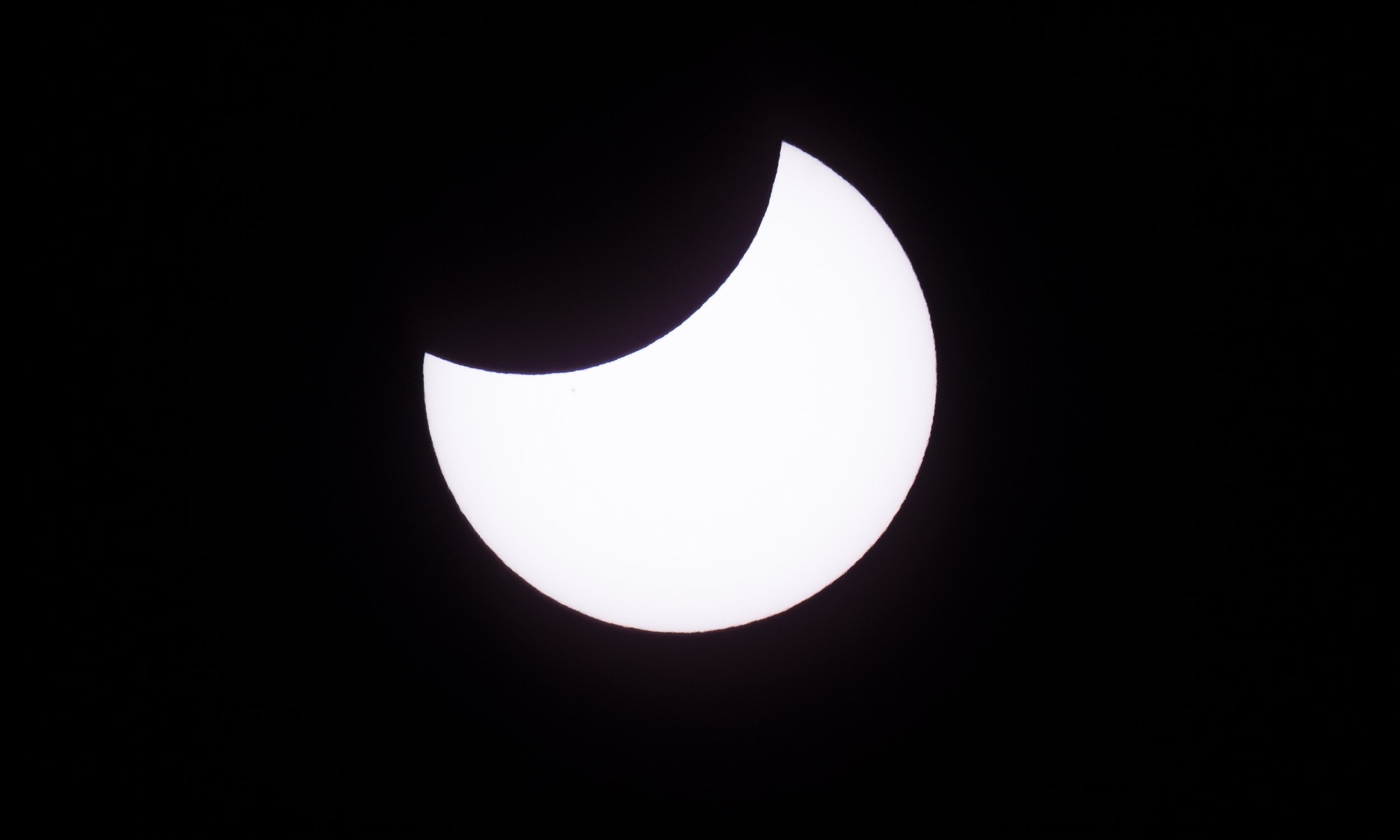 Unless you've been living under a rock with no WiFi for the past few weeks—and if you have, man, we're jealous—you know there's a total solar eclipse on Monday. It'll be the first to span the U.S. in nearly a century, and people are already going crazy, ordering eclipse glasses en masse, traveling to the best viewing spots and throwing all-day parties.
Lost in the shuffle, though, are the very basic details of what's about to go down (and by that, we mean what's about to go in front of the sun). Here are quick As to every Q you may have about the upcoming solar spectacle.
What is a total solar eclipse?
A total solar eclipse happens when the moon moves between the Earth and the sun, putting them all in a straight line, according to NASA. The moon will block the sun, casting the Earth in a short-lived night in the middle of the day.
When is it?
Monday, but the precise time for totality—that's when the moon will be right in front of the sun—depends on where you are. If you're in Oregon, for example, the eclipse will run from about 9 a.m. to noon local time, with totality taking place from 10:19 a.m. to 10:21 a.m. But if you're in Georgia, the eclipse will go from about 1 p.m. local time to about 4 p.m. local time, with totality occurring from 2:35 p.m. to 2:38 p.m. You can see more details here, courtesy of the American Astronomical Society.
Where can I see it?
The path of totality—for our purposes, the places in the U.S. where you'll have the full eclipse experience—runs across the country. NASA recommends you get to a spot in the 70-mile wide path, which includes locations in states like Oregon, Idaho, Iowa, Missouri and South Carolina. See a precise map here.
What if I'm not in that path?
That's OK. You can check it out from all of North America and even parts of Africa, Europe and South America. If you're not along the path of totality, you'll just see a partial solar eclipse.
Can I just, like, look up at the sun?
No. You're not supposed to look directly at the sun because it could burn your retinas. And it'll never heal, according to Vox.
Well, damn. What am I supposed to do?
Get some specially made eclipse glasses to filter the light. Your normal sunglasses won't do—you need a pair that meet ISO 12312-2 safety standards. You can buy glasses from the reputable companies listed here or snag free ones from your local library or eclipse event organizers.
If you can't find eclipse glasses—some retailers have been selling out or experiencing shipping delays—just simply don't look at the sun. Make a pinhole viewer per our instructions here, or see the eclipse in the shadows of tree leaves.
What if I can't go outside?
That's cool. You can live stream the eclipse on NASA's website, Twitter or Instagram.
What's next?
Greedy much? The next solar eclipse you can see from the U.S. will be an annular one, taking place on October 14, 2023, according to NASA. After that, the next total solar eclipse will be in 2024.