What Time Is the Total Solar Eclipse Today? When and Where to Watch the Great American Eclipse Live Online
The only total solar eclipse of 2019 will take place on July 2, with parts of South America set to see day turn to night as the Moon passes in front of the Sun, blocking out its light.
The eclipse will begin in La Serena, Chile, at approximately 3:22 p.m. EDT, before moving across the country and into Argentina. It will end near Chascomús in Buenos Aires, Argentina at 4:44 p.m. EDT.
People not in the path of the eclipse can watch the celestial event live online. There will be a live stream from Slooh, which will be broadcasting from locations in both Chile and Argentina. You can watch the Slooh broadcast below. The program will begin at 3.15 p.m. EDT and viewers are invited to ask questions to a panel of experts using the Twitter hashtag #Slooh.
"The 2019 South American solar eclipse is not an easy event to capture," Paul Cox, Slooh's chief astronomical officer, said in a statement. "Unlike the 2017 eclipse, and except for a tiny uninhabited South Pacific island, the path of totality (the 90-mile wide path of the Moon's umbral shadow) only makes landfall across a narrow stretch of Chile and Argentina. Having raced across the Pacific Ocean at over 6,000 mph, by the time the Moon's shadow reaches the west coast of Chile, the Sun will be low to the horizon, with the partial eclipse phases occurring just as the Sun is setting."
A total solar eclipse occurs when the Sun, Moon and Earth are aligned. This happens about once every 18 months, according to NASA. As the Moon passes between Earth and the Sun, it blocks out the Sun's light, casting a shadow over the part of the plant it is transiting at that time. People in this shadow can see the Moon move across the Sun before covering it completely—known as the totality. During totality, the light is blocked and it gets very dark.
Another live stream of the total solar eclipse comes courtesy of the European Southern Observatory (ESO). You can watch the live stream, which begins at 3.15 p.m. EST, below.
"This is a unique opportunity to be part of the only total solar eclipse visible from an ESO Observatory for the next 212 years," the ESO said in a statement. This broadcast will not include any commentary and will feature views from three small telescopes at the observatory.
The next total solar eclipse will take place on December 14, 2020, followed by another on December 4, 2021. After this there will not be another total solar eclipse until April 2023. The next time a total solar eclipse will be visible over the U.S. will be April 8, 2024.
The headline of this article has been updated.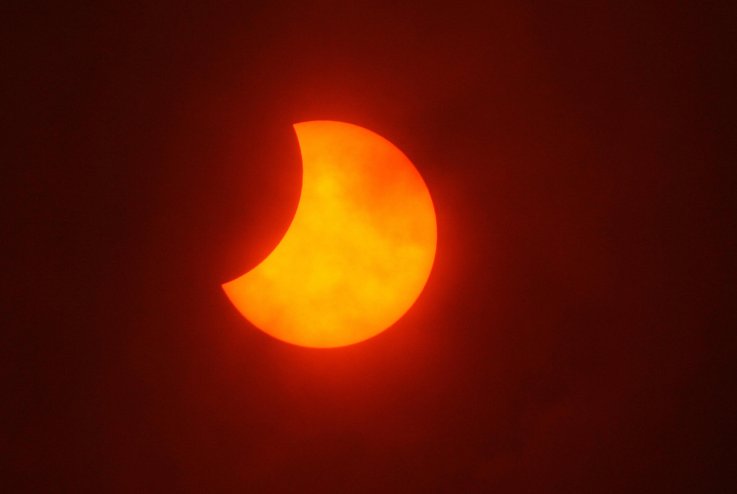 What Time Is the Total Solar Eclipse Today? When and Where to Watch the Great American Eclipse Live Online | Tech & Science