Total War: Shogun 2 Free on Steam with Discounted DLC for a Limited Time
Total War: Shogun 2 is now free to keep when you get it on Steam before 1 p.m. ET on May 1. While the game can be downloaded for free on Windows and MacOS, its DLC and unit packs are on offer with a 75 percent discount until May 4.
Total War: Shogun 2 is a strategy game set in the middle of the 16th century in Feudal Japan. The country was once ruled by a unified government but is now split into warring clans, with ten warlords striving for supremacy. In an empire full of conspiracies and conflicts, only one can rise as the new shogun.
Play as Daimyo, a clan leader, and try to reunite Japan and become the new Shogun, using military engagements, economics, and diplomacy.
Players will lead armies of samurai and giant warships into real-time battles, build their kingdoms on a turn-based campaign map, and scheme according to the "Art of War" by Sun Tzu using fire and siege tactics, spies, and assassins. Battle online to experience the main campaign in two-player mode and join in online battles with up to eight players.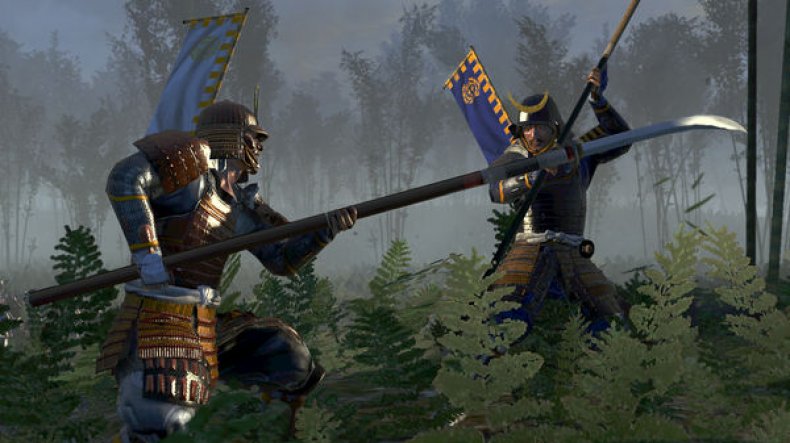 Total War: Shogun 2 has a score of 90 on Metacritic, based on more than 60 critic reviews, and a user score of 8.4, based on more than 1,000 reviews.
The game typically costs $29.99 but is discounted at 100 percent off until May 1. The DLCs and unit packs for Total War: Shogun 2 are also heavily discounted at 75 percent off, selling for $12.17 in total until 1 p.m. ET on May 4.
Otomo Clan Pack DLC is $0.99, Saints and Heroes Unit Pack is $0.62, Dragon War Battle Pack is $1.12, The Ikko Ikki Clan Pack is $0.99, the Sengoku Jidau Unit Pack is $0.62, Rise of the Samurai Campaign is $2.49, and the Hattori Clan Pack is $1.24. The Blood Pack DLC is not discounted but costs $2.99.
After May 1, at 1 p.m. ET, Total War: Shogun 2 will no longer be free but will be on sale with 75 percent off.
In a statement, Ella McConnell at Creative Assembly said: "The past few weeks have presented unimaginable challenges for many of us, but the remarkable collective effort being made by the global community to overcome this moment of adversity has been truly inspirational.
"With this in mind, we want to continue to encourage you all to stay home and save lives by extending a gift to everyone to help make this difficult situation a little bit easier. Everyone at Creative Assembly is now working from home, and we hope that this will help everyone with that stay home mission—#StayHomeSaveLives."
Newsweek has affiliate partnerships. If you make a purchase using our links, we may earn a share of the sale.