Tottenham Hotspur vs Burnley: What We Learned from White Hart Lane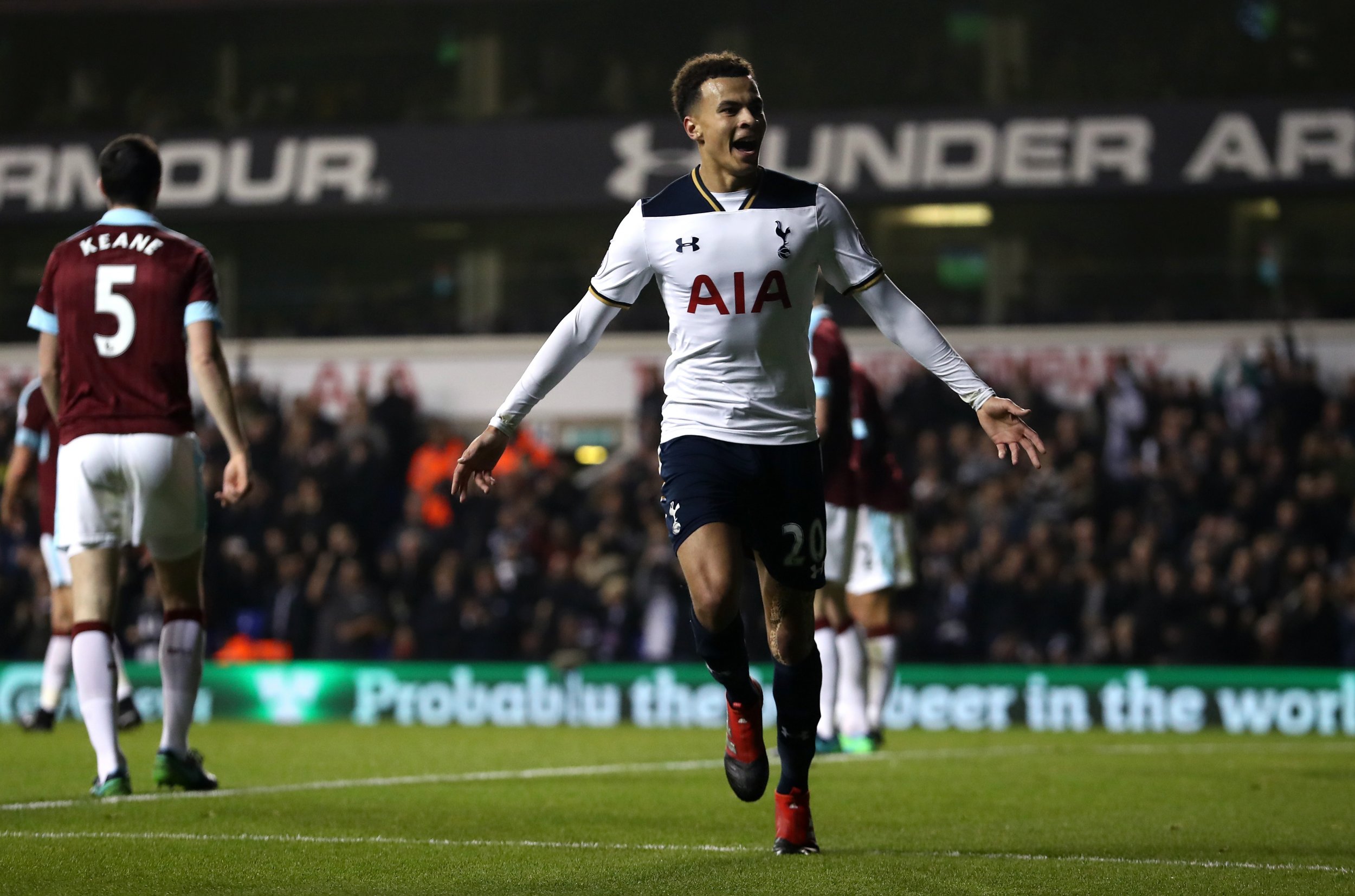 Dele Alli and Danny Rose gave Tottenham Hotspur victory against Burnley at White Hart Lane on Sunday, keeping the club just about in contention for the English Premier League title.
Spurs had to work for its victory against Sean Dyche's stubborn strugglers, earning three points that put it 11 points behind league leader Chelsea.
What did we learn from a surprisingly competitive encounter in north London? Newsweek analyzes.
Tottenham struggles to cope with muscular pace of title rivals
Going into the game against Burnley, Tottenham had more points than at this stage last season—30 to 26 approaching December 2015.
But the Premier League is a different beast this season: more muscular in its upper reaches, no Leicester City at the head and little to no mediocrity until Southampton in seventh. Last season, 70 points was enough to secure Spurs third in the table, when it perhaps should have pipped Leicester to be champion. In 2016-17, that same total might only be enough to gain sixth. Those top six clubs had 44 percent of the Premier League's total points following Manchester United's victory over West Bromwich Albion on Saturday evening.
That is to say, Tottenham risks moving forward and falling behind all at once. Points total may be improved but its performances, on the whole, have not and it labored to put Burnley away.
Each of its title rivals possesses a particular, discernible character. Arsenal is pretty-tough, Manchester City Spanish football transported to England's rainy northwest, Liverpool fluid and madly intense. Spurs should be similar to those last characteristics, but it possesses a greater fragility. Despite victory, it remains clinging to the fringes of the title race.
Goals, goals, goals and more goals needed
A lingering glance at the Premier League table will tell you Tottenham's main problem so far this season. While the defense has held up as the league's joint-best this season alongside Chelsea—just 11 goals conceded—Mauricio Pochettino's team has scored fewer than all of its title rivals bar Manchester United.
The problem is not Harry Kane, who has seven, but with his supporting cast. Spurs could have opened the scoring inside two minutes, when Kane released Alli down the left wing. It needed composure, but the England midfielder poked an effort high and to the right of Tom Heaton's goal. Alli's equalizer showed what he is capable of, a neat tuck-away of Rose's cross, though he drifted into the margins of the game in the second half.
Burnley makes light of travel troubles
Sean Dyche's team had taken a solitary point away from home before it travelled to White Hart Lane, against Manchester United at Old Trafford on October 29.
Only its strong performances and results at Turf Moor have been keeping its head above the Premier League's low-water mark. And yet having felt the full force of Spurs' attacking weight, Dyche's team settled into the game. It had the best of all the chances in the first 20 minutes, when Andre Gray's shot was saved by Hugo Lloris, and soon after it took the lead, deservedly. Tottenham's defense had three or four chances to clear a cross from the left, before Ashley Barnes could hardly help but tuck away a bouncing ball. Spurs took five minutes to equalize, but there was enough in the first half from Burnley to suggest this rotten away form will pick up in the second half of the season. As it must, are they to avoid immediate relegation.
White Hart Lane will be missed
It was relatively subdued on Sunday—the greater part of the noise, especially in the second half, came from the Burnley fans tucked into the south-western corner of the stadium—but White Hart Lane remains, until the end of the season and even with its capacity reduced, one of the great traditional cauldrons of English football.
Tottenham will leave it at the end of 2016-17, for a season at Wembley Stadium while its new, adjacent ground is built. No doubt that will have all of the mod-cons this one lacks, as well as space for upwards of 60,000 supporters. It will, though, for a time at least lack this place's visceral character.
Tottenham's full backs are its greatest asset
Watching Spurs is to see, as microcosm, the pattern of modern football. Danny Rose and Kyle Walker, the left and right backs, respectively, may have the hardest jobs in the Premier League. Not only must they perform faultlessly as defenders, but when Tottenham attacks they transform into attacking weapons.
Walker is the dribbler, making bullocking runs down the right. Rose, a clever passer of the ball, is arguably even more important and it was he who created Alli's equalizer with a sharp cross from the left wing.
At times, they even act as central playmakers—Rose popped up in the middle on the stroke of half time, almost creating a chance for Kane. Of course, the wider they stretch the pitch, the more space opens up for Eriksen and Alli to create in. This is football in 2016, where two defenders can be a team's greatest threat going forward, as Rose demonstrated with a thundering finish past Heaton for the winning goal.