Touch-Screen Voting Devices Are Automatically Changing Votes in Mississippi
A Facebook user in Mississippi has posted a video showing touch-screen voting machines changing votes during Tuesday's Republican primary runoff election for the governor's race. The video shows a voter trying to cast their ballot for Bill Walker Jr., only for the machine to change the vote to Tate Reeves.
Some citizens, however, are having trouble making their vote. Voting machines in at least three precincts have rejected votes for Waller, selecting Reeves instead. The error does not appear to have affected all of the machines.
According to the Clarion Ledger, a machine at the Burgess precinct in Oxford — the machine in the above video — refused to register a vote for Waller. Before the error was detected, 19 votes had been cast on that particular machine.
Two machines in Calhoun County have also been seen to act this way, one at the Chickenbone Baptist Church and one at the Masonic Hall precinct in Vardaman. Though it's currently unknown how many votes were cast on these machines, Calhoun County officials are determining the number.
"We're doing what we can to rectify the situation," Circuit Clerk Carlton Baker told the Ledger.
All of the machines affected are TSX models purchased from Election Systems and Software. The TSX machines with the "jumping" error were taken out of service until a technician could fix them.
According to Lafayette County officials, machines were tested on Friday and everything was in order. Officials suspect that the offending machines were somehow mishandled and lost calibration.
Though primary elections are run by parties, the voting machines are owned by the counties.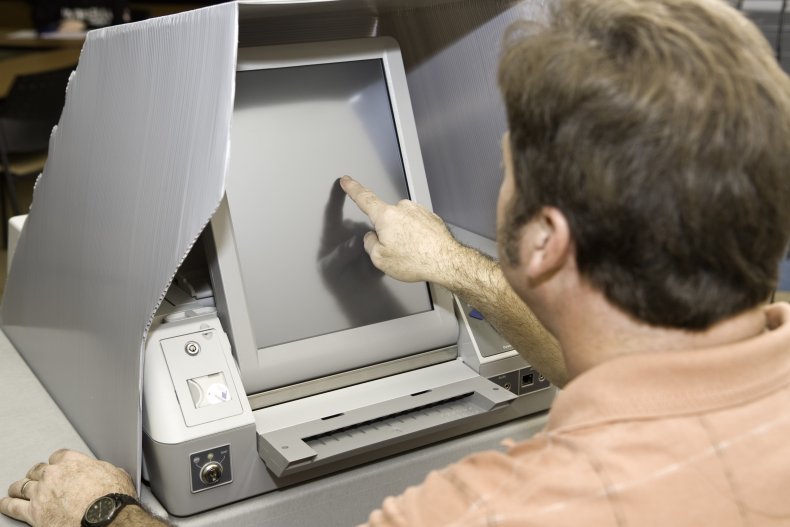 Tuesday's election is to determine which Republican candidate will go up against Democratic candidate Jim Hood in November's general election. Hood is currently the Attorney General for Mississippi, and has been since 2004. Waller is a former State Supreme Court Chief Justice, and Reeves has been the current Lt. Governor since 2012.
In the August 6 Republican primary, Reeves was the most popular candidate, receiving 49 percent of the vote. Waller received 33 percent, while Robert Foster, a member of the Mississippi House of Representatives lost the primary with 18 percent of the vote.
August 6 was also the date of the Democratic primary. Hood handily won the race with 69 percent, beating out seven other candidates. The candidate with the next-highest number of votes was Michael Brown, who received 11 percent.
Current governor, Phil Bryant, a Republican, endorsed Reeves in the race. Mississippi has term limits for the governorship, and Bryant has served for the eight-year maximum.