The Touching Love Story of Annie Glenn and Legendary Astronaut John Glenn
Annie Glenn, who died Tuesday from coronavirus complications at age 100, was known as a champion for those with speech disorders, along with her lifelong relationship with her husband, legendary astronaut John Glenn. Before his death in 2016, they were married for 73 years.
"The Glenns' dedication to each other is well known, and we looked to them as an unmatched example of the strength and compassion that a lifetime of devotion creates," NASA said in a statement.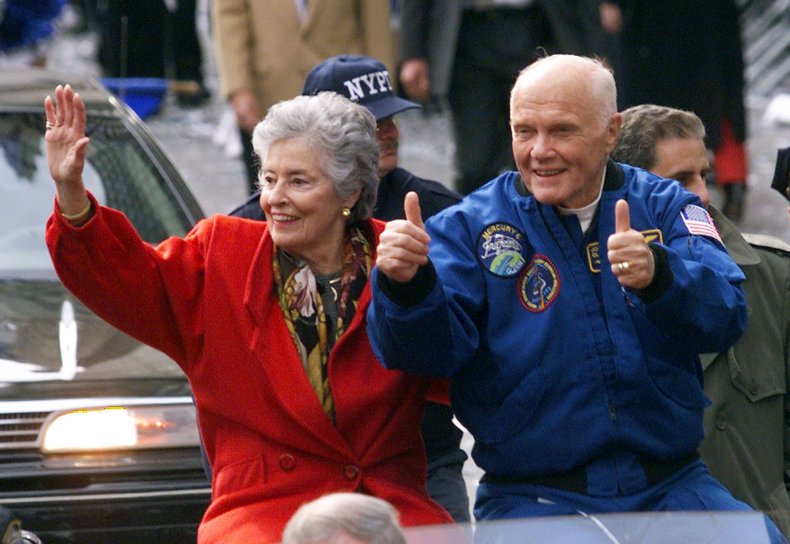 John and Annie's love story goes back further than most. "We practically grew up in the same playpen. We never knew a time when we didn't know each other," John wrote in essay about their relationship.
Annie claimed that they met when they were only 2 years old, after their parents got together to play card games at the same community organization group in New Concord, Ohio.
"But somewhere in my teens, I took a second look at Annie and liked what I saw," he wrote. Their romantic relationship began during junior high. The couple stayed home together and attended New Concord's Muskingum College.
John's time at college was interrupted when he left for flight training in the Marine Corps during World War II. Before he left, they got engaged and were married at the college's chapel in 1943.
Before John headed out to fight in the South Pacific, he tried to find the right words to comfort her. "I'm just going down to the corner store to get a pack of gum," he said. "Don't be long," she responded. Afterward, she always kept a gum wrapper in her purse. This was their trademark farewell for every mission John went on during World War II and later the Korean War.
John and Annie were extremely supportive of each other. When he went on daring NASA expeditions into space, and was the first American to orbit the Earth, Annie waited patiently at home. By that time, they had two children, David and Lyn.
Throughout her life, Annie struggled with a severe stutter that made speaking nearly impossible. Everyday tasks, like telling a taxi where she needed to go or making a phone call, were almost too much for her. When John became a household name because of his NASA missions, Annie shied away from the spotlight because of her speech impediment.
Nonetheless, John was understanding and considered her his hero for her perseverance. "He would just wait patiently until I finished trying to get the words out," Annie recalled in a 2010 video made by Muskingum University professors.
She eventually overcame her stutter after treatment at the Hollins Communications Research Institute. When her treatment ended, she called John and spoke a full sentence without stuttering for the first time in 53 years. He wept.
Annie became an advocate for people with communication disorders and was an adjunct professor in the Speech Pathology Department at Ohio State University. In 1987, the American Speech-Language-Hearing Association created the Annie, a national award recognizing those who showed her resilient spirit.
Their relationship was "the stuff of fairy tales and one of the great love stories of all time," Dale Butland, John's former speechwriter and chief of staff, said in a statement on May 19. "During World War II, the Korean War and two flights into outer space, Annie patiently waited for her John to come home."
He continued, "Since December of 2016, John's been patiently waiting for his Annie. Today, they're both where they always wanted to be: together—for all eternity."
A virtual memorial will be held June 6 for Annie, with live streaming at glenn.osu.edu.