Professional cyclist Mark Cavendish, who is tied for the most stage wins in Tour de France history, revealed Wednesday that he had been assaulted in his home while on the mend from a racing injury.
Cavendish, 36, who hails from the Isle of Wight, posted a statement on Twitter revealing that the incident had occurred at his house in Essex, England, in the early morning hours of November 27.
He had just returned home from intensive care in the hospital after breaking two ribs and puncturing a lung during a race in Belgium six days prior.
"4 masked and armed men forced their way into our home as we slept, threatened me wife and children and violently attacked me," Cavendish tweeted. "At knifepoint, they proceeded to ransack our belongings."
The cyclist added that among the valuables that were stolen were a pair of watches "of great sentiment and value."
"But far, far worse to be taken was the sense of security, safety, privacy and dignity that my young family and everybody else is entitled to in their own home," the tweet continued.
"The effect that this nightmare has had on my family is already heart-breakingly evident," Cavendish added, while imploring anyone who had information on the suspects to call the authorities.
Essex Police confirmed that the attack had taken place, and also released still images closed-circuit security camera footage that showed at least two robbers entering Cavendish's house.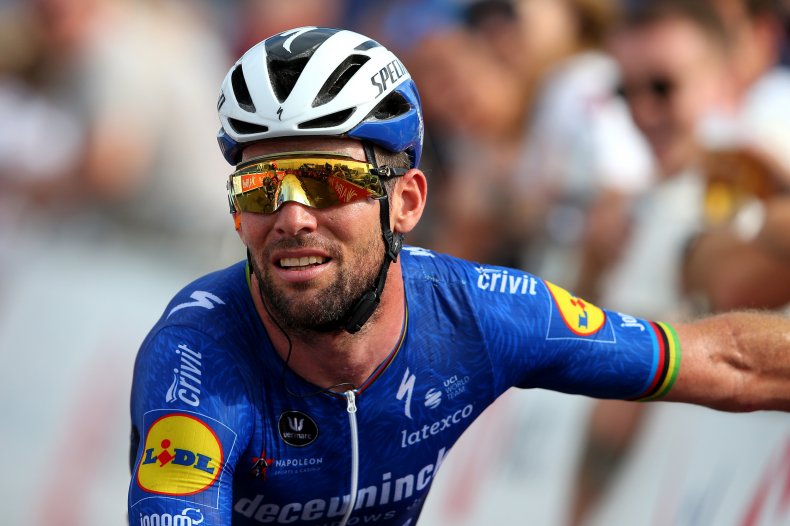 "This was undoubtedly a targeted incident at the home of a celebrated British Olympian, who at the time was recovering from significant injuries resulting from a crash whilst competing, which was well publicized," Essex Police said in a statement.
"It is likely the people who stole these items are attempting to offload them for sizeable sums of money and I would urge anyone who is being offered these items to please get in touch with us," the police statement continued. Officials also added that a Louis Vuitton suitcase was stolen in addition to the two watches.
Cavendish did not say whether or not the attack had affected his recovery from the Belgium crash. However, the incident comes after the cycling world saw him roar back onto the road with a vengeance this past summer.
Despite long being considered one of the best athletes in the sport, Cavendish had taken a step back after battling bouts of self-described depression and illness for years.
While Cavendish had not won a stage in any of the European Grand Tours since 2016, he joined the 2021 Tour de France with Belgian cycling team Deceuninck-Quick-Step.
Cavendish then stunned the sport by winning four stages at the race, a stunning display of athletic ability that tied him for the most stage wins in the tour's history with 34. He narrowly missed out on becoming the sole title-holder on the last day of the tour, coming in third place.
Afterwards, Tour de France director Christian Prudhomme called Cavendish "the greatest sprinter in the history of the Tour and of cycling."
"His comeback is just amazing. Cavendish's career is phenomenal with great highs and great lows, but he found his way again and I just want to say to him: hats off," Prudhomme continued.
Newsweek has reached out to Deceuninck–Quick-Step for comment.