Hosni Mubarak has been walking the Egyptian desert for most of his life. He knows where to find shelter in a flood, which plants are medicinal and when a storm is coming. As a Bedouin from the Jabaliya tribe, his territory lies in the hills surrounding Mount Sinai, where Moses is said to have received the Ten Commandments from God. Last year, Mubarak was selected for a program training young Bedouin to become guides to South Sinai, and he has mastered skills like first aid and GPS navigation. He wants to be part of a grassroots tourist industry that will revitalize a community battered by geopolitical disaster.
Tourism became a mainstay of the Sinai economy in the 1980s. The peninsula's coral-rich waters and rugged mountains attracted hikers, divers and sunseekers, and also provided lucrative work for local Bedouin. But Egypt's 2011 revolution destabilized what had been a thriving industry. Unrest, autocracy and instability swept Egypt, and an ISIS-affiliated insurgency overwhelmed parts of North Sinai. Frightened tourists stopped coming. In the first quarter of 2016, after militants bombed a Russian jet that was flying out of Sharm El Sheikh, tourism revenue in Egypt fell 66 percent.
Departing tourists left behind more than empty hotels. The local people who now worked in tourism had shifted away from traditional ways of life. Some Bedouin families sold their goats or abandoned the gardens they had tended for years; skills like navigating the desert or surviving in nature, developed over centuries, began to fade. "We lost a lot of things: our traditions, our culture," Sheikh Ahmed Abu Rashid, from the Jabaliya tribe, says. "Young people have started to move away. They don't know about the different herbs, where to put your camel…about how to be in the desert." The traditions have intrinsic value, but skills for self-sufficiency are also necessary to protect the Bedouin against future economic bumps.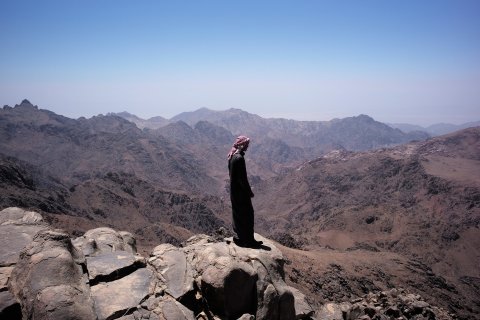 With that in mind, the Sinai Trail, Egypt's first long-distance hiking path, promises to preserve Bedouin culture as well as encourage tourism. It could work: Despite the turmoil in Egypt, South Sinai feels relatively calm. Tribes cooperate with the government to monitor the area, provide information and ensure the community is invested in keeping the region stable. There has never been an attack in the high mountains that has resulted in civilian loss of life.
The trail follows a route that traders and pilgrims to Mecca used for centuries. Now, it is carefully planned, complete with accredited guides and detailed maps. Hikers walk 137 miles from the coastal plains off the Red Sea through canyons and deserts before ending at the 8,668-foot-high Mount Catherine, the tallest mountain in Egypt.
The first group completed the 12-day hike on the trail in December, sleeping outdoors and eating around a campfire. Looping through the mountains, it contains the hidden treasures of the desert: a mysterious pebble maze; sandstone cliffs eroded into shapes like bubbles in risen dough; dunes spilling out from between rocky stacks.
Will all the effort that went into building the Sinai Trail be worth it? The Bedouin of South Sinai know that what is built up can be easily swept away. If the outside world pays attention and the trail attracts tourists, it would give locals the chance to make a living while nurturing their own identity. If it doesn't, the project has cultivated a supportive network, skills and traditions that will prove reliable companions, whatever happens in Egypt.