U.S. Not a Popular Place to Visit With Trump As President
The United States is no longer the second most popular country to visit—that title now belongs to Spain.
Related: Melania Trump is So Popular She's Boosting Tourism to Slovenia
Spain surpassed the U.S. last year as the world's second most visited country in the world, behind France, according to Spanish prime minister Mariano Rajoy. Speaking in Italy earlier this week, Rajoy trumpeted the fact that 82 million people visited Spain in 2017, while around 78 million took trips to the U.S.
In the first half of 2017, the number of international tourists visiting the U.S. dropped by about 4 percent compared to the same time period the previous year, according to the U.S. National Travel and Tourism Office and the U.S. Department of Commerce. The decline has been called the "Trump slump" by tourism experts, who say that President Donald Trump's anti-immigration rhetoric has pushed international travelers away.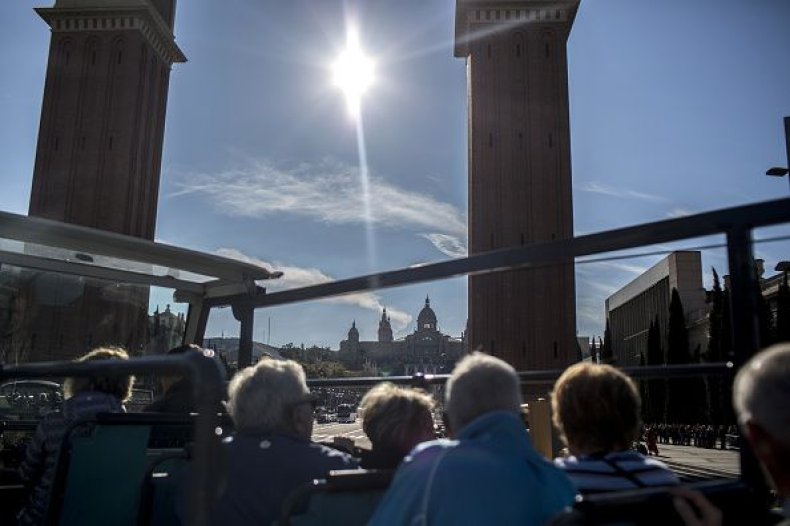 "The [immigration] crackdown and the image of the U.S. as an inhospitable place to anybody who's not a U.S. citizen is a byproduct of what is going on," David Leopold, partner and chairman of immigration law at Ulmer & Berne LLP in Ohio, told Newsweek last week.
On the other hand, Spain's tourism industry has boomed, with an increase of 12 percent in tourism earnings, totaling $104 billion, according to Rajoy. Spain has continued to beat its own record over the last five years, despite attacks in Catalonia capital Barcelona and Cambrils and an ongoing battle in Catalonia over independence.
Changes in tourist numbers can mean billions of dollars in economic growth or losses. In 2016, the U.S. tourism industry generated around $1.5 trillion in economic output and supported 1.2 million American jobs, making even a slight drop a challenge.
France continued its reign as the most-visited country in the world, as officials estimated around 89 million arrivals in 2017, even in the face of its own terror attacks. Other popular countries to visit include China, Italy, the United Kingdom, Germany and Mexico, according to 2016 rankings.