American Tourist Brings Unexploded World War II Shell to Vienna Airport
An American tourist caused a temporary shutdown at the Vienna Airport's arrival and luggage hall after attempting to take an unexploded World War II artillery shell home as a souvenir.
The 24-year-old, who had discovered the bomb in Austria's Dachstein mountains, was charged with public endangerment through negligence, according to Agence France-Presse. German broadcaster Deutsche Welle reported that she was fined $4,694 for the offense.
Officials notified a bomb disposal unit, which promptly arrived to take away the 3-inch tank artillery shell. AFP also reported that the woman had no intention of hiding the shell and openly declared it to customs officials.
The scare is not an uncommon occurrence, as unexploded World War II munitions are regularly found in Austria and Germany. More than 2,000 tons of ordnance is found in Germany each year, according to Al Jazeera. An estimated 3,000 bombs remain in Berlin, and 1.8 million munitions have been removed from Germany's capital city since 1947.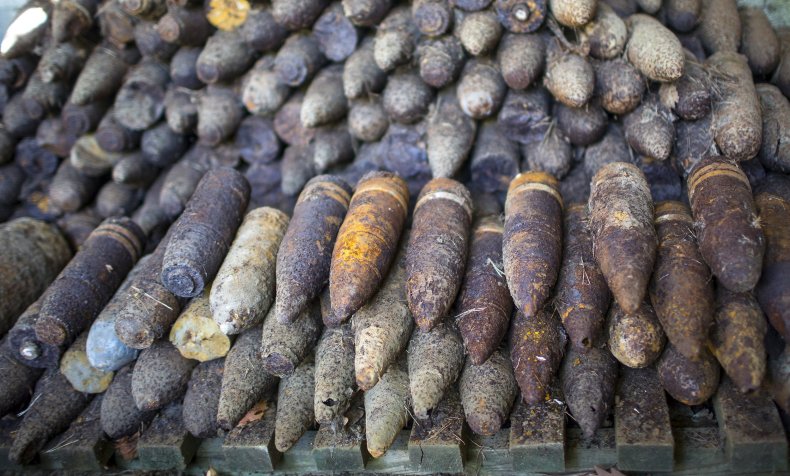 In addition to smaller explosives, Germany locates thousand-pound bombs on a semi-regular basis. In April, German authorities evacuated up to 12,000 people while removing a 1,100-pound bomb from Berlin. In September 2017, technicians located a 4,000-pound munition likely dropped by the British Royal Air Force in Frankfurt.
World War II bombs are also regularly discovered in the United Kingdom. The U.K.'s Ministry of Defense told the BBC that it has gotten rid of about 60 German WWII bombs each year since 2010. About 10 percent of bombs dropped on the U.K. during the war did not explode.
Like Germany's capital, London was heavily assaulted during WWII. London absorbed thousands of German munitions in 1940 and 1941 during a German bombing offensive called the Blitz. German planes dropped 30,000 tons of ordnance on the city, and while an unknown number of bombs still exist around London, unexploded munitions are regularly located. In February, the unearthing of a 1,100-pound bomb shut down the London City Airport.
Unexploded bombs are less frequently discovered in other European countries, such as Slovakia. Earlier this year, police evacuated some residents from the town of Sturovo, near the country's border with Hungary, after finding four 220-pound Soviet bombs.
While bombs are often discovered by construction workers and not the general public, experts worry that the munitions are becoming less stable and more dangerous, according to the BBC.