Tourists Warned Not to Leave Resorts in Jamaica After Murder Spike
British and Canadian tourists in Jamaica have been warned not to venture from resorts in Montego Bay after a state of emergency was imposed in response to a spate of deadly shootings.
Soldiers have been deployed on the streets in St. James Parish after a series of killings led to a military response.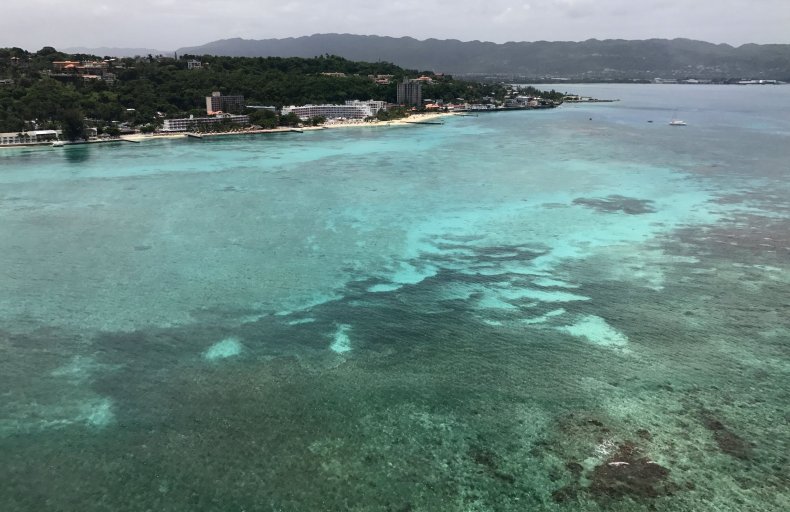 Newsweek has reached out to the State Department—which at the time of publication had not updated its travel advisory to Americans visiting the Caribbean island. On Saturday, several U.S. federal government offices closed after Congress could not agree on a new budget.
It is unclear how the State Department will be affected by the closure.
Jamaican Prime Minister Andrew Holness said Thursday that the extra security measures were necessary to "restore public safety" in the St. James area.
Major General Rocky Meade, Jamaica's chief of defense, said Jamaican armed forces were targeting gangs, with "particular focus on those that are responsible for murders, lotto scamming, trafficking of arms and guns, and extortion."
He added, "We ask that you cooperate with the troops."
On Saturday, the U.K. Foreign Office warned British citizens to stay in their hotels.
"[Tourists] should follow local advice including restrictions in selected areas, and exercise particular care if traveling at night," a Foreign Office spokesman said in a statement.
"[They] should stay in their resorts and limit travel beyond their respective security perimeters."
This followed a Friday warning from Travel Canada, which urged Canadians to stay in resorts after a spike in violent crime in St. James Parish.
It warns tourists to avoid traveling to the area, citing "an extreme risk to your personal safety and security," and to remain within the resort compounds if you're already there.
"If you are staying at a resort in the affected area, restrict your movements beyond resort security perimeters. If you do travel outside these perimeters, use transportation arranged or provided by the resort," the advisory says.
"If you are in the affected area, be extremely vigilant, follow the instructions of local authorities and monitor local news."
The latest State Department travel advisory issued January 10 warns Americans to exercise "extreme caution" when traveling to Jamaica. It warns Americans not to travel to areas including some areas of Kingston and Montego Bay.
"Violence and shootings occur regularly in some areas of Montego Bay," it warns.
"Violent crime, such as home invasions, armed robberies and homicide, is common. Sexual assaults occur frequently, even at all-inclusive resorts. Local police lack the resources to respond effectively to serious criminal incidents."
Friday morning, acting Director General William Todd, as cited by Vox, told employees that due to the U.S. government shutdown "a number of government activities would cease due to a lack of appropriated funding, and that a number of employees would be temporarily furloughed." However, he did not specify which services would be affected, leaving Americans seeking consular assistance abroad in a state of uncertainty.
More than a million Americans vacationed in Jamaica in 2016, according to the latest figures from the Jamaican Tourism Board, with the island one of the top destinations for U.S. tourists.
According to Jamaican newspaper The Gleaner, 2018 has seen murder rates in Jamaica continuing to spiral upward, with at least 38 homicides committed since the start of the year. This is an increase from 23 over a similar period last year.
St. James Parish saw the highest number of killings, with 335 recorded last year.