Tourists Exit Tunisia After ISIS Attack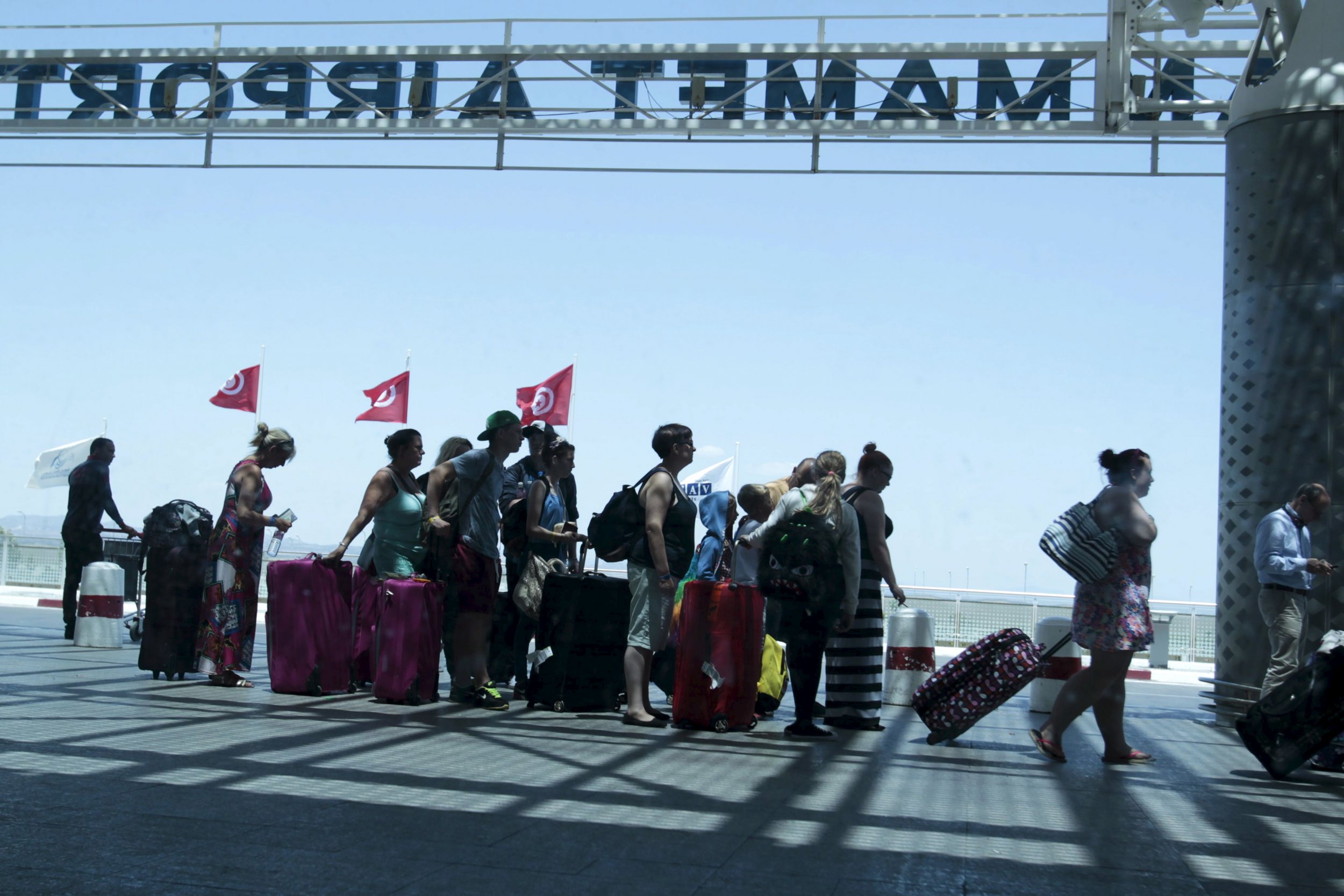 TUNIS/LONDON (Reuters) - British tourist companies were evacuating thousands of foreign holidaymakers from Tunisia on Saturday, a day after a gunman killed 39 people as they lounged at the beach in an attack claimed by Islamic State.
Tunisia's Prime Minister Habib Essid said most of the dead were Britons, and British leader David Cameron said the number of British casualties was likely to rise from the five already confirmed dead.
German and Belgian tourists were among other casualties in the attack on Friday at the Imperial Marhaba hotel in Sousse, 140 km (90 miles) south of the capital Tunis.
Tour operators Thomson and First Choice, which are owned by German travel group TUI, said they had about 6,400 customers across Tunisia at the time of the attack, including several of the people killed and injured.
They sent 10 planes to evacuate tourists and said 1,000 had already been repatriated. They also said they would cancel all their holiday packages to Tunisia for at least the next week.
A gunman disguised as a tourist opened fire on tourists as they lounged on the beach at the hotel, with a rifle he had hidden in an umbrella.
The attack took place during the holy Muslim month of Ramadan, on a day in which a decapitated body daubed with Arabic writing was found in France, a suicide bomber killed two dozen people at a mosque in Kuwait and at least 145 civilians were reported killed by Islamic State militants in northern Syria.
Tunisian Prime Minister Essid said that Tunisia planned within a week to close down 80 mosques that remain outside state control for inciting violence.
It was the second big attack in Tunisia this year following the Islamist militant assault on the Bardo Museum in the capital in March, when gunmen killed 21 foreign visitors.
Tunisia, which has undergone a largely peaceful transition to democracy since its 2011 Arab Spring uprising, depends heavily on foreign tourism and the violence is bound to be a severe blow to the industry.
Nicola Harris was one of the tourists returning to Britain from Sousse.
"I didn't feel right staying and sitting by a pool knowing that two minutes' walk away that many people had died, it just felt wrong. I shouldn't be there enjoying my sunbathing when so many people have had such a horrific thing happen to them today," Harris told Sky News.
The tour operators said they had sent trauma specialists to Sousse to help.
"We had situations where people were so frightened that they locked themselves in their rooms.... We are doing everything we can to help our customers and ensure we help them through this very difficult period and bring them home safely," Peter Long, chief executive of TUI's British arm, told a news conference.
Prime Minister Cameron chaired a meeting of senior ministers and officials to manage Britain's response to the attack.
"I'm afraid that the British public need to be prepared for the fact that many of those killed were British," Cameron told reporters.
The tour operators said they were working closely with the local authorities to confirm the exact details of casualties.