'Boom Boom Boom, Run Run Run': Tourists Flee Huge Wave as Glacier Collapses Into Lagoon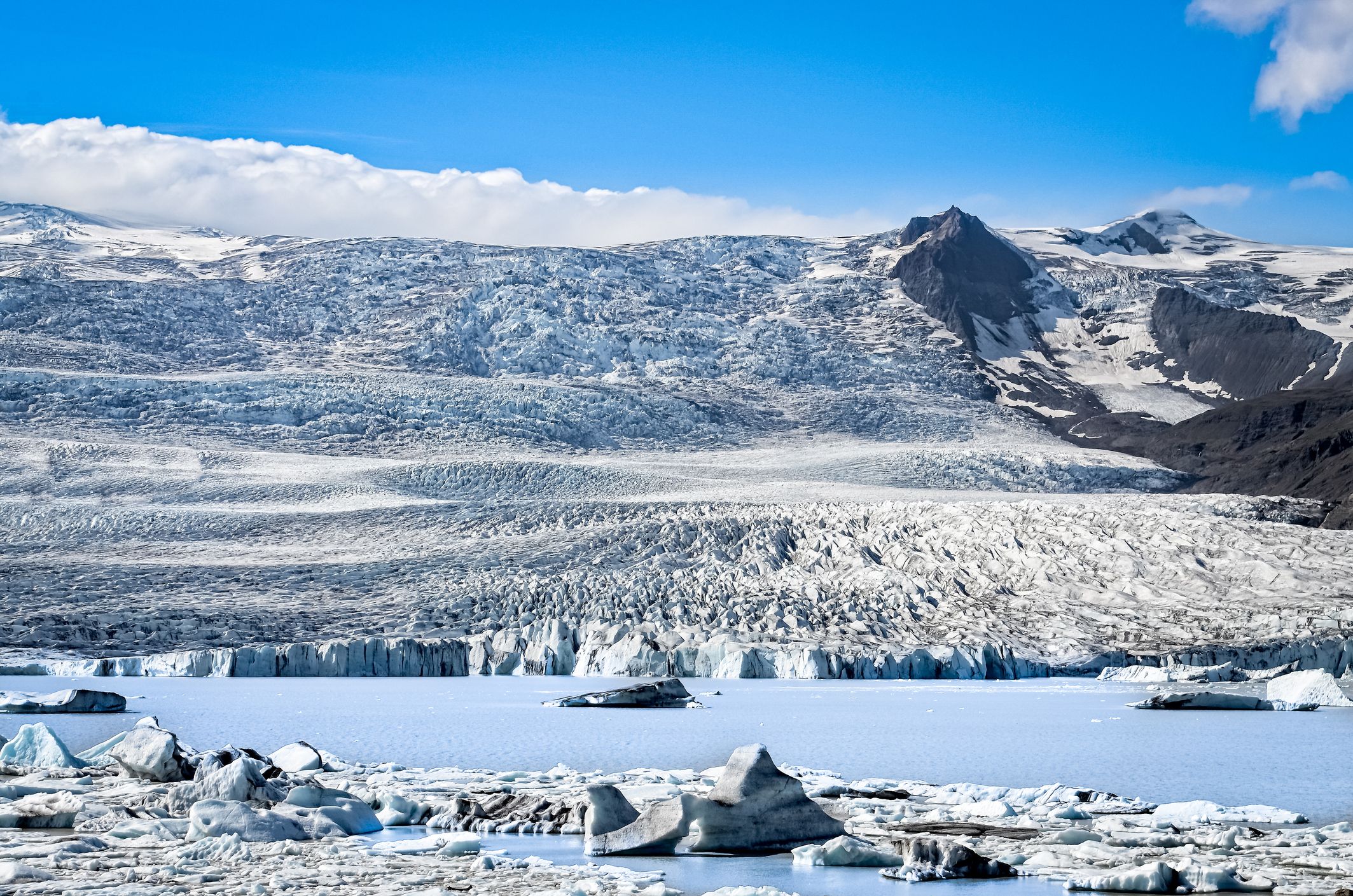 A group of tourists visiting a glacier in Iceland on Sunday were in for a shock when huge chunks of ice broke off and slammed into an adjacent lagoon, causing a large wave that forced them to run for higher ground.
The dramatic incident was captured on video by another bystander, mountain guide Stephen Mantler, who was standing atop a ridge above Jökulsárlón lagoon, where the spectacular Breiðamerkurjökull glacier ends, AccuWeather reported.
In the clip, several loud cracking sounds could be heard as large pieces of the ice broke off from the glacier and smashed into the icy water.
The dozen or so sightseers in the tour group—who were standing on the shores of the lagoon below the ridge—could then be seen frantically running away from the water as a large wave emerged and began to surge toward them. Fortunately, by the time it crashed against the shore, all the tourists had managed to flee the danger zone.
"Everybody in the area was briefed by their guide that if a collapse happens they must leave the beach and search [for] higher ground immediately, which is exactly what happened," Mantler told AccuWeather, adding that he was on an elevated viewpoint with his single client so "they were not exposed to risk at any time."
"I could see all of them start to move out of harm's way and their guides also ready to jump into action if necessary, so I kept recording but with a watchful eye on people's movements," he told CNN.
Henry Hsieh, a tourist from Taiwan who witnessed the incident, told Newsweek what he saw: "We heard a really big sound, 'boom, boom, boom.' Then, the tour guide told us we have to 'run, run run.' I started to run. I thought it was nothing, so I glanced back at the lake. Then I [saw] that [the] tsunami was coming. I thought I was going to [die.] I started to rush. The tour guide whistled all the people back. Everybody went back to the beach and climbed [up] the hill."
Mantler said that the ice falling off was an example of glacier calving—a relatively common natural phenomenon—which he had personally witnessed at Breiðamerkurjökull on numerous occasions.
"While calvings are fairly frequent at this time of the year, this was an extraordinarily large event and much closer to the shore than usual, which is why it was such a close call," he told AccuWeather. "In the end, most importantly, nobody got hurt or even wet."
Mantler noted that, according to his observations, the glacier appeared to be retreating at a rapid pace, estimating that it had receded by around 300 feet in just one year.
This article was updated with comments from Henry Hsieh.