Towing Company Settles Out of Court After Illegally Selling Active Duty Marine's Car
The Department of Justice (DOJ) said in a press release Tuesday that they had reached an out-of-court settlement with a towing company that had allegedly sold a car owned by a United States Marine who was on active duty.
Black and White Towing Inc. in Los Angeles, California has agreed to pay $22,000 compensation to the Marine whose car was sold, and $5,000 to the U.S. Treasury as a civil penalty. Under the Servicemembers Civil Relief Act (SCRA), which provides housing and financial protections in multiple areas to military members, it is illegal to auction off a car owned by a service member unless a court order is obtained. In addition to the financial penalties, Black and White Towing will also be required to adopt new policies and training to prevent this kind of mistake from happening again.
"When towing companies ignore their legal obligations under the Servicemembers Civil Relief Act, it can have serious financial consequences for servicemembers and their families," said Assistant Attorney General Kristen Clarke of the Civil Rights Division. "We hope this settlement encourages all towing companies to review and improve their policies and ensure that the rights of all service members are honored and respected."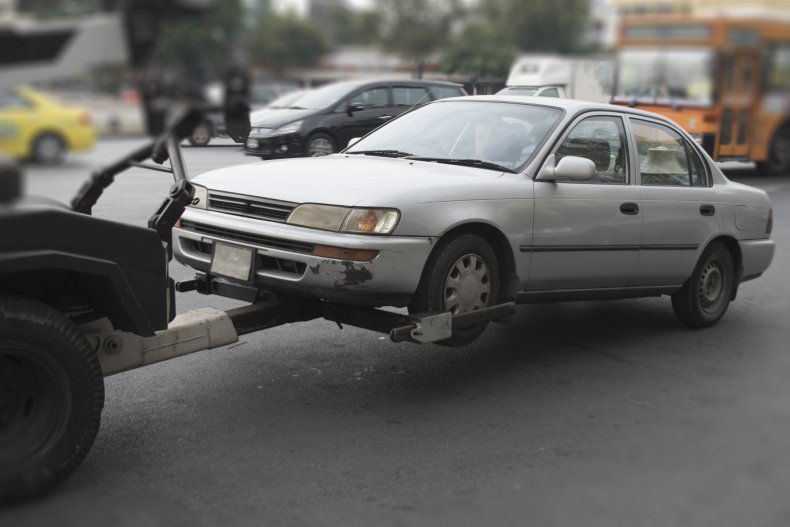 The DOJ filed the proposed settlement terms along with the lawsuit on Tuesday. The lawsuit alleges that a 2014 Honda Accord belonging to an active duty U.S. Marine was legally parked and unoccupied when it was hit by another car. Black and White towed the car to its lot in Pacoima, California.
The Marine was stationed at Camp Pendleton in San Diego, California. She allegedly contacted Black and White towing to notify them of her status in the military and told them she would be working with the driver's insurance company to retrieve her car. However, before the company made arrangements to retrieve or inspect the car, Black and White Towing allegedly auctioned the car off without a court order, in violation of the SCRA.
The proposed settlement will need to be approved by the U.S. District Court for the Central District of California.
Newsweek reached out to Black and White Towing Inc. for comment but did not hear back before publication.
This is not the first time the SCRA has been invoked to help a military service member after a towing company has illegally sold off their car. In September of 2020, U.S. Marine Corps Sgt. Jennifer Ko received a settlement of $17,500 through the SCRA after Target Recovery and Towing in Tampa, Florida auctioned off her 2011 Nissan Versa while she was deployed to Okinawa, Japan.