Town Replaces Bull Running with Giant Ball Running, People Still Get Injured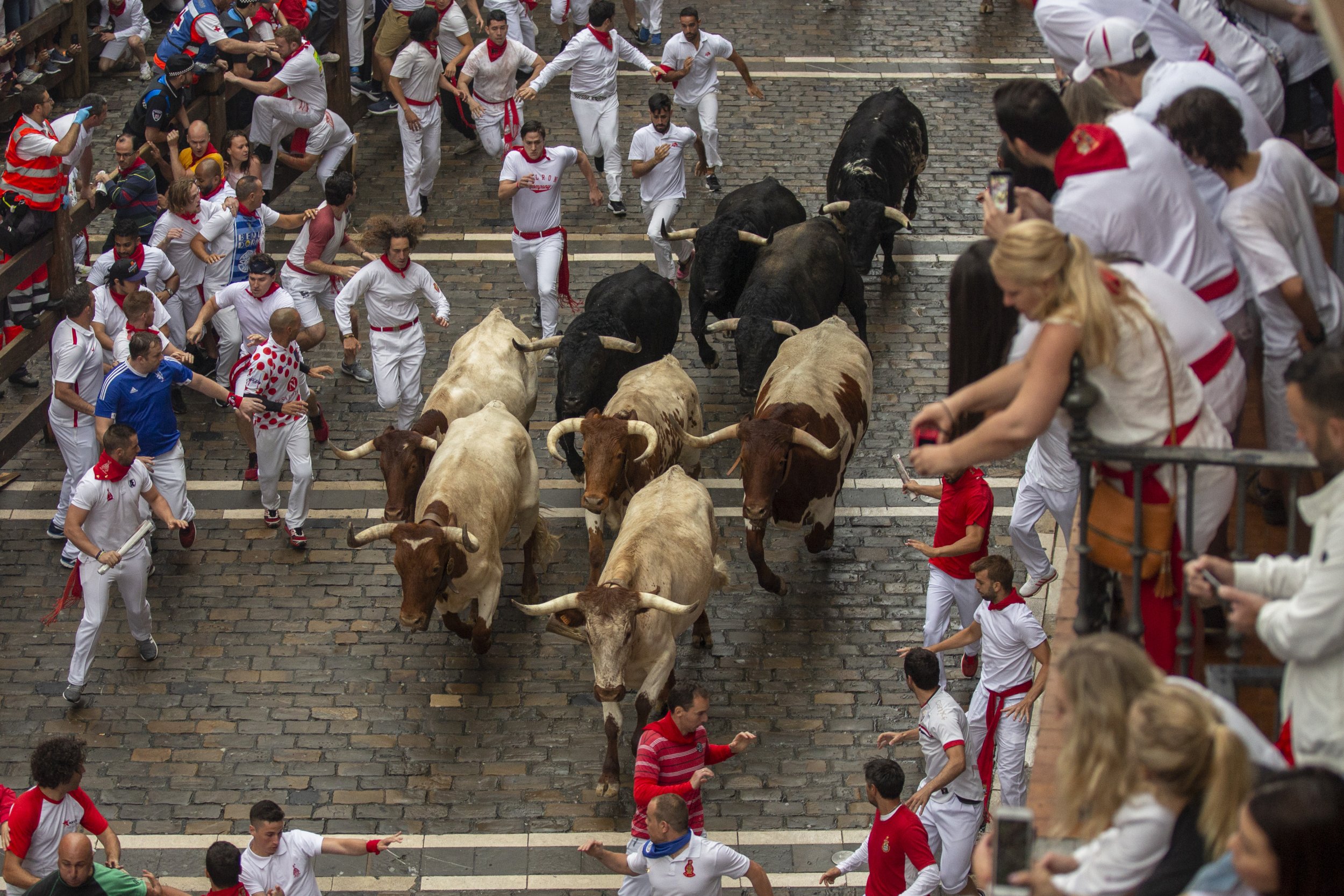 A man has been seriously injured after being crushed by a giant resin ball at a Spanish town's alternative running of the bulls event, The Telegraph has reported.
The running of the bulls is one of Spain's most famous events. Images and video of dozens of white and red-clad revellers desperately evading enraged cattle—and occasionally failing to do so—are sent around the world from Pamplona each year, and mimicked in towns and villages across the country.
But for some Spanish towns, the event's cultural importance is not worth the cruelty to the perceived animals. In the mountain village of Mataelpino, for example, the bulls have now been replaced with a giant resin ball. However, as Sunday's accident shows, the running still carries significant risks.
Each year, the large ball—weighing around 500 pounds—is sent bouncing down the village's steep steps, with metal barriers put in place to guide it on its route as it reaches speeds of up to 20 mph. The 29-year-old man was crushed against a metal barrier by the ball, leaving him with serious head injuries. He was airlifted to a Madrid hospital for treatment.
Participants are given advice on what to do if the ball catches up with them and advised to try and avoid a direct impact. "If there is no escape, it's better to lie down and let the ball run over you," the runners are told before the race begins. The injured man reportedly froze as the ball approached, striking him just before the finish line.
At last year's event, two men were seriously injured by the giant ball. One was left in a coma after being crushed against a metal barrier, while the other suffered three broken ribs and a concussion. After these injuries, authorities said they would improve the safety provisions for the event.
Javier de los Nietos, the mayor of Mataelpino, said, "People who are used to bulls know that they can't just stand still in front of them because they could be gored. But with the ball some people think that nothing will happen to them, but this is not the case. If they get a direct hit, it can be serious," noting that padding may be used on the metal barriers for future events.
Officials are now considering introducing a mandatory helmet requirement for all runners. "We have talked to some brands to try to get sponsorship for the use of helmets," Nietos said. "We haven't done it earlier because we didn't want people to be overconfident and think that nothing will happen if the ball hits them," he added.