Town Vandalized With Satanic Crosses and 'Blood' After Putting Up Dog Fence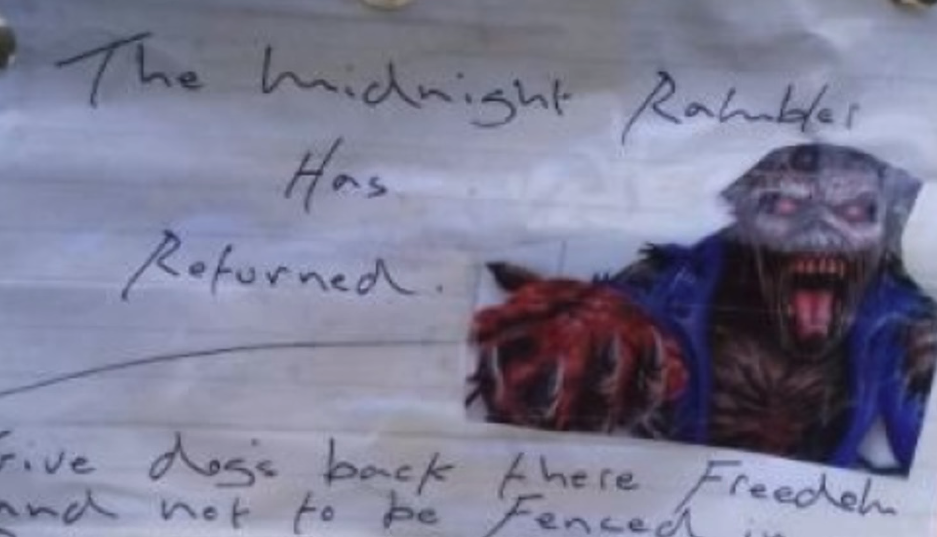 Anonymous protesters have vandalized a town in England and threatened it with black magic after the council put up a fence to keep dogs away from certain parts of a field.
Following suggestions from residents, the town council of Attleborough, in Norfolk, installed a long fence to guide residents from a car park to a field where they could let their dogs off a leash and roam, reported Eastern Daily Press.
But it appears there was at least one resident who disagreed with the fence and took matters into their own hands.
Last Friday, the Attleborough Town Council announced in a tweet that the fence had been destroyed and rearranged into satanic crosses on the grass with fake blood smeared across the pieces. And on Monday, the perpetrator, who called themselves the "midnight rambler", left another note.
"Give dogs back there freedom [sic] and not to be fenced in. Dogs use this park more than anyone else and their wonderful owners. If you don't hell awaits. 666 the number of the beast," it read.
Jeremy Burton, the town's mayor' told local news that the "unsavoury and sinister" actions have been reported to the police.
"The red substance has destroyed the fence and it will take time on money to remove. Attleborough is a lovely place and this vandalism means we can't spend money on other parts of town," he said. "We want to reassure people that no rules have changed, and dogs are allowed on the first field if they are on a lead, the fence it just for guidance."
Burton told local press he believes only one person is responsible for the vandalism and threatening notes.
After the town council posted photos of the crime to their Facebook page on Monday, users have left divided comments on the issue. Some condemned the vandals while others appeared to have found the incident humorous.
"People of Attleborough are fucking morons hahahaha (that's me included)," Danny Shurey wrote.
"Surely this is a criminal offence, damaging property so not really something to be laughed at," said Victoria Myers.