Town Volunteers Spray Paint Ditched Dog Feces Pink to Shame Owners
If you happen to find yourself walking along Gyllyngvase Beach in Falmouth, England, be wary of any bright pink spots you find along the sand—despite the cheery color, it may not be what you imagine.
According to CornwallLive, Falmouth residents have recently grown frustrated with the large quantities of dog waste plaguing their beaches. In response, local organization Plastic Free Falmouth has intervened with a new program to raise awareness about the issue.
Inspired by Newcastle's similar 2015 program, Pink Means Poo, Plastic Free Falmouth volunteers will soon begin spray painting abandoned dog feces pink.
Kirstie Edwards, who runs Plastic Free Falmouth, says that when the group does beach clean-ups, the dog poo makes the experience "awful" and "gross." One day, for example, she reportedly found 18 piles of dog excrement along the area's small beachfront.
"And it becomes a problem for us because it's still waste and we still have to pick it up," she adds.
The goal is that the increased awareness will draw attention to how much waste is actually left in the area—and that, in response, dog owners will be inclined to clean up after their pets. "We want to shame people a little, try and capture their attention," Edwards explained. "It's sort of like telling people—we know you're doing it, we're watching."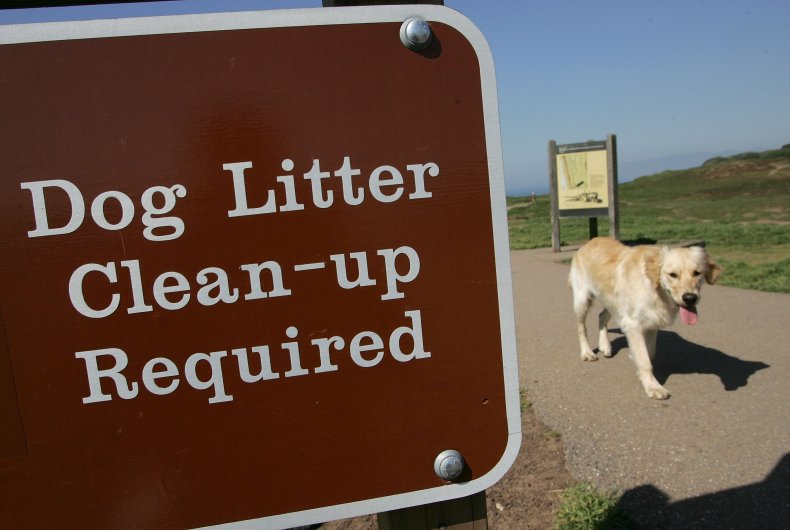 Explaining the recent uptick in dog waste, Edward says, "I suppose people have been forgetting, they see another human being after months of being locked down and it's such a relief you aren't paying attention to your dog." The spray paint will serve as a reminder to those who, post-lockdown, may be forgetting to clean up after their dogs.
She also noted that the spray paint used by the group will be biodegradable and nontoxic. "It's not harmful at all," she said, adding that the paint will "wash away when it rains."
Though it has yet to be seen if the intervention will lead to a decrease in abandoned dog feces, the program will, at the very least, create buzz around the issue at a very low cost.
Edwards says dog waste is just one issue affecting the seaside town—litter from fires and barbecues on the beach is also on the rise.
"It's gotten really bad, people burning pallets and not clearing up—they leave nails on the beach," said Edwards.
Hopefully, the increased awareness brought to abandoned dog waste will at least make a small dent in solving Falmouth's litter problem.