Toxic Algae Bloom May Be Responsible for Family's Mysterious Hiking Deaths
Last week, a family of three was found dead on a Northern California hiking trail and now, while the cause of their deaths remains unknown, the presence of a toxic algae bloom near where they were found has emerged as a possible factor in their deaths.
The bodies of John Gerrish, Ellen Chung, and their one-year-old daughter, Miju, were found on Tuesday, along with their dog. The family had been hiking a remote trail in the Sierra National Forest. The area, known as "Devil's Gulch," is adjacent to part of the Merced River's drainage system. However, there were no clear indicators of what might have caused the tragic incident.
"I've worked in different capacities but I've never seen a death like this," Mariposa County Sheriff Jeremy Briese told KSEE.
As authorities await the family's autopsy and toxicology reports, the San Francisco Chronicle reported that possible exposure to a toxic algae bloom is one leading theory among officials.
On Thursday, two days after the bodies were discovered, a new sign had been installed at the trail's entrance: "Harmful algae may be present in this water." It advised against drinking water and eating shellfish found in the area.
Also adding fuel to the theory is the fact that last month, the Sierra National Forest—part of the U.S. Forest Service—announced that "a high concentration of algae bloom" had been found in the Merced River. "The Sierra National Forest (SNF) would like to inform those visitors who like to enjoy this area of the Merced River and SNF, not to swim, wade or allow their pets to enjoy the water," wrote the agency on Facebook. "This [is] due to the Toxic Algal Mats that have formed and are present."
According to the Center for Disease Control (CDC), dangerous algae and cyanobacteria form in bodies of water "when water is warm, slow-moving, and full of nutrients." Under ideal conditions, the "simple, plant-like organisms" will "rapidly grow out of control, or 'bloom.'"
These blooms—also called "algal mats" if they're bound to rocks beneath the water—can "produce extremely dangerous toxins that can sicken or kill people or animals," added the U.S. Environmental Protection Agency (EPA).
Exposure to toxic algae can lead to an array of symptoms, including rashes, stomach or liver problems, respiratory issues, and even neurological effects, the EPA added.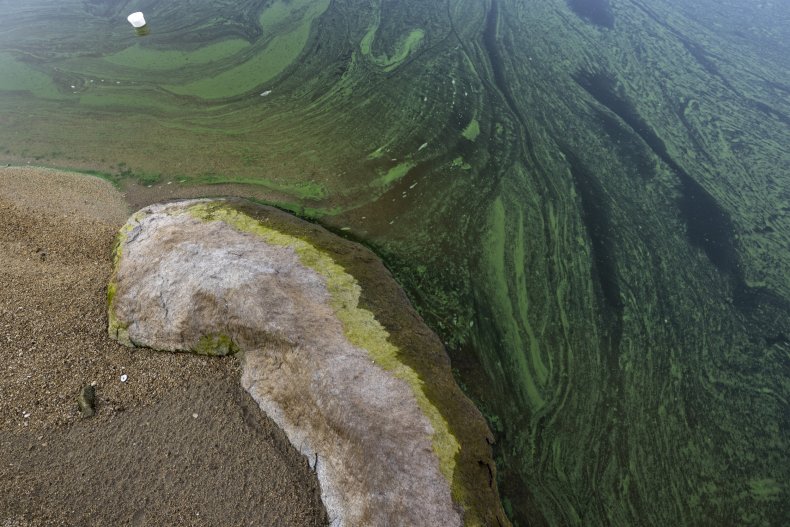 Animals are more commonly found to be victims of toxic algae than humans and "can die within hours to days of swallowing toxins." As the CDC explained, however, this is simply "because they are more likely to swim in or drink from bodies of water that contain harmful algae or cyanobacteria."
Now, authorities must wait for the results of the family's "pending" toxicology reports—until then, the case remains unsolved. Explained Mariposa County Sheriff's Office spokesperson Kristie Mitchell to The Fresno Bee: "Toxicology can take up to six weeks, sometimes even longer."
"Unfortunately we don't have a great time frame for that yet," she added, in reference to when findings might be released to the public.
Newsweek has reached out to the Mariposa County Sheriff's Office for further comment.